3 Last-Minute Thanksgiving Recipes From 2 Chainz' #MEALTIME Cookbook
2 Chainz isn't just a talented rapper, he's also a great cook. And with the help of Chef Aleem, he released a cookbook that's being held up as one of the best around.
But since it's almost time for Thanksgiving, you'll definitely want to know about his mouthwatering foods in #MEALTIME that will fit right in on your family's holiday table. Here are three last-minute recipes you can whip up this holiday season.
What is the cookbook from 2 Chainz?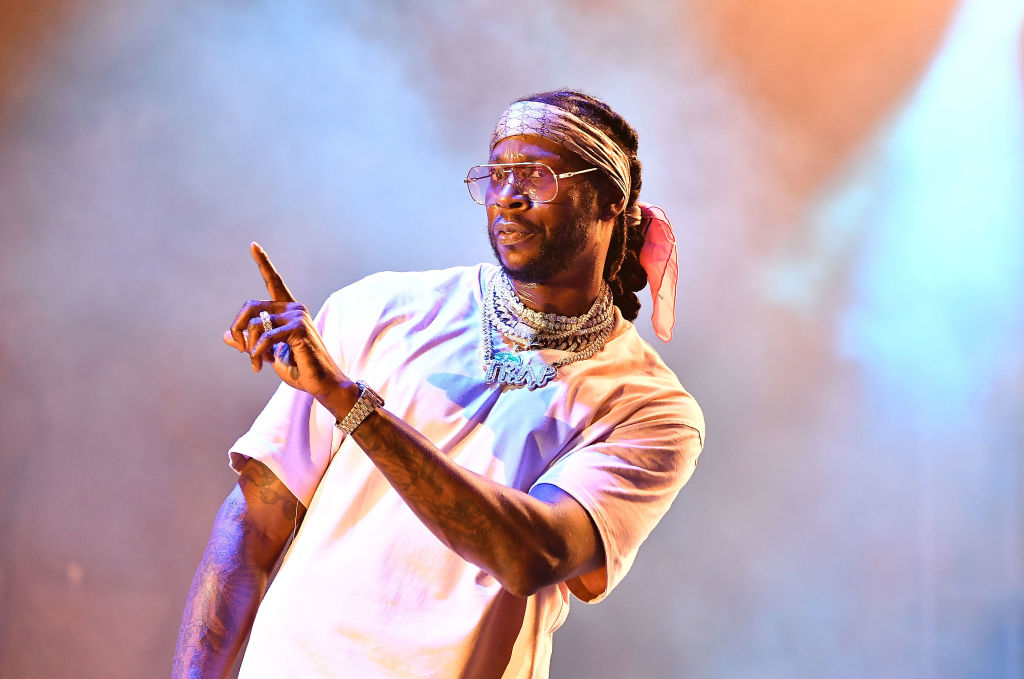 Instead of a traditional cookbook, 2 Chainz printed his recipes and instructions into the album notes of his 2013 release B.O.A.T.S. II: #METIME. We guess that's so fans can enjoy his tracks while they prepare the food he recommends.
The cookbook starts out with a welcoming paragraph. "You're on the road and you're hungry. 2 Chainz has been there, and now he's reaching into his deep, flavorful pockets to hook you up with the recipes you'll need for your time out on the road," it reads. 
2 Chainz created the recipes with the help of Chef Aleem, who's been cooking with the rapper for several years. They met through Chef Aleem's restaurant.
"My first real restaurant was in College Park," Chef Aleem told The Source, "and that's where 2 Chainz was born and raised as well as where he had his recording studio. We knew mutual people and somehow their people started coming to the restaurant, my people started going down there, you know, just interacting."
Together, 2 Chainz and Chef Aleem would joke that when he made it big, he'd have to make sure he was eating well. So when 2 Chainz's music career took off, they started working together for real. 
Fans love 2 Chainz' cookbook
His recommendations include fancy gems that would be perfect for Thanksgiving, but maybe slightly out of touch with the common folk, like wearing a Versace apron, serving mashed potatoes in a gold bowl and plating racks of lamb alongside an extravagantly priced Cabernet. But according to the reviewers who have tried the recipes, 2 Chainz is a master of flavor.
"2 Chainz was my therapist this past weekend and he didn't even know it," wrote Erika Ramirez for Billboard. She continued with even more praise: "Little did I know that not only would 2 Chainz quickly take the place of Martha Stewart in my heart, but he'd also teach me so much of myself throughout the culinary process."
"While the dishes and the images are beautiful, the thing that separates it from every other cookbook that has ever existed ever is the descriptions of the dishes," wrote a review in Grantland.
2 Chainz' Thanksgiving recipes
When it comes to Thanksgiving, you absolutely can't forget the mashed potatoes, and 2 Chainz has a great recipe for Garlic Mashed Potatoes that includes heavy cream, sour cream, and chopped parsley. But the instructions are probably the best part of the recipe.
"If wearing a four-finger ring, carefully place it on a side table before starting to cook," the potato recipe begins. 
You'll also want to try the Garlicky Green Beans. (Yes, garlic is used a lot in this cookbook). This recipe will certainly entertain you while also filling your stomach.
"Call Fergie, invite her to watch a movie on Netflix. Once she accepts, start making green beans," it reads. 
And since a variety of vegetables make Thanksgiving exciting, why not try the Sauteed Asparagus with "Me Time" Sauce. Although this one may be a little hard to afford for those on a tight budget, considering the instructions for the sauce begin: "Go to the mall, spend a handful of racks on a new outfit for the night." The recipe also recommends getting a manicure and pedicure, but then, those steps may be optional.