3 Solid Reasons Fans Believe That 'Grey's Anatomy's Fall Finale Is Setting Up for an Epic 'Station 19' Crossover Season Premiere
With the fall finale of Grey's Anatomy coming fast, fans want to know when they can see all of their favorite characters in the spinoff, Station 19. From the promo for ABC's long-running medical drama fall finale, we can tell that a crossover event is coming. 
Station 19 is expected to return for season 3 sometime in January, right around the same time that we can expect Grey's Anatomy to return from break. Let's take a look at the three reasons why we know these two premieres will coincide with one another.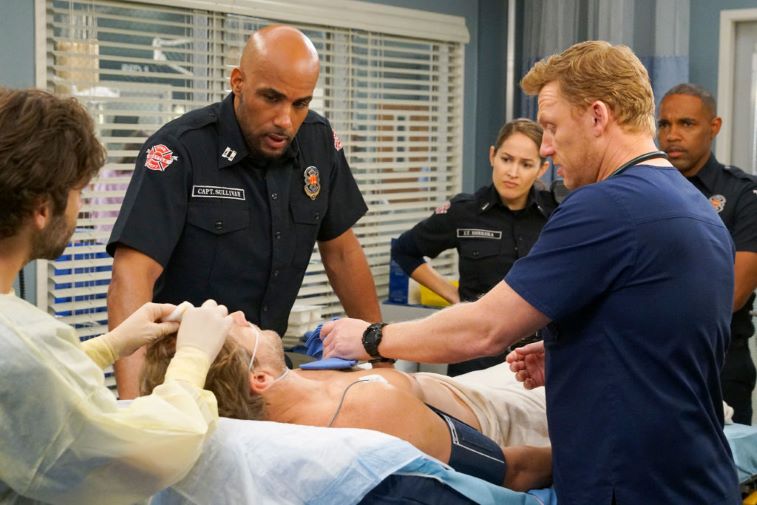 Are Vic from 'Station 19' and Jackson from 'Grey's Anatomy' taking the next step in their relationship?
The Grey's Anatomy Instagram account posted a photo of Jackson (Jesse Williams) and Vic (Barrett Doss) on November 19, 2019, and fans cannot stop talking about it. Most viewers dislike the couple together, but they are even more concerned that Jackson might leave Grey's Anatomy.
"I like these two together OK," wrote one Instagram user, "but what I don't want is to lose another series regular, and it feels like that's where we're heading with Jackson. Come on writers, give Jackson a real storyline!"
"Jackson's turned into a player and lost his authenticity after April," added another fan.
With the falling out between Maggie (Kelly McCreary) and Jackson in the last episode of Grey's Anatomy, we're not quite sure what's left for him at Grey-Sloan Hospital. It looks like the writers might be moving him over exclusively to Station 19.
Why is Ben from 'Station 19' running through the halls of Grey-Sloan Hospital?
Fans have two theories about why Ben (Jason George) might be dashing towards the emergency room of the hospital. Let's take a look at what they are.
"It's gonna be Bailey [Chandra Wilson]," wrote an Instagram user.
"I have a feeling too," agreed another fan, "especially seeing Ben run in like that."
"Maybe she'll lose her baby," guessed another viewer.
I think it might be the firefighter that Jackson is dating [Vic]," surmised another fan, "and Maggie saying 'this can't be happening' because she lost the firefighter's boyfriend on the table as well." The viewer continued, "and they made it seem as though Ben and that firefighter are close, and that's why he's running?"
The comments kept rolling in after fans watched the promo. Viewers are afraid that Bailey is about to lose her baby. Other fans are distraught that Maggie is going to lose a firefighter that is close to Ben and Jackson in some way. One thing is for sure, Ben is back, and something is wrong. He has a troubled, scared look on his face.
Jo (Camilla Luddington) responds to a call from 'Station 19'
In the fall finale promo, fans guess that Jo is holding a baby that was possibly left at Station 19.
"Jo seems to be outside with a pretty big baby," wrote one fan, "while Ben is running into the hospital (I could be wrong). Maybe it was a baby that was left at the station that they brought to the hospital when Ben got the call that something happened to either Bailey or Tuck?"
Could this be the baby that fans are hoping that Jo and Alex (Justin Chambers) eventually adopt? Whatever the truth may be, it is clear that every story arc includes Station 19 for this Grey's Anatomy fall finale. Stay tuned to ABC Thursday at 8 p.m. to find out if all of the storylines will coincide with a Station 19 premiere in January.