3 TV Shows That Keep You Guessing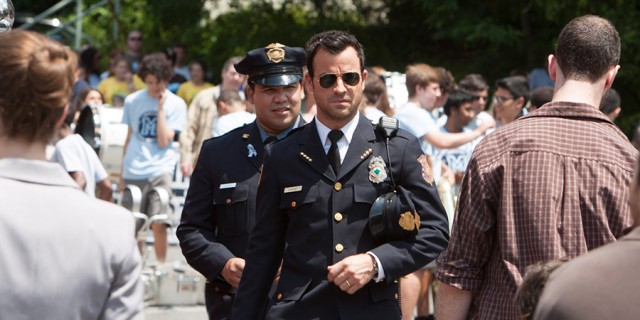 We watch TV because it keeps us interested. Whether we love the stories, dialogue, or plotlines, there's something that always keeps us coming back for more. But sometimes, the most talked about shows are the ones with the strangest premises. Shows that keep us questioning the motives of the characters or what's going to happen next are often the most gripping. These three shows may not always make sense, but they'll keep you on the edge of your seat with their constant twists and turns.
1. The Leftovers, HBO (2014 -)
This thrilling drama — set after a mysterious event that wiped two percent of the world's population off the map without a trace — is based on the best selling novel by Tom Perrotta and was co-created by the author and former Lost showrunner Damon Lindelof. Although it's only a handful of episodes into its first season, it's already picked up major buzz from fans who can't stop speculating about the show's many unanswered questions. What caused the global "Rapture" that left so many without their loved ones? Is Holy Wayne really the guru he's made out to be? What are the Guilty Remnant up to? With a gripping storyline and new twists and turns with each episode, The Leftovers will leave you feeling desperate to find out what happens next. You can watch the series on HBO or Amazon on Demand.

2. American Horror Story, FX (2011 -)
This scary series has never failed to spook up discussion about its numerous plot twists and unexplained phenomenon. This Ryan Murphy-helmed ensemble is set up where each season uses a revolving cast of actors playing different characters, including Jessica Lange, Evan Peters, Frances Conroy, Lily Rabe, and Dylan McDermott. Every time we meet the characters, they're set in a different nightmarish world. Whether we're plunged into a ghostly house of horrors, a grotesque asylum, or a school of witches battling it out with voodoo priestesses, there's never a shortage of WTF moments on American Horror Story. The fourth season premieres this October on FX, and you can catch up with previous seasons on Netflix and Amazon on Demand.

3. Lost, ABC (2004-2010)
Strangers stranded on a deserted, mysterious island. Time travel. Polar bears. A black smoke monster. A string of numbers that all seem to mean something. If you watched Lost when it aired on ABC, chances are you found yourself scratching your head more than once. When the series, created by J.J. Abrams and Damon Lindelof, ended, many fans complained that it failed to answer all the questions it brought up to fans. But the fact remains that Lost was one of the most compelling shows of its time, and that it always kept fans guessing. Who will die? Where is the island? Who is Jacob? Will Michael ever find Walt? The series' controversial finale still has fans talking. If you want in on the conversation, you can watch the entire series on Netflix or Amazon on Demand.
More From Entertainment Cheat Sheet:
Want more great content like this? Sign up here to receive the best of Cheat Sheet delivered daily. No spam; just tailored content straight to your inbox.