New to Netflix: 34 Movies and TV Shows for October
A new month means the arrival of a whole new slew of films and TV shows to Netflix. Here are 34 of the new titles available for instant streaming this October.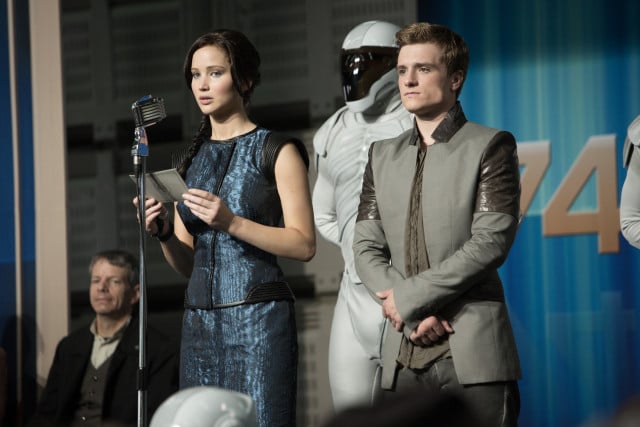 Fierce Female-Led Franchises
Hunger Games: Catching Fire, Available Now
The latest installment in the wildly popular Hunger Games franchise follows Jennifer Lawrence's Katniss Everdeen as she is thrown into the arena for a second time, this time against past victors from other districts. The box office smash also stars Liam Hemsworth and Josh Hutcherson.
Charlie's Angels: Full Throttle, Available Now
Cameron Diaz, Drew Barrymore, and Lucy Liu return as Charlie's Angels in the 2003 sequel in which they investigate a series of murders that occur after the theft of a witness protection profile database.
Romance-Inspired Comedy/Dramas
Romeo + Juliet, Available Now
Baz Luhrmann's 1996 contemporary remake of Shakepeare's famous play stars Leonardo DiCaprio and Claire Danes as the famous star-crossed lovers in a modern suburb of Verona.
Sleepless in Seattle, Available Now
The 1993 romantic comedy-drama stars Tom Hanks and Meg Ryan in their second feature film collaboration. It revolves around a recently widowed man's son, who calls a radio talk show in an attempt to find his father a partner.
The Wedding Planner, Available Now
This 2001 rom-com stars Jennifer Lopez as a hugely successful wedding planner who ends up developing feelings for one of the grooms (Matthew McConaughey) whose nuptials she's planning.
Liberal Arts, October 18
How I Met Your Mother's Josh Radnor stars and directs this film about a bored 30-something-year old man who pays a visit to his alma mater and ends up striking up a romance with a younger student there.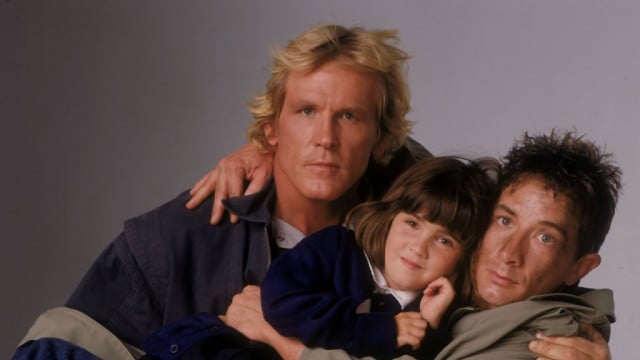 Laugh-Out-Loud Comedies
Chicken Run, Available Now
Mel Gibson, Miranda Richardson, and Timothy Spall star in this 2000 animated comedy escape film about a a sinister Yorks chicken farm in 1950s England.
Three Fugitives, Available Now
The 1989 crime-comedy follows the story of a man who leaves prison only to find himself taken hostage at a bank by a would-be robber. The cops assume they're a team, forcing both of them to go on the run with the robber's 6-year-old daughter.
Little Man, October 6
Shawn Wayans stars in this 2006 movie about a wannabe dad who mistakes a vertically challenged criminal on the run for his newly adopted son. The flick co-stars Marlon Wayans and Kerry Washington.
In a World…, October 7
Lake Bell writes and stars in this movie about an underachieving voice coach who finds herself competing against her father and his protégé for the chance to voice a high-profile movie trailer.
Horror Flicks
Shadow of the Vampire, Available Now
The 2000 film is a fictionalized account of the making of the classic vampire movie Nosferatu in which the crew begins to have disturbing suspicions about their lead actor who seems to be taking the role way too seriously.
The Phantom of the Opera, Available Now
The 1989 horror film stars Robert Englund, Jill Schoelen, and Alex Hyde-White. It's a darker, gorier version of the classic novel about a young soprano who becomes the obsession of a horribly disfigured composer.
Carrie, Available Now
Chloë Grace Moretz stars in this 2013 reboot of the classic horror tale about Carrie White, a shy teen who unleashes telekinetic terror on her small town after being tormented by peers at her senior prom.
Witching and Bitching, October 14
This part comedy, part horror film follows a group of escaping jewelry thieves after they get trapped by a coven of witches. The movie stars Hugo Silva, Mario Casas, and Pepon Nieto.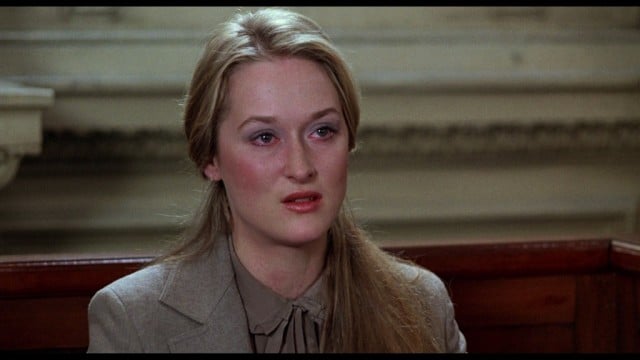 Critically Acclaimed Films

Kramer vs. Kramer, Available Now
The 1979 film follows the story of a married couple's divorce and its impact on everyone involved, particularly the couple's young son. The movie starred Dustin Hoffman and Meryl Streep, both of whom won Academy Awards for their parts.
Annie, Available Now
The classical musical about a young orphan girl's adventure to find a family who will adopt her is arriving to Netflix just ahead of this year's upcoming remake. The 1982 film earned an Academy Award nod for its musical score adaptation.
Shane, Available Now
The Oscar-nominated 1953 western film stars Alan Ladd, Jean Arthur, and Van Heflin and follows the story of a weary gunfighter who attempts to settle down with a homestead family, but is forced into action by a smoldering settler/rancher conflict.
Django Unchained, October 25
The 2012 Quentin Tarantino-directed western chronicles the story of a freed slave who sets out to rescue his wife from a brutal Mississippi plantation owner with the help of a German bounty hunter. The movie stars Jamie Foxx, Leonardo DiCaprio, and Christoph Waltz, the latter of whom earned an Oscar for Best Supporting Actor.
Rain Man, October 31
The Oscar-winning 1988 comedy-drama stars Dustin Hoffman, Tom Cruise, and Valeria Golino. It follows the story of yuppie Charlie Babbitt who discovers that his estranged father has died and left his entire fortune to his autistic savant brother Raymond. The film won four Oscars that year, including Best Director, Best Picture, and Best Actor.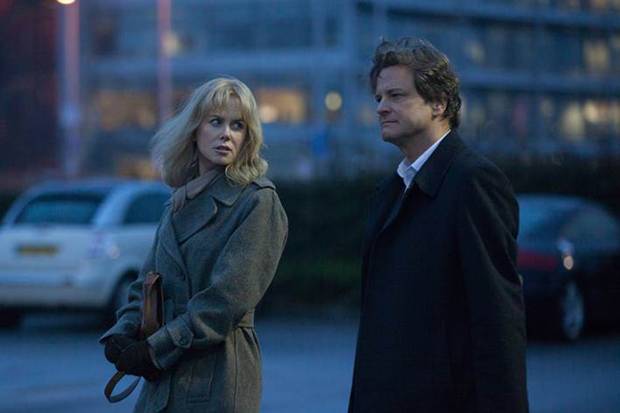 2014 Releases
Before I Go to Sleep, October 31
The upcoming thriller, based on the novel of the same name by S.J. Watson, stars Nicole Kidman as a woman who wakes up every day with no memory of her life as a result of a horrific past accident. But when scary new details start to emerge, it forces her to question everything that she believes she knows about her life, as well as the people in it like her husband (Colin Firth) and doctor (Mark Strong).
Bad Johnson, Available Now
Cam Gigandet, Jamie Chung, and Nick Thune star in this bizarrely themed film about a charismatic womanizer who gets his bad karma thrown back at him when his penis mysteriously leaves his body and takes human form.
The Boxcar Children, October 4
The animated film follows the story of a group of orphans who make a home for themselves in an abandoned boxcar. The movie, voiced by Mackenzie Foy, Zachary Gordon, and Joey King, will be on Netflix.
Chelsea Handler: Uganda Be Kidding Me, October 10
The late-night host supports her latest best-selling book in this special, using personal photos and adding colorful commentary to her stories of travel, sex, and personal relationships.
Swelter, October 11
Starring Jean-Claude Van Damme, Alfred Molina, and Josh Henderson, this movie follows a small town sheriff with no memory of his criminal past who meets up with his old crew when they come into town to stir up trouble.
A Long Way Down, October 11
Pierce Brosnan, Toni Collette, and Imogen Poots star in this movie about four people who meet on New Year's Eve and form a makeshift family to help each another cope with the struggles they're each facing in their lives.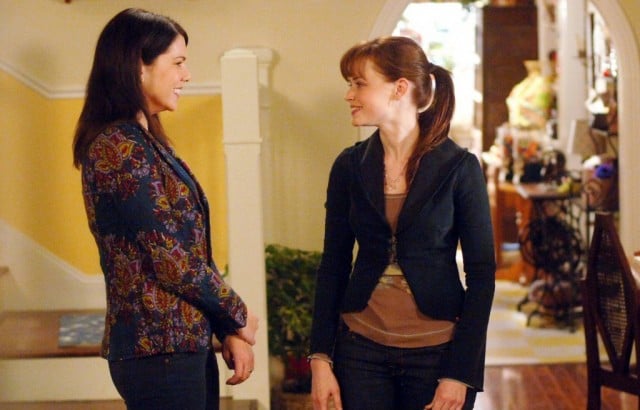 Can't-Miss TV Shows
Gilmore Girls, Available Now
Your favorite fast-talking mother-daughter duo is finally heading to Netflix. All seven seasons of the comedy-drama series, which star Lauren Graham as 30-something single mom Lorelai Gilmore and Alexis Bledel as her daughter Rory, will be made available, meaning you can watch them (and their ever-changing hairstyles) navigate several years of small town drama in the offbeat but charming city of Stars Hollow.
Hostages, Available Now
The drama stars Toni Collette as a surgeon who is drawn into a political conspiracy after her family is taken hostage. The entire first season, which also stars Dylan McDermott and Billy Brown, will be available to stream.
The Following, Available Now
In this second season, Kevin Bacon returns as the former FBI agent trying to catch a brilliant and charismatic but psychotic serial killer (James Purefoy) who leads a cult of believers who follow his every command. The hit FOX show has garnered a cult following and has already been renewed for a third season, so this is your chance to catch up.
Supernatural, October 7
Season nine of the long-running CW series, starring Jared Padalecki, Jensen Ackles, and Misha Collins, follows the two brothers as they continue to fight every demon, beast, and evil supernatural being out there. The latest season hits Netflix on the same day as the show's season 10 premiere.
Arrow, October 8
The well-received second season of the CW's hit adaptation of the Green Arrow stars Stephen Amell as Oliver. In this particular season, he is left crushed by the death of his best friend, Tommy, and ends up retreating to the island in a self-imposed exile. The loss forces him to redefine his mission and rethink the type of vigilante he wants to be.
Last Man Standing, October 18
The third season of the sitcom continues to follow Tim Allen as a married dad of three who struggles to maintain his masculinity in his world dominated by women.
The 100, October 22
Season one of the drama stars Eliza Taylor, Eli Greene, and Thomas McDonell. The show is set 97 years after a nuclear war has destroyed civilization and follows 100 juvenile delinquents who are sent off a spaceship housing humanity's few survivors and back to Earth to re-populate the planet.
Sons of Anarchy, October 25
Season six of the FX hit drama series starring Charlie Hunnam, Katey Sagal, and Mark Book Junior will soon be available for you to binge-watch. The show follows a man in his early 30s as he struggles find a balance his life as a new dad and family with his involvement in an often dangerous and violent motorcycle club.
The Carrie Diaries, October 25
CW's short-lived show chronicling the pre-teen years of Sex and the City's Carrie Bradshaw might have come to an end, but that doesn't mean you can't still tune in to the second season. The show stars AnnaSophia Robb as a young Carrie, and chronicles the issues with love, friendship, and family she experiences as she attempts to navigate high school in the early 1980s.
More From Entertainment Cheat Sheet:
Want more great content like this? Sign up here to receive the best of Cheat Sheet delivered daily. No spam; just tailored content straight to your inbox.