4 Marvel and DC Characters Who Need a Movie Reboot
At the rate that studios are developing movies based on comic books, there are bound to be some cases where audiences are stricken with a well-placed case of déjà vu. After all, Hollywood is known for its tendency to return to characters and franchises that are recognizable by the masses. In just the last decade, the big screen has given moviegoers new versions of Batman, Spider-Man and the Fantastic Four. Here are five characters that deserve to once again make the leap from page to screen for a new interpretation, listed in order of their introduction to comic book readers. For the record, we're not including characters like Green Lantern, the Punisher, and Lex Luthor, for whom new takes have already been announced.
1. The Riddler (DC Comics, 1948)
Jim Carrey brought Edward Nygma – better known as the DC Comics supervillain The Riddler – to life in Batman Forever back in 1995, and while many consider that film to be the beginning of the end for the Caped Crusader's initial big-screen run, Carrey's performance is often mentioned as a highlight. However, his portrayal hews closer to the larger-than-life tone of earlier Batman films. Now that Christopher Nolan's Dark Knight trilogy has reintroduced moviegoers to new versions of Batman villains like The Joker, Catwoman and Two-Face, perhaps it's time that The Riddler received his due. With Warner Bros. reportedly eyeing a trilogy for Ben Affleck's Batman, The Riddler is certainly a character we expect to see pop up. After all, his affinity for puzzles and extraordinary intellect naturally lend themselves to a version of the character that's less Ace Ventura and more Hannibal Lecter.
2. Jonah Hex (DC Comics, 1972)
Every once in a while, a comic book film totally botches its big opportunity to bring greater awareness to a character beloved by the geek community. Such was the case with the 2010 film Jonah Hex, which starred Josh Brolin as the disfigured Western anti-hero. Clocking in at only 81 minutes, the film was maligned by both critics and audiences alike, earning just $10 million domestically against a production budget of $47 million. However, Deadpool may have opened the doors for more comic book anti-heroes to attract an audience, and considering that most casual moviegoers likely have only a passing familiarity (at best) with the first attempt at bringing Jonah Hex to theaters, Warner Bros. could have a chance to more accurately capture the spirit of the comic book and win over fans disappointed by his initial film release. Hey, it worked for Dredd.
3. Ghost Rider (Marvel Comics, 1972)
Despite the fact that the first Ghost Rider film was a hit in 2007, one would be hard-pressed to find anyone who really loves the film, let alone its even more despised sequel. Perhaps it was the films' lackluster scripts, the obvious miscasting of Nicolas Cage as the aptly named Johnny Blaze or both. Regardless, Ghost Rider's big-screen appearances to date have failed to establish why the character is compelling, aside from the obvious spectacle of a leather-clad motorcyclist with a flaming skull on his shoulders.
The fact that Marvel Studios now has full rights to Ghost Rider back from Sony (which produced the two Cage films) could mean that the character might be primed and ready for either another film or a rebirth as a Netflix series. The darker themes and supernatural elements would be better served as a companion to Netflix's Daredevil series than the family-friendly Avengers films anyway.
[Update, 8/4/16: As revealed in the 'Agents of SHIELD' Season 4 teaser that debuted at San Diego Comic-Con 2016, Ghost Rider will appear on the show.]
4. Blade (Marvel Comics, 1973)
Speaking of Marvel heroes that the studio has reclaimed film/television rights to, perhaps none is more ready for a fresh approach than Blade. Wesley Snipes memorably played the day-walking vampire hunter in a trilogy of films released from 1998 to 2004, and while the actor himself has teased a possible return to the franchise, it remains to be seen if Marvel Studios would go that route – essentially grandfathering in the first three Blade films – or recast a younger actor in the part going forward. In either case, the character has built-in appeal, despite the fact that the last film, Blade: Trinity, is largely considered a disappointment. The character's blend of horror elements, martial arts action and larger-than-life superheroics is a no-brainer for a franchise reboot. As is the case with Ghost Rider, Blade would be a fine addition to Marvel's growing Netflix presence, though at this point anything is possible.
[Update, 10/11/16: Per SlashFilm, 'Underworld: Blood Wars' actress Kate Beckinsale said at NY Comic-Con that Marvel Studios was "doing something with Blade," suggesting that some sort of reboot is still in the works.]
5. Spawn (Image Comics, 1992)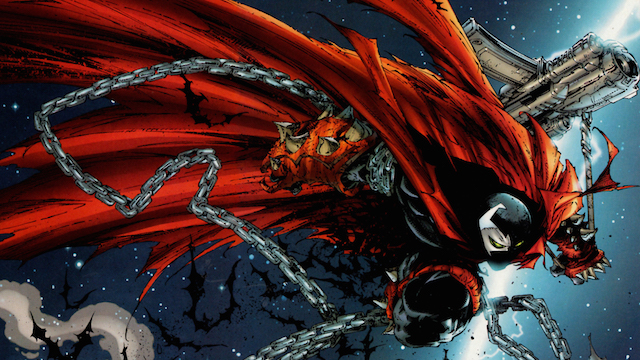 Todd McFarlane's Spawn is perhaps one of the first comic book creations to spring to mind when thinking of characters with a devoted cult following who have tried and failed to cross over into the mainstream. Case in point, the 1997 film adaptation received largely negative reviews from critics and mediocre box office. Even worse, the film – which starred Michael Jai White as the first African-American superhero in a major Hollywood film – took a great number of liberties with the source material, neutering the inherently dark subject matter into a PG-13 release. Like Ghost Rider, Spawn's origin centers on a deal with demons that results in supernatural powers. McFarlane has mentioned that he is developing a reboot that would remain truer to his comics, but talk of Spawn's return to theaters has been ongoing for years. At this point, we'll wait until an official announcement before we get our hopes up.
Honorable Mentions:
Silver Surfer (Marvel Comics, 1968)

The Rocketeer (originally Pacific Comics, 1982)

Timecop (Dark Horse Comics, 1994)
Follow Robert Yaniz Jr. on Twitter @CrookedTable
Check out Entertainment Cheat Sheet on Facebook!
More from Entertainment Cheat Sheet:
Want more great content like this? Sign up here to receive the best of Cheat Sheet delivered daily. No spam; just tailored content straight to your inbox.