4 New TV Series Coming to TNT This Fall
TNT is adding a mix of unscripted reality shows and action-packed new dramas to their lineup this month. Here are four new television series set to air on the channel this fall.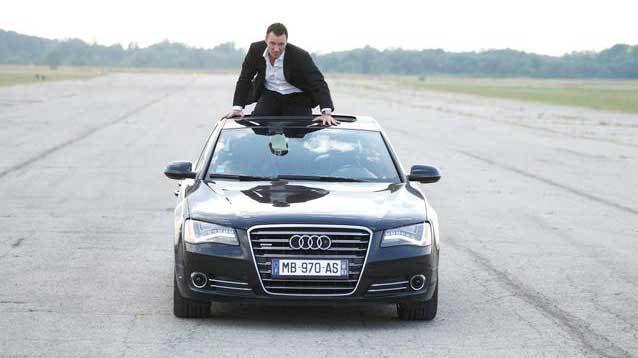 Transporter: The Series
Starring British actor Chris Vance, this international series — based on Jason Statham's Transporter franchise — centers on Frank Martin (Vance), a professional "transporter" paid to pick up and deliver people and cargo from all over the world. As the best at his job, Frank handles only extremely dangerous cases and the series features various exotic locations. Meanwhile, Andrea Osvárt plays Frank Martin's handler, Carla, an ex-CIA operative who is responsible for the organization of his missions. The first season isn't set to premiere on TNT until this fall, but a 12-episode second season has already been greenlit.
On The Menu
Ty Pennington is set to host TNT's new cooking competition series, also featuring Chef Emeril Lagasse as Menu Master. The reality show follows a group of home cooks as they are challenged to create a signature dish for that week's selected restaurant chain or food vendor. A panel of judges then chooses a winner, whose dish is immediately available on that particular restaurant's menu. The series is the first to ever give viewers the chance to taste the winning dish after every episode. The show is due to air this fall.
Wake Up Call
Also in the network's unscripted space is Wake Up Call, an eight-episode series starring Dwayne "The Rock" Johnson. Each hour-long episode will follow Johnson as he lends a hand to everyday people who are currently going through big challenges in their lives, such as a struggling business or serious family issues. Johnson will serve as both a motivator and mentor, pushing participants to set goals, reach out to their relatives, and get to work. The show follows up Johnson's past TNT project, The Hero, in which the star also mentored a group of every day heroes. Wake Up Call is scheduled to debut this fall.
The Librarians
Based on the TV movie Librarians franchise, the 10-episode series will follow a group of special librarians who live beneath New York's Metropolitan Public Library and dedicate their lives to protecting the world from unknown secrets by recovering powerful artifacts, fighting supernatural threats, and solving mysteries. The show stars Noah Wyle (Falling Skies) reprising his role as the lead librarian. Rebecca Romijn will play Eve Baird, an agent in charge of protecting the group. Other cast members include Christian Kane, Lindy Booth, John Kim, and Matt Frewer. The series is slated to air midseason in late 2014.
[mediagraph-partner content_url="8486264a437fe65e7f9c63ac"][/mediagraph]
More From Entertainment Cheat Sheet:
Want more great content like this? Sign up here to receive the best of Cheat Sheet delivered daily. No spam; just tailored content straight to your inbox.