4 Shows That Prove Television Is Changing
We've reached a weird, unique moment in the sinuous history of television. Game of Thrones, now in its fourth season, has become the most watched cable show since The Sopranos, bringing in around 14 million viewers. Louis C.K.'s brilliant profundity-in-banality show Louie, back after a 19-month hiatus, is redefining auteur television, and mainstream outlets like Salon are now posting articles claiming that "television's golden age is a sham."
While the constantly shifting paradigm of television makes it easy to toss around huge hyperbolic statements and proclaim every day to be a watershed moment, 2014 is undeniably an odd, probably paramount year — or at least a transitional year. Game of Thrones is going through an adolescent stage, trying to break away from its source material in bizarre ways; Mad Men is ending; Louie has become the first really, seriously important game-changing New York-centric comedy since Seinfeld; and 24, the show with the gimmick that keeps on giving, has returned, perhaps because its star, Keifer Sutherland, had nothing else to do. These shows extrapolate the unique, yet ever-changing identity of television in 2014.

1. Game of Thrones
Game of Thrones – a show (and a book series) that's ubiquitously riddled with violence, sex, and violent sex – broke HBO GO during its season premiere. Apparently, HBO didn't learn from its True Detective mishap, and still doesn't understand the concept of viewership surge online. Yet, somehow, Netflix managed to not crash while half the country binge-watched House of Cards.
This season, the show's opaque portrayal of fantastical medieval violence and lust — none of which is pleasant, mind you — has attracted vehement criticism. It's not just because the show portrayed some really discomforting incestuous rape, which would have been unthinkable even ten years ago. No, the vehement anger was consequent of the show altering the books, taking consensual incest and turning it into incestuous rape. The show's loyal following argue that this is unfaithful to the characters as they've been portrayed thus far, even in a world in which a main character dies every seventeen minutes.
That a television show about dragons and princesses created so much buzz in mainstream and esoteric outlets, as well as torrents of comment forum chatter, is axiomatic of television's new-found significance. A week after this episode, people were back to watching and praising the newest episode of Game of Thrones, with the proliferation of think pieces popping up the very next morning. The show may not have over 50 million viewers as MASH had, but it's certainly spurring more discussion than any other show since, well, Breaking Bad.

2. Mad Men
Mad Men, almost a third of the way into its final season, engendered the second-phase — the post-Sopranos phase — of the third Golden Age of Television (what a mouthful), and its end marks the end of an era. Replete with a literary of references and a black, monolithic apparatus that looks curiously familiar, the show is certainly promising viewers a glorious swan song. Matthew Weiner's show was the first post-Sopranos show to really lend an air of legitimacy to non-HBO channels.
AMC, once known for playing classic films like The Godfather and Butch Cassidy with regularity, trans-mutated before our eyes into the channel that offered the best original programming; Mad Men, Breaking Bad, and The Walking Dead (well, that one is certainly popular, but not really great.)
Weiner's show gave us an anti-hero with a cold, cryptic demeanor and unflappably cool persona projected with dexterity by Jon Hamm (an unknown prior to his casting as Don Draper), at once akin to the Tony Sopranos of the world and yet wholly unique in his quotidian manifestation of "badness." No one would or should argue that Don is a "good guy." He's a real guy, like Tony; but unlike Tony, Walter White, or Jaime Lannister, Don doesn't kill people, deal drugs, or rape his sister. He sleeps around — a lot — and has a drinking problem, identity problem, and is generally pretty selfish and elitist. He's the typical Nixon Silent Majority type, quickly becoming a relic of the past as the counter-culture seeps into the work place. But he'a a realistic, everyday kind of guy upon which Weiner's writing staff project profound musings of the world and people around us. When Mad Men goes off the air, a moment of TV history will be gone, and the shows that followed in the wake of Mad Men – shows like GoT – will be the new old shows.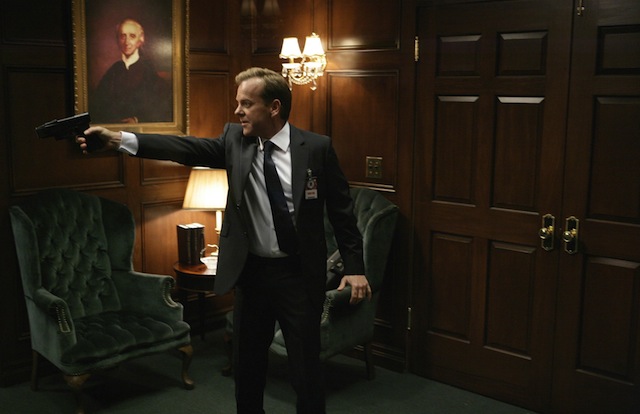 3. 24
While Mad Men is representative of one phase of television passing, the inexplicable indifferent return of 24 – albeit in a more cable-ized iteration – insinuates a certain reluctance to move on. The show 24, which documents the ongoing efforts of the one-man army Jack Bauer (Sutherland), often resembles a good Stallone vehicle, or a bad Bruce Willis one, but more than a serious television drama. While shows like True Detective and Hannibal are further pushing the boundaries of what a TV show can be, 24 2.0 is a huge step backwards. It retains the 24-hour gimmick of the original run but squeezes it into a more cable-friendly 12-episode arch. It's at once pure fan service and money making laziness.
This isn't exactly Twin Peaks, which could genuinely work if they wanted to add a third season 24 years later (as fans know, Laura Palmer said she would return in 24 years.) This is TV producers looking for the next big thing in their rear-view mirror. Though 24 certainly has its fans, and it's popular enough to get full-page coverage in The New York Times, but it doesn't belong in the Mad Men/Game of Thrones era. It has one foot cemented in the pre-Mad Men days, and it feels like an awkward middle-aged dad trying to be hip with his kids but really just causing them painful embarrassment.
4. Louie
Louie is something else entirely. It's a one-man band with Louis C.K., and preternaturally modern. Louis C.K. is to Louie what Jack Bauer is to America — doing it all by himself. He writes, directs, produces, and stars; on the DVD commentary, he discusses the kind of lenses he chose for each shot, which is a far more technical aspect than you're going to get from a Jerry Seinfeld commentary track. C.K. is a comedian, but he's also a David Chase, Vince Gilligan, or Matthew Weiner — getting his hands into every facet of the show's existence, leaving fingerprints on every shot.
Cinephiles, comedy aficionados, and fans of casual television have all heaped praise upon Louie, albeit for different reasons. C.K. has said that he put his show in hiatus because he didn't want it to get stale. Compared to the cash-grab that is 24 part II, this is a jarring revelation. If 24 represents the people who don't want the cultural commentary of Mad Men or the meticulously detail-oriented Game of Thrones, then Louie is evocative of television's future.
More From Wall St. Cheat Sheet: