5 Actors Using TV to Revitalize Their Careers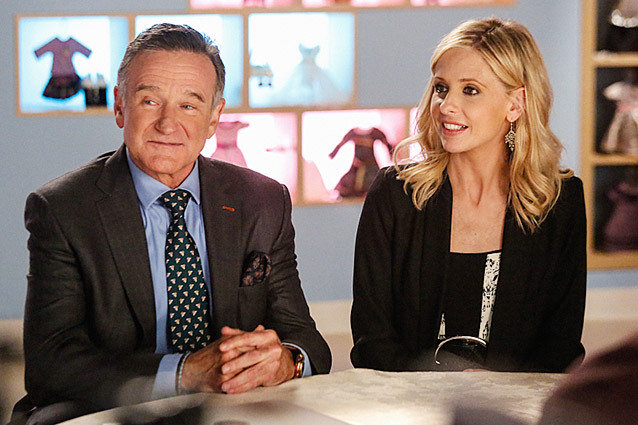 Having a few blockbuster hits doesn't ensure an actor will stay in the spotlight forever. There's always a stream of new and talented up-and-comers, meaning that some actors end up getting lost in the shuffle, particularly after they've suffered through a few blockbuster flops. So, what happens when a movie star's career begins to fizzle out? They use TV as a means to work their way back to the top. More often than not, it works. Here are five actors who are making the switch from the big screen to prime time.
1. Robin Williams
After years of playing in hit movies such as Good Will Hunting and Good Morning Vietnam, Williams lost his touch for a bit, going nearly a decade without a hit movie, per Pajiba. Finally, he decided to return to his TV roots — Williams rose to stardom more than 30 years ago on Mork & Mindy – by guest starring in shows such as Louie and Wilfred. In 2013, his big break came when he landed a lead role in the CBS show, Crazy Ones, where he played an eccentric Chicago advertising executive. Crazy Ones, which also starred Sarah Michelle Gellar as his daughter, features a hard working and somewhat neurotic group of advertisers determined to set the advertising world on fire. During a Parade interview, Williams acknowledged his switch back to TV was a strategic career move.
"The idea of having a steady job is appealing. I have two [other] choices: go on the road doing stand-up, or do small, independent movies working almost for scale [minimum union pay]. The movies are good, but a lot of times they don't even have distribution. There are bills to pay. My life has downsized, in a good way," he said.
CBS recently announced Crazy Ones would not be renewed for another year; it received mixed reviews from critics and struggled with its ratings. It's not all bad news for Williams, though. The Wrap writes that his show had better ratings than any other canceled show in the 2013-14 season with an average of 2.7 in the 18 to 49 demographic. If history repeats itself, we'll soon be seeing Williams grace the big screen again.

2. Kevin Bacon
Known for hits such as Footloose, Apollo 13, and X-Men: First Class, Bacon's long-running career slowly started to fizzle out. Bacon has said that Footloose, the 1984 blockbuster in which he starred Ren McCormack, was the pinnacle of his career. "You can't really say my career started to take off after Footloose, because it didn't. My career started going down the toilet," he said to The Telegraph. But fast-forward to 2013 when Bacon debuted on the small screen as FBI agent Ryan Hardy in The Following, a show that centers around Hardy and his pursuit of serial killer Joe Carroll, and it's clear that a TV show is exactly what he needed.
During a Deadline interview, Bacon says he realized TV was the key to his career longevity. "I went, 'Why am I being such an asshole? Why not? What I really love to do is act. Why not put yourself in a situation where you have a greater chance and more time in front of the camera, over the course of months — years, if you're lucky?' I threw my hat into the ring and said, 'OK, I'm open to the idea now.'"
It was a great move. The Following was well-received during its first season, and despite mixed ratings during the second season, it has been renewed for a third. In 2013, Bacon received the Saturn Award from the Academy of Science Fiction, Fantasy & Horror Films for best actor on television for his role as Hardy.

3. Katie Holmes
Dawson's Creek went off the air in 2003, and many believed Holmes would have a promising Hollywood future. She did — initially. That same year Holmes starred in Pieces of April, and a year later was cast as the female lead in Batman Begins. After that, however, Holmes didn't do anything for three years. When she did return to the big screen, the movies she was in didn't help her career. She was in 2008's Mad Money, which didn't do well, and her roles in Jack and Jill and Son of No One certainly didn't giver her the career boost she desperately needed.
But, Holmes recently announced she'll be returning to TV in a not-yet titled ABC pilot about New York socialites. Holmes will play Ann, a smart philanthropist who watches her life crumble when a bet destroys her marriage, according to TV Line. Despite Holmes' recent lack of hits, she's proven through Dawson's Creek, as well as guest appearances in TV show's such as How I Met Your Mother, The Kennedys, and Eli Stone that she knows what she's doing on the small screen. It's possible that she does still have a long career ahead of her.

4. James Spader
Spader's career started with films such as Pretty in Pink, Mannequin, and Sex, Lies, and Videotape. Later, he turned to TV where he ended up wining three Emmys for playing Alan Shore in two series, The Practice and Boston Legal. However, in 2008 Spader left TV and took a few smaller movie roles, eventually returning to TV for a season of The Office. Finally, Spader's much-needed break came when he was offered a lead role in NBC's The Blacklist. Spader plays Raymond "Red" Reddington, one of the FBI's most wanted fugitives, who surrenders to the FBI with an offer: He'll help the FBI catch the world's most notorious criminals under the condition that he speaks only to Elizabeth Keen, an FBI profiler.
The show proved to be a success, finishing its first season with strong and steady ratings. In fact, Deadline writes that the series was rated as the No. 1 drama and No. 2 scripted series on the big four networks in the 18 to 49 demographics, averaging a 4.9 rating. It was quickly renewed for a second season, meaning Spader's newfound fame isn't even close to being over.

5. Katherine Heigl
Heigl is best known for her five-year run on ABC's Grey's Anatomy. She left the drama in 2010 to pursue roles on the big screen, such as Knocked Up, The Ugly Truth, The Big Wedding, and One for the Money. Knocked Up was Heigl's true claim to movie fame, and The Ugly Truth, which came out in 2009, brought in more than $200 million worldwide, per The Hollywood Reporter. However, things went downhill from there. The Big Wedding only brought in $21.8 million with a 7 percent rating on Rotten Tomatoes, and One for the Money grossed $37 million worldwide with a Rotten Tomatoes rating of 2 percent.
Heigl also developed a reputation as being difficult to work with, leaving her with few movie options. An unnamed source told The Hollywood Reporter during an interview that, "She's really determined to put everything behind her. The only way to do that is to go to work in film or television with good people and for those people to have good things to report back. And it's not an overnight thing."
So, when will you see Heigl again? This fall in NBC's State of Affairs, a show described as Scandal meets The West Wing. The drama centers around Heigl's character, who is brought in from the field to become the president's daily briefer. Only time will tell if this show's enough to give Heigl the career boost she obviously needs.
More From Wall St. Cheat Sheet: