5 Artists Who Have Outdone Mariah Carey on Christmas
It's about that time of year again when Mariah Carey's relevance stumbles upon a resurgence; her fans come flocking from corners far and wide to bow down to the Queen … the Queen of Christmas that is. Mariah Carey has already taken to social media, letting her devout followers know that it's time — it's time for Carey to begin rocking your world once more.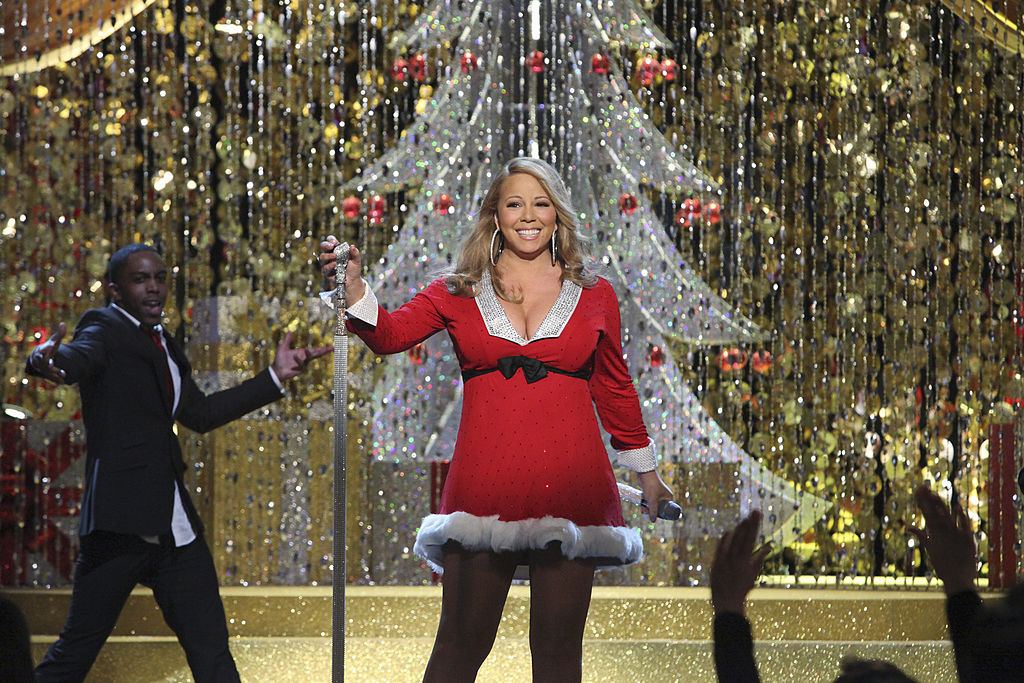 From "All I Want For Christmas Is You" and "Joy to the World" to "Miss You Most (at Christmas Time)" and "O Holy Night," Mariah Carey has brought her soulful voice and whistle-reaching capabilities to some of the most famous Christmas tunes of all, making her a living legend in the space. 
While Mariah Carey has established a legacy regarding Christmas music, certain artists have outdone her Christmas albums in the past. When it comes down to it, you just can't deny that the albums below give the and only Mariah Carey — the Queen of Christmas and the beloved diva herself — a run for her money. 
5. Louis Armstrong: 'The Best of Louis Armstrong and Friends, The Christmas Collection' 
No one can deny Louis Armstrong's contagious energy; his endlessly joyful disposition, warm presence, and go-with-the-flow cheer is a perfect match for a Christmas album. 
If Satchmo's deep and signature sound isn't enough to put a smile on your face as you cozy up by the fire, the likes of Dinah Washington, Duke Ellington, and Lena Horne join in on the celebration. Give Louis Amstrong's "Christmas in New Orleans" a listen, and you will immediately know why he earned a spot on this list.
4. James Brown: 'James Brown's Funky Christmas' 
James Brown's Funky Christmas is a ball of fun with a message! Though one can say this is cheating — as the collection includes three of Brown's most iconic Christmas albums — each one is worthy of a spot individually. Thus, instead of taking the spotlight away from other artists, here's the collection. 
From his R&B balladry to his display of social awareness, how Brown revolutionized the music scene is evident in his Christmas albums, as he brings his rock and roll and funk-infused style to various Christmas classics. 
3. Elvis Presley: 'Elvis' Christmas Album' 
If the King of Rock and Roll doesn't deserve a place on this list, who does? Elvis Presley's 1957 Christmas album topped the charts for a month and went on to sell nearly 20 million copies in various editions. 
The album is also quite historical. As Rolling Stone notes, Irving Berlin, the writer behind "White Christmas," was so scandalized by Elvis' rendition that he tried to get it banned from the radio, yet to no avail. While Elvis' sexy shtick is in each number, he also manages to warm your heart.
2. Ella Fitzgerald: 'Ella Wishes You A Swinging Christmas'
Whether you call her Lady Ella, the Queen of Jazz, the First Lady of Song, the First Lady of Swing, or The First Lady of Jazz, all of Fitzgerald's nicknames are equally relevant when it comes to this upbeat Christmas album. 
The album is breezy and lighthearted; it's perfect for sinking into the Christmas spirit and leaving all your troubles behind. 
1. Phil Spector: 'A Christmas Gift For You From Phil Spector' 
To put it simply: many music critics and fans alike have considered this the greatest Christmas album for decades. Rolling Stone named this album on its list of the 500 Greatest Albums of All Time; it sits at number 142. 
While this artist's album features a ton of singers slaying (or should we say sleighing?) Christmas tunes with ease, credit must be given to producer Phil Spector, as he spearheaded the creative vision behind the renowned Christmas album.