5 Bands That Prove Nashville Isn't Just About Country Music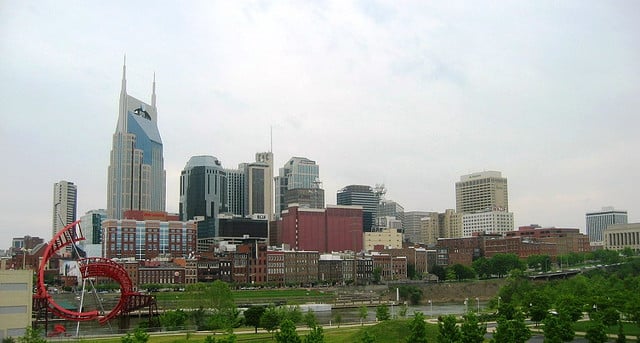 Nashville may be known as Music City, U.S.A., but it is undeniably most famous for its historic and still-thriving country music scene, specifically because Nashville is the home of the Grand Ole Opry. The historic honky-tonks lining Broadway in downtown Nashville still cater to country-music lovers, with bands often sprinkling their sets with hits from Grand Ole Opry legends like Patsy Cline and Hank Williams Sr., and the city is the ultimate tourist destination for country fans the world over.
For many years, Nashville's rock 'n 'roll scene suffered from what's been referred to as "the Nashville Curse," which refers to the fact that no rock bands from Nashville sold a million records between the '80s act Jason and the Scorchers and Paramore's Riot!, which was released in 2007. Since the Nashville curse was broken, many musicians and music industry executives have reevaluated the idea that Nashville is just a country town.
It would be easy to visit Nashville as a tourist and still think that the scene in the city is dominated by country music, but in recent years, some well-known rock and roll bands have relocated to the Southern city, building recording studios and record stores and dragging musician friends with them to create one of the most diverse music scenes the city has ever supported. Here's a list of five bands and musicians that prove Nashville isn't all about country music.
5. Paramore

Founding members of the pop-punk act Paramore first met while living just outside Nashville in Franklin, Tennessee. Singer Hayley Williams founded the band with brothers Josh Farro and Zac Farro, who left the group in 2010. Paramore's alternative, pop, and emo influences in addition to Williams as its charismatic lead singer have garnered the band comparisons to No Doubt. Most of the media attention surrounding Paramore has focused on Williams, which is frequently cited as a reason for the Farro brothers' frustration and departure from the band.
Nashville Scene called Paramore "Nashville's first rock band to go platinum since the Reagan era, hence ending the infamous 'Nashville Curse.'"
"I think it's really cool that there's, like, a cool punk rock and rock 'n' roll scene. There's a lot of basement shows and there's also a lot of cool electronic bands in our town and it's just rad. … It's almost like the secret is out now. But I think that Nashville and all the young people that are making the scene today deserve it. It's just a really cool town to come back home to. I really don't know that I would ever love any other city the way that I love Nashville," Williams told Nashville Scene.
4. Kings of Leon
Rock band Kings of Leon formed in Nashville in 1999. Kings of Leon has been based in Nashville the longest out of the bands on this list. The group consists of the three Followill brothers — Anthony, Ivan, and Michael — and their cousin Cameron. Their sixth and latest album, Mechanical Bull, was recorded at a small studio in Nashville, which the brothers described as a more relaxing, comfortable process than recording at a more expensive studio. That album came out in September.
Despite not being able to spend much time in Nashville due to a rigorous touring schedule, the band organized a weekend-long food and music festival in Nashville called Music City Eats this September, and a followup is scheduled for 2014.
3. Alison Mosshart, The Kills
The lead singer of the blues-punk duo The Kills is a London-to-Nashville transplant who was seduced by the city while working at Jack White's Third Man Records (don't worry, we're getting there), recording with the Dead Weather. While both bands are certainly influenced by classic country (The Kills have a stunning cover of Patsy Cline's "Crazy"), both groups are definitely more hard-edge garage rock than country twang.
Alison lived in London, where The Kills are based, for many years before purchasing a house in Nashville. "I recently bought a house in Nashville that has a big studio, so I have space to make the most incredible mess," she said while discussing painting and the upcoming Kills record with MTV at the beginning of the summer. Her move has also met the approval of Dead Weather fans, as after relocating, it was announced that the band is working on tracks for a new album, due out in 2015.
2. The Black Keys
Alternative duo The Black Keys relocated from their hometown of Akron, Ohio, to Nashville in 2010. Guitarist and singer Dan Auerbach opened Easy Eye Sound Studio in the city, and the band recorded its latest album, El Camino, there. "Opened shortly after Auerbach's move to Nashville in mid-2010, the place is a gearhead's paradise, stocked to the ceiling with electric guitars, vintage keyboards and drums in various states of assembly," said American Songwriter. Auerbach has been working on records with other artists at Easy Eye, as well, with the stipulation that he refuses to work with anyone that sounds like The Black Keys.
"I think The Black Keys are a major component in helping people think of Nashville in some way other than contemporary country music," said Mike Grimes, co-proprietor of Nashville establishments Grimey's and The Basement, to Nashville Scene.
1. Jack White and Third Man Records
Jack White relocated from Detroit to Nashville in 2009, has become one of the most well-known musicians residing in Music City, and is often credited with spurring the idea that Nashville makes a great home base for musicians of all genres. In Nashville, White established Third Man Records — a record label, recording studio, record store, performance venue, vinyl factory, and office space, among other things. "It's a one-stop creativity shop as designed by an imaginative kindergartner — a cross between Warhol's Factory and the Batcave," according to The New York Times.
White's music is heavily influenced by country but is more commonly categorized as alternative or blues. The bands that have put out records on the Third Man label also span a huge variety of genres, and White has been a key part of promoting musical diversity in Nashville. Third Man has contributed to popularizing Nashville-based groups like The Black Belles and Jeff the Brotherhood while also drawing groups like The Greenhornes and The Kills to the city because of those groups' association with White. White has been recognized for his contributions to Nashville's music scene by being chosen as an adviser to Nashville Mayor Karl Dean as a part of Nashville's Music Business Council.
Follow Jacqueline on Twitter @Jacqui_WSCS
Don't Miss: 10 Gifts for the Music Lover on Your Christmas List.