5 Biographies Everyone Was Reading in 2013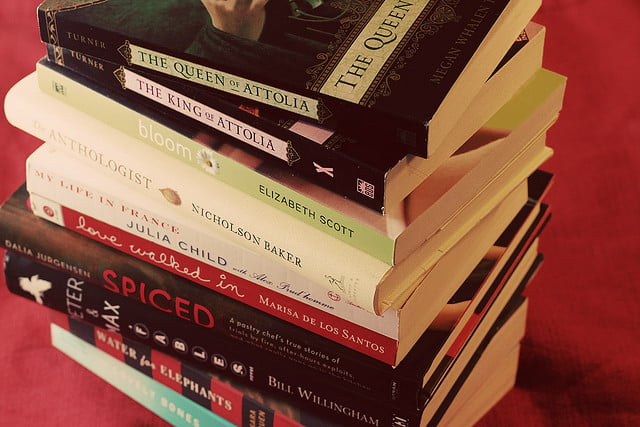 Biographies are the beautiful product of crossbreeding history and storytelling; learning wrapped in nice narratives. Though we're nearing the end of 2013, this year has brought with it an astounding number of excellent biographies. Below are just five of the more popular books, based on Amazon's best biographies list and The New York Times's most recent best-selling non-fiction list.
1. I Am Malala
If you're looking for an inspiring book, look no further. I Am Malala follows the life of Malala Yousafzai as she fights for education and peace in Pakistan, where the Taliban tried and failed to kill her at 15 years old. Malala has appeared on a number of television programs to tell her story, much to the appreciation of the public.
However, it would be a mistake not to flip through the pages of the book itself, at least according to The Daily Herald. In one portion that the publication highlights, Malala writes: "I've always been a daydreamer, and sometimes in lessons my mind would drift and I'd imagine that on the way home a terrorist might jump out and shoot me on those steps. I wondered what I would do. Maybe I'd take off my shoes and hit him, but then I'd think if I did that there would be no difference between me and the terrorist. It would be better to plead 'OK, shoot me, but first listen to me. What you are doing is wrong. I am not against you personally, I just want every girl to go to school.'"
Readers should appreciate the fact they have the opportunity to read her biography — not all are so lucky. Education officials in Pakistan have banned Malala's book from private schools, saying it is disrespectful to the Islamic religion and that is a tool of the West, The Guardian reports.

2. Si-cology 1: Tales and Wisdom from Duck Dynasty's Favorite Uncle
Perhaps a bit less serious, Sci-cology 1 is still only No. 7 to I Am Malala's No. 5 on The New York Times's best-selling biographies list this week. The author, Si Robertson, is who the title suggests, an uncle on the reality TV show Duck Dynasty. In the book, Robertson retains his unique style. The novel also comes in audio format for those who'd prefer to listen.
In an A&E ad for the book, Robertson had a number of things to say about his novel, not the least of which was,"Do you have any idea what I can get on eBay for this thing?" Also notable was his claim that "God has got a great sense of humor," something he knows because, "Hey, look at me. I'm like a small nuclear plant." But in all seriousness, it is likely that those who appreciate the wit and "wisdom" of the hit TV show will also enjoy Robertson's book.
3. The Bully Pulpit: Theodore Roosevelt, William Howard Taft, and the Golden Age of Journalism
Is this political drama at its best? In The Bully Pulpit, we have the story of Roosevelt and Taft going head to head over the presidential nomination — two close friends whose lives split them rather violently. The book is written by Doris Kearns Goodwin, also the author of The Fitzgeralds and the Kennedys and Lyndon Johnson and the American Dream.
She based The Bully Pulpit on more than 400 letters sent between Roosevelt and Taft, their journals, and also their personal memoirs — not to mention letters from Archie Butt, a personal aide. If you have a love of history, politics, or even just the men themselves, this may be a book worth your while.
4. Double Down
The second politically driven biography on our list, Double Down, by Mark Halperin and John Heilemann, focuses on our present president. The book digs into President Barack Obama's victories against John McCain, Sarah Palin, and even the Clintons. Like any biography, the book gives readers new insight into actual occurrences in the White House.
"Their new book is chock-full of anecdotes, secret meetings, indiscreet remarks. They gathered string in 500 interviews. All the usual Washingtonians talked to them not for the sake of history, or even to make sure their side of the story got told, but because they wanted to be included," said Michael Kinsely in The New York Times's review.
5. Killing Jesus
Bill O'Reilly of Fox News's O'Reilly Factor works alongside Martin Dugard, a historian, whose name appears in rather small type on the book's cover. O'Reilly and Dugard's book looks into the life and death of Jesus Christ, concentrating on political and historical factors.
Dugard is the author of Killing Kennedy and Killing Lincoln, so Killing Jesus may be a jump in subject matter, but he and O'Reilly certainly didn't go wild with the title. Still, Killing Jesus sits in second on The New York Times's best-selling non-fiction list, and Killing Kennedy, also a project from the duo, is sitting in 16th place.
Don't Miss: 15 Businesses You Can Start With $5,000 or Less.