5 Funniest Movies Starring Stand-Up Comedians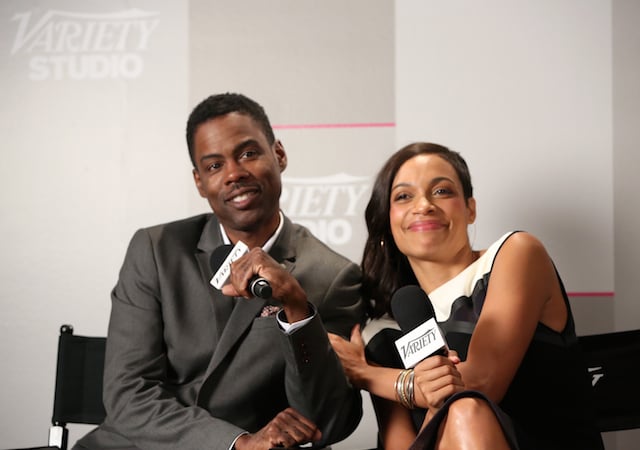 Most comedians who make it big eventually move off of the stand-up circuit — if not forever, at least for a brief time — to pursue other things. For some, that means a talk show, as we see with comics like Jay Leno. For others, that means Saturday Night Live, or similar pursuits.
But for a rare few, that means involvement in the movie industry, usually in comedic films they're involved with writing or making, but sometimes simply cast in a role that fits their stage presence once they've reached a certain level of recognition elsewhere. For some, movies are a rarity that makes up little of their career, while for others stand-up is just a gateway to the movie business. Let's take a look at some of the funniest comedies stand-up comics have gone on to help make.
1. Chris Rock: Down to Earth and Top Five
Chris Rock has a much more varied and comprehensive career today then he did when he first started doing stand up. He's worked as a producer, director, done voice acting, television, and worked as a writer on top of that. He starred in the 2001 film, Down to Earth, where he played a young stand-up comedian killed before his time who is sent back to earth in the body of an older white millionaire with a homicidal wife. Critics didn't love the film, but it wasn't all negative feedback either.
Many considered it a rough start, but evidence of promise if the movie had struck a better balance with its humor and plot. Rock plays a comedian in another of his more recent films, showing an obvious trend in his character's, probably because it allows him to sneak in some of the stand-up he's so well known for and appeal to an old fan base as a result. In the comedy film, Top Five, he plays a comic that tries to get into dramatic acting. It's almost like the reverse of meta, given that he's a comedian acting in a comedy about a comedian acting in a drama.
2. Ricky Gervais: The Invention of Lying
Ricky Gervais brings together a number of stand-up comics in this film about how lying came to be. He does a bit in his stand-up routine that basically describes the plot of the film, so its obvious the idea had been stewing around for a while. Unlike many other comedians, Gervais got his start with a television show — that was his big break — before moving on to stand-up comedy after the fact. So the move to a starring film role isn't really a great leap for Gervais. As for the film itself, Rotten Tomatoes gives it a 58% score, with critics offering mixed praise and criticism, but nothing too terribly scathing.
3. Sarah Silverman: A Million Ways to Die In the West

Sarah Silverman has a more diverse career in film, starring in a few more serious roles, like I Smile Back, but she's also stuck with her comedic side in feature film parts, including Seth McFarlane's A Million Ways To Die In The West. In the latter, she plays Ruth, a prostitute with interesting anecdotes. She's also played slightly more family friendly roles, like her voice acting work in Wreck-It Ralph.
4. Amy Schumer: Trainwreck

Schumer has herself admitted that aspects of the film are based on her own life, and they certainly have something in common with her stand-up style. The film, which is coming out later this month, has a similar self-deprecating humor and focuses a great deal on her drinking, sex-life, and romantic inadequacies. Bill Hader plays her romantic counterpart, a sports doctor who she eventually falls for despite her views on monogamy.
5. Louis C.K.: Blue Jasmine
"I was in the movie for three days and I was like — the way I looked at it was, they were making the movie and I got to be in it," said C.K. in an interview with John Oliver. His description of his own character is hardly flattering, but remains in keeping with the style of his humor, using himself as the brunt of the joke. "I'm this guy who bothers this poor women played by Sally Hawkins, and have sex with her about five times in the movie, in the car, in the closet, I'm real seedy … I'm one of those things that happened to some lady. That's what I play in this movie." The film was directed by Woody Allen, and stars Cate Blanchett and Alec Baldwin, about a blue blooded woman who undergoes an emotional crisis and moves in with her sister in California. It's more of a drama than a comedy, but like much of what C.K. is involved in, there's a dark humor to the movie.
More from Entertainment Cheat Sheet:
Follow Anthea Mitchell on Twitter @CSAntheaM
Want more great content like this? Sign up here to receive the best of Cheat Sheet delivered daily. No spam; just tailored content straight to your inbox.