5 Hilarious Impressions of 2016 Presidential Candidates
It seems like the 2016 presidential election has been going on for years. And for the millions of Americans that will be voting in November, Election Day still feels light years away. Everywhere you turn, there are campaign ads, debates, articles, and memes about this year's crop of Democratic and Republican hopefuls. The wall-to-wall coverage is undoubtedly tiresome, but it has given rise to one of the most entertaining traditions of any election cycle: spectacular parody of our candidates.
Over the years, series like Saturday Night Live have delivered countless skits that send-up and skewer presidential hopefuls. And this year is no exception. In fact, since many of the people running for president are so colorful, this year feels better than most when it comes to humorous political parody. Whether you're watching TV or looking online, you don't have to go far to find a great impression. Here are five of the most hilarious impersonations of this year's presidential candidates.
1. Larry David as Bernie Sanders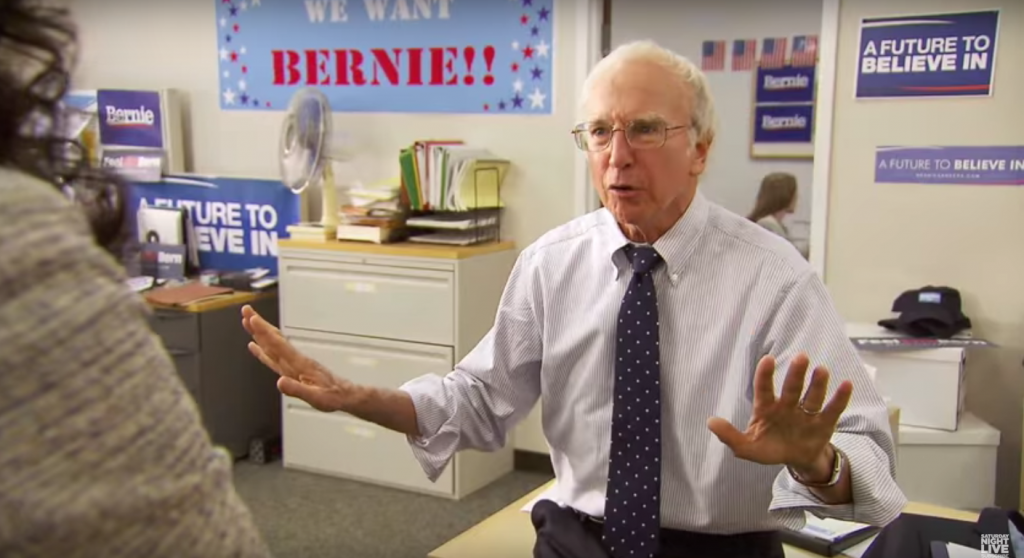 It's the role he was born to play. At least that what it seemed like the moment comedian and writer Larry David debuted his Bernie Sanders impression on Saturday Night Live. In October, David exquisitely nailed Sanders's mannerisms, speech pattern and occasionally cantankerous demeanor during a skit about a Democratic debate. His impression was such a hit that Sanders himself referenced it on the campaign trail. David returned to SNL in November to appear in another equally comical bit about an awkward town hall interview with Rachel Maddow. When David hosted the live show in February, viewers were treated to a pre-recorded skit called "Bern Your Enthusiasm" and another skit that saw Sanders and David side-by-side. Whether you're feeling the Bern or not, it's hard to deny that Larry David's impression has been a campaign season highlight.
2. Johnny Depp as Donald Trump
The day after Donald Trump won the New Hampshire Republican primary, Americans were already a little bit in shock. Then digital channel Funny or Die released another Trump-sized bomb on America — a nearly hour-long film called Funny or Die Presents Donald Trump's The Art of the Deal: The Movie. Starring Oscar-nominated actor and perpetually cool dude Johnny Depp. As Donald Trump.
The premise alone is enough to be hilarious. But Depp fully committed to his performance as the mogul, donning extensive make-up and padding and perfecting his impersonation. The film, which is supposed to be a long-lost television movie based on Trump's best-selling book, is grainy and horribly outdated, and therefore comical all on its own. But Depp's performance is brilliantly over the top — and also surprisingly accurate when it comes to Trump's unique way of speaking and interacting with the world around him.
3. David Alan Grier as Ben Carson
Ben Carson may be pulling out of the race for the Republican nomination, but his presence during the early part of this election cycle won't soon be forgotten. And The Tonight Show with Jimmy Fallon offered up a highly entertaining on the doctor's more memorable quirks when it invited David Alan Grier to portray him in a skit. Playing opposite Fallon's Trump, Grier's impression of Carson was spot on. From his squinting gaze and soft voice to his penchant for looking a little sleepy, Grier delivered the campaign season's best impression of the former Republican frontrunner without ever becoming mean-spirited in his parody.
4. Kate McKinnon as Hillary Clinton
Hillary Clinton has been a political force since the 1990s. And as a result, she's been portrayed by nine different SNL alums over the years, from Jan Hooks to Amy Poehler. In other words, Kate McKinnon had some big shoes to fill when she began playing the former first lady and current Democratic frontrunner. But as the saying goes, she's made the role her own, creating a Clinton that is brimming with nervous energy and a frantic and sometimes intense desire to be liked. From her loud, manic laugh to her practiced, poised speech patterns and obsessive love of pant suits, McKinnon's impression of Clinton is bold, unapologetic and completely entertaining.
5. Taran Killam as Ted Cruz
Unlike many of the other presidential nominee parodies we've seen this election cycle, Taran Killam isn't an immediately obvious choice to impersonate Ted Cruz. But his impression, nonetheless, has been one of the best we've seen on Saturday Night Live. Killam doesn't bear a strong resemblance to Cruz, but he makes up for that by perfectly mastering his mannerisms, vocal inflections and his obsession with the U.S. Constitution. And in a skit where he uses Cruz's penchant for humility by listing off all of the traits he doesn't possess — being wealthy, cool, or likable — he proves that when it comes to political impressions, sometimes the words that are said are every bit as funny as the way they are said.
Follow Katherine Webb on Twitter @katiedoubleyew.
Check out Entertainment Cheat Sheet on Facebook!  
More from Entertainment Cheat Sheet: