5 Hollywood Rumors: Who Will Play Young Han Solo?
Each week we keep you updated on the rumors that have been buzzing around Hollywood as various sources get wind of casting info and other details before they've been officially announced, so our readers know what's going on in the entertainment world first. From casting rumors to unannounced new projects, here's what's been happening in the entertainment world over the past week.
1. Who Will Play Young Han Solo?
This week Disney and Lucasfilm revealed that one of the standalone Star Wars movies will indeed focus on the backstory of Han Solo. Lego Movie directors Phil Lord and Chris Miller will direct the film, which will tell the story of "how young Han Solo became the smuggler, thief and scoundrel whom Luke Skywalker and Obi-Wan Kenobi first encountered in the cantina at Mos Eisley," per The Hollywood Reporter. Now the rumor mill is going into full swing trying to figure out who will play the younger version of the character iconically played by Harrison Ford. THR has already provided some young actors the publication believes would be a good fit for the role including Miles Teller, Kingsman: The Secret Service's Taron Egerton, Mad Max: Fury Road's Nicholas Hoult, Ansel Elgort, On the Road's Garrett Hedlund (who has high-profile roles in Pan and Ang Lee's Billy Lynn's Long Halftime Walk coming up), Paper Town's Nat Wolff, Mud's Tye Sheridan, the star of the CW's The Flash Grant Gustin, and Anthony Ingruber, who already played a younger version of Harrison Ford in The Age of Adaline. Expect all of these actors to come up frequently as Star Wars fans speculate about who will be chosen to play Han Solo. That standalone movie is due to hit theaters in May 2018.
2. Rachel McAdams to Doctor Strange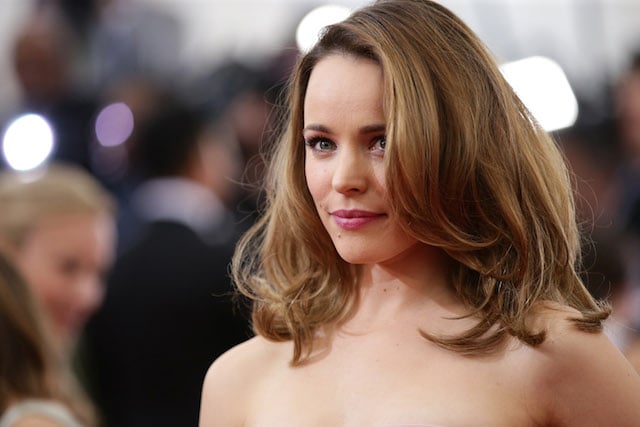 Rachel McAdams is getting great reviews for her work on the new season of True Detective, and Marvel has apparently taken notice. Heroic Hollywood reported the rumor that Marvel has offered McAdams the lead female role opposite Benedict Cumberbatch in Doctor Strange. This is much different material than her typical romantic comedy type roles, but the actress is undergoing a career change spurred in part by the starring role on True Detective, so this could fit right in with the different, more serious parts she's taking on now. Cumberbatch landed the coveted role of Doctor Strange, a neurosurgeon who gets in a car accident that damages his hands and becomes a super powerful sorcerer during his search for a cure, after a flurry of rumors that insinuated pretty much every major actor in Hollywood was attached to the part. Marvel is also rumored to be re-gendering the role of Doctor Strange's teacher Ancient One to a woman, with Tilda Swinton in line for the part. The company is staying characteristically tight-lipped on the whole thing. Doctor Strange is due to hit theaters in November of next year.
3. Donnie Yen to Star Wars VIII
Hong Kong action star Donnie Yen is reportedly set to have a prominent starring role in the next Star Wars film, according to TwitchFilm which cited a report from the Chinese tabloid Apple Daily. Hollywood is increasingly realizing the importance of the Chinese box office in the financial success of its big budget blockbusters, and including a Chinese star is a way to get even more people from the country interested in seeing a film. The report says that Yen is confirmed to be in Star Wars: Episode VIII and is flying to London next month to begin filming. Apple Daily also said that a number of China's biggest actors were considered for the part before Yen landed it. TwitchFilm pointed out that like any tabloid Apple Daily has a tendency to exaggerate, but that Yen's martial arts skills would be very cool to see in Star Wars and that Gareth Edwards was reportedly circling Chinese actors for a part in the standalone Star Wars movie Rogue One as well. Perhaps this is a tactic that Disney and Lucasfilm are taking with the entire new Star Wars franchise to get more bang at the box office.
4. Ruby Rose Up for Role in Fast & Furious 8
Ruby Rose is the Australian breakout star of the third season of Orange Is the New Black. Formerly an MTV video DJ, the model-actress played a key role in a love triangle between the two main characters on the popular Netflix show, gaining tons of fans and recognition stateside. Now the DailyMail reports that she's up for a key role in the next Fast & Furious film, which is funny considering she was turned down after auditioning for Furious 7 on the grounds that she looks too much like pop singer Justin Bieber. One of the characters in OITNB actually makes a joke about that physical similarity on the show, but Rose's increased profile from the series has made the producers of the Fast & Furious franchise come back around to the idea of having her star in the next installment. "It's so funny because now that I'm in talks and I haven't mentioned to them that I know [they turned me down because I looked like Justin]," she said on The Today Show, without mentioning specifically what the "movie" was. She said she really wants to be in "the movie," so if producers decide that her popularity (which it's worth noting is more positive than Bieber's at this point) is enough then it seems like she'll sign on for a part in Fast & Furious 8.
5. Asa Butterfield Was Too Tall to Play Spider-Man
So by now comic book fans and Hollywood industry watchers know that young actor Tom Holland was chosen as the newest person to play Spider-Man in the upcoming reboot of the Spider-Man franchise that will involve collaboration between Sony and Marvel. In the new series Spider-Man will be high school aged, and some of the biggest teenage actors in Hollywood were auditioned for the role. Now rumors are coming out that the only reason Asa Butterfield, who was once considered a forerunner for the part, didn't get it was due to his height. Heroic Hollywood reports that Robert Downey Jr. was in Atlanta to help with the casting, as Iron Man will likely appear alongside Spider-Man at some point in the Marvel Cinematic Universe. The reason this is important is aside from his charismatic portrayal of Tony Stark, Downey Jr. is also known for being relatively short at 5'8". Butterfield stands 6'0". Being taller than Downey Jr. not only makes Marvel's biggest star look bad, but also makes the sense that Peter Parker/Spider-Man is young less believable. Holland is 5'7", making him fit in the role better and make the man who helped build the house of Marvel Downey Jr. look good as well. On June 3rd, a few days after screen tests, Butterfield posted "#6ftclub" on Twitter, which Heroic Hollywood says is a reference to knowing he didn't get the part and why.
More from Entertainment Cheat Sheet: