5 Love Stories on Film That Will Break Your Heart
We see movies for many different reasons. It could be to escape reality, have a good laugh, or enjoy a thrill. Or, if you're like the legions of fans who'll flock to theaters this weekend to see the highly anticipated adaptation of John Green's teen drama The Fault in Our Stars, you go to have your heart stomped on for a couple of hours. Hollywood has a long history of producing sob-inducing romances. Here are five of the most heartbreaking love stories to ever hit the big screen.
1. Brokeback Mountain (2005)
This epic drama spans decades as a tale of unrequited love. Brokeback Mountain stars Heath Ledger as Ennis Del Mar and Jake Gyllenhaal as Jack Twist. The two men choose to live in the closet after love blooms between them one '60s summer when they work together as cattle ranchers on Brokeback Mountain. And they can only live out their epic romance when they meet for "camping trips" once a year. It's hard not to get emotionally invested in their affair – even though it destroys both their families and tears them up inside. And bigotry, unspoken sentiments and love lost make for a devastating ending.
2. Up (2009)
It's no small feat that this Pixar classic manages to tell one of the most heart-wrenching love stories in under ten minutes — and with virtually no dialogue. Carl (voiced primarily by Ed Asner) and Ellie meet as children and bond over a mutual love of adventure. And we're treated to their delightful love story as we watch them grow old together. Even though Up is a computer-animated film, the moments that make up their lives feel so real that it's easy to forget that they're just fiction. And when Carl finally sets off on his own adventure, it's hard not to feel his pain as he longs for his wife to share it with him. 
3. Jules et Jim (1962)
Set in the years surrounding World War I, this Truffaut classic — about a shy writer's desperate attempt to keep his relationships with his wife, and his best friend in tact — perfectly captures the painful ache of a messy love affair. And the scandalous plot — which involves infidelity, polyamory and suicide — is as gripping as it is emotional. Jules, Jim, and Catherine are all hopelessly flawed, but performances from Oskar Werner, Henrie Serre, and Jeanne Moreau help make them extremely sympathetic — which makes the end of their story all the more tragic.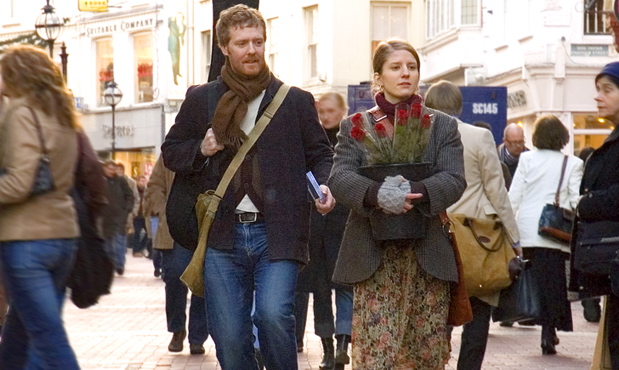 4. Once (2006)
Do you believe in love at first sight? If you don't, you might change your mind after watching this Oscar-winning Irish musical. Once stars The Swell Season's front man Glen Hansgard and his then real-life lover, Marketa Irglova, as a struggling musician and a florist who meet and make beautiful music together. The story is at once melancholy and hopeful, showing both the elation of falling in love and realizing your dreams, and the quiet heartbreak that comes when reality hits.
5. William Shakespeare's Romeo + Juliet (1996)
Based on the love story that's arguably influenced every tragedy that's come since, Baz Luhrmann's flashy, chaotic adaptation of this Shakespearean classic still manages to pack a wicked punch. It stars Leonardo DiCaprio and Claire Danes as Romeo and Juliet, the children of two wealthy families that fall in love – despite the fact that their relatives are mortal enemies. William Shakespeare's Romeo + Juliet makes the instantaneous affection between the young lovers feel so realistic, it's painful to watch them be torn apart. And you find yourself rooting for a happy ending, even if you already know the tragic series of events that ultimately seal their fate.
More From Wall St. Cheat Sheet: