5 Movies That Made Rachel McAdams an A-List Star
Rachel McAdams first became a household name after her star-making turn as Regina George in 2004's Mean Girl. Since then, she's continued to prove her versatility, taking on roles in everything from romantic dramas like The Notebook to suspenseful thrillers, like Red Eye and State of Play. Now, she's set to have another big year with a slew of upcoming high-profile projects.
Most recently, McAdams is appearing on the big screen alongside Emma Stone and Bradley Cooper in Cameron Crowe's romance comedy drama Aloha. But her most talked-about future project is, of course, True Detective. The actress landed the coveted role of Sheriff Ani Bezzerides in the HBO crime drama last year and will be starring alongside Vince Vaughn and Colin Farrell in its highly anticipated second season.
While that may be her buzziest role, that isn't the only notable project McAdams has on the way. The actress also has several big films set to hit theaters soon. She'll co-star with Jake Gyllenhaal in this summer's Southpaw and will also appear alongside Mark Ruffalo and Stanley Tucci in the drama thriller, Spotlight
With her jam-packed schedule, it's clear that 2015 will be a big year for McAdams. While we wait for her next few projects to hit the screen, here's a look back at 5 of the best roles from her career so far (listed in chronological order):
1. Mean Girls
McAdams found Hollywood fame playing the terrifying queen bee Regina George in the now favorite 2004 comedy and it's not hard to see why. The actress is brilliantly evil in the role, bringing just the right amount of glamour and attitude (her many eye rolls and hair tosses are always on point) to the character. The role also served as a showcase to her impressive comedic timing. Some of the lines out of Regina's mouth are so ridiculous, it'd be hard for anyone to say them convincingly, but the actress nails her deadpan delivery.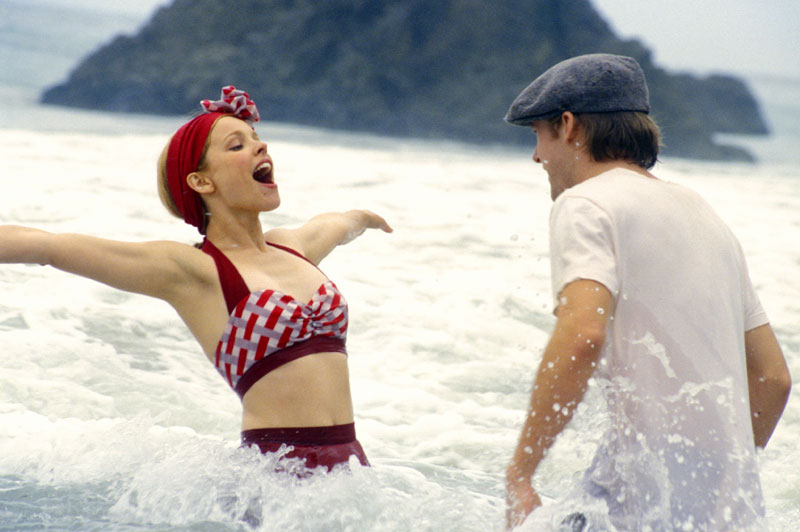 2. The Notebook
With what seems like a thousand Nicholas Sparks-inspired movies having hit the screen since The Notebook premiered, it may be a little difficult to remember why this 2004 adaptation now has such a cult following. A reminder: it's because of McAdam's and co-star Ryan Gosling's all-star performances. The romantic drama has more than its fair share of clichés and cheesy, rain-soaked scenes, but it doesn't make the duo's portrayal of star-crossed couple Noah and Allie any less impressive. McAdams in particular earned high praise for doing much of the heavy lifting. As Variety put it at the time, "She skillfully carries much of the film's emotional weight with a free and easy manner."
3. Wedding Crashers
Along loud-mouthed funny guys like Vince Vaughn, Owen Wilson and Will Ferrell, it would be all too easy for many to get lost in the shuffle. But McAdams made her appealing screen presence clear in this 2005 comedy, in which she played Claire, the love interest to Wilson's John. In someone else's hands, the character could've easily played off as flat and uninteresting. Thankfully, McAdams brought some dimension and plenty of charm to the role. As Variety put it, "She helps fill in narrative gaps and actually creates a real character — a rarity for females in one of these lad-mag escapades."
4. Red Eye
The 2005 suspense thriller, helmed by Scream director Wes Craven, stars Rachel McAdams as Lisa, a hotel manager who becomes ensnared in an assassination plot by a terrorist (Cillian Murphy) while aboard a red-eye flight to Miami. The film, which takes place almost entirely on a plane, earned a positive critical response, thanks in large part to McAdam's grounded and convincing performance. Even as the action reaches gripping level, McAdams never goes over-the-top, instead finding new ways to subtly (and all too believably) project fear. Her understated but effective delivery caused Rolling Stone to declare, "McAdams is magic."
5. State of Play
McAdams stars opposite Russell Crowe in this 2009 political thriller. Crowe plays a star investigate reporter at the Washington Globe in the film while the actress portrays his foil, the paper's online gossip blogger, Della Frye. McAdams is the antithesis of everything Crowe's character believes about journalism and the actress plays the role of the newbie spiritedly and energetically. But she's careful not to overplay the character's greenness, instead making Della an ambitious and resourceful counterpart. Her performance, and her believable back-and-forth with Crowe, elevates the film, which earned an overall positive critical response at the time of its debut.
More from Entertainment Cheat Sheet:
Want more great content like this? Sign up here to receive the best of Cheat Sheet delivered daily. No spam; just tailored content straight to your inbox.