6 Music Videos That Instantly Rocketed to Records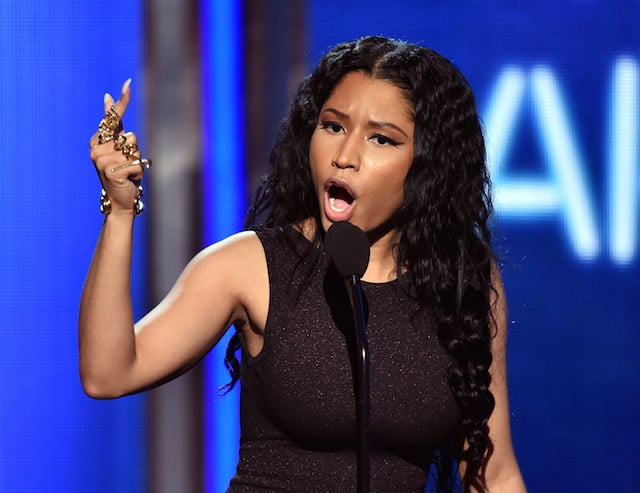 The teen-pop boy band One Direction has displaced rapper Nicki Minaj as the holder of Vevo's record for the music video with the most views in 24 hours. The group's video for "Steal My Girl" guest stars Danny Devito and broke Minaj's record for her salacious "Anaconda" clip that set the record back in August.
Vevo's 24-hour record has become a big marker for how popular an artist is, and a point of pride for pop stars to beat each other's records. Videos that gain notoriety, in particular for being racy, usually tend to fair the best in terms of gaining shares online. Here's a look at the 6 videos that have gained the most views on Vevo within a 24-hour period and the factors that went into making them so popular so quickly.
One Direction, "Steal My Girl"
While Vevo hasn't yet released the official numbers, One Direction frontman Harry Styles confirmed on Twitter that the "Steal My Girl" video had topped the record formerly held by "Anaconda." The video is a funny parody of what making a big-budget music video is like, while of course being a big-budget music video itself. One Direction's penchant for humorous music videos has served them well with smashing the Vevo record in the past, as the similar video for "Best Song Ever" has formerly held the title. It's Always Sunny in Philadelphia's Danny Devito plays the eccentric director of the fictional music video within a music video. The fact that it's the band's first single from their upcoming album FOUR also boosted appeal and helped "Steal My Girl" get views.
Nicki Minaj, "Anaconda"
Nicki Minaj's new video for "Anaconda," which samples Sir Mix a Lot's '90s hip-hop classic "Baby Got Back," broke Vevo's record after it dropped back in August and racked up 19.6 million views within 24 hours. Anything that involves twerking seems to be the guaranteed way to be simultaneously sexy and controversial — the perfect recipe for getting people to view a music video. Minaj's new clip is twerking on crack. It's kind of ironic that Minaj is taking this record from Miley Cyrus — who herself has benefited from twerking — with a song about how skinny girls need to stop thinking they can twerk. These kinds of sexy videos spawn essays either declaring them a powerful representation of female sexuality or a poor influence on young girls, and generally if a video can generate some sort of moral outrage and be embedded in an online essay, its chances of performing well skyrocket.
Miley Cyrus, "Wrecking Ball"
Cyrus's Terry Richardson-directed video for her single "Wrecking Ball" features the former child star completely naked, swinging back and forth on, you guessed it, a wrecking ball. In September of last year, "Wrecking Ball" was released as the second single for Cyrus' Bangerz album when Cyrus had been in full promotional weirdness mode. Putting what might have been left of her Disney days behind her, Cyrus broke up with her long-time fiancée, actor Liam Hemsworth, made it really clear to everyone that she loves doing a lot of recreational drugs, and started trying to dress gangster. She twerked on the middle-aged Robin Thicke at the MTV Video Music Awards the month before this video was released, and that episode made her the most controversial pop starlet of the moment. Releasing a video that seems to kind of address her recent breakup while naked licking a sledge hammer spawned a bunch of parodies and was overall too intriguing not to watch.
One Direction, "Best Song Ever"
In July of last year, One Direction beat Cyrus' first single from Bangerz with their video for "Best Song Ever," which saw 12.3 million views in one day. That sensational title is perfect clickbait, and One Direction have a strong, young, Internet-savvy fanbase. The video sees the band members spoofing a Hollywood business meeting to discuss a potential film about them. Niall Horan put on a beard to play a studio executive, Zayn Malik cross-dressed as a sexy assistant, Harry Styles wore glasses as a nervous marketing guy, Louis Tomlinson dressed as Tom Cruise's character from Tropic Thunder as the head of the film studio, and Liam Payne put on workout clothes to play a choreographer. The video was used to promote the band's actual movie, One Direction: This Is Us, featuring clips from the film. The increased interest from fans due to the upcoming movie, the clickable title, and the funny content all helped boost the video's views.
Miley Cyrus, "We Can't Stop"
Miley Cyrus' debut single from her album Bangerz got 10.7 million views in 24 hours after its release back in June. Miley won again here on controversy points with a video depicting a wild house party and unveiling her new, ultra-provocative image. The video made Cyrus' reputation as the new boundary-pushing pop star of the moment and was voted number one on Rolling Stone's countdown of the best music videos of 2013 for that reason, as well as the fact that much of the video's imagery is so surreal and disturbing that viewers will remember it for a long time to come.
Justin Beiber ft. Nicki Minaj, "Beauty and a Beat"
Bieber's "Beauty and a Beat" was narrowly beaten by Cyrus. It got 10.6 million views in 24 hours after its debut in October 2012, and sees Beiber exploring electronic and rap sounds that he hadn't experimented with before. At the time, Bieber was at the height of his popularity, not yet suffering from the massive backlash against him we've seen as of late. The video is set up like stolen personal footage of Bieber uploaded to the web by a blogger, adding a personal element to entice fans. Minaj's involvement is a little creepy, given their large age difference and her reference to his then-girlfriend, Selena Gomez, and the way he looks her up and down, but just the chance to see those two performers who seem like they don't even belong in the same room together interact is temptation enough to watch the video.
More From Entertainment Cheat Sheet:
Follow Jacqueline on Twitter @Jacqui_WSCS
Want more great content like this? Sign up here to receive the best of Cheat Sheet delivered daily. No spam; just tailored content straight to your inbox.