5 Must-See Movies for the Most Dedicated 'This Is Us' Fans
Only true This Is Us fans can name all the other projects the hit drama's stars are in. With the holiday season quickly approaching, it's a good time to watch, or re-watch, all of your beloved Pearson's side work.
Mandy Moore as Jamie Sullivan in 'A Walk to Remember'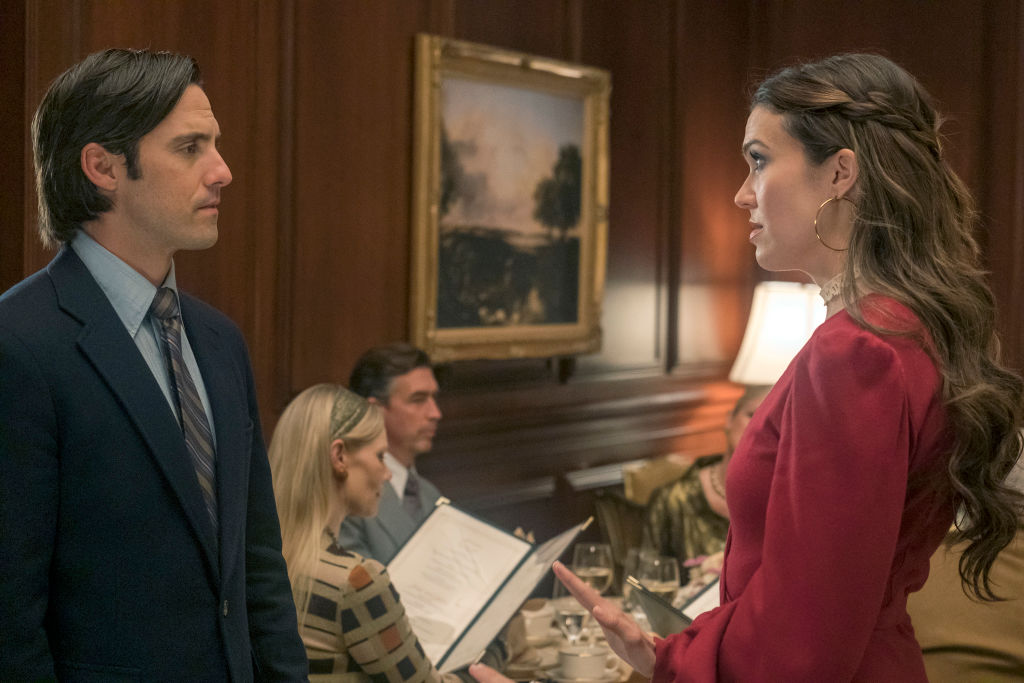 Moore's portrayal as a devoted wife, Rebecca Pearson, has fans going through multiple Kleenex boxes a week. She may have started with her hit single, "Candy" in '99, but she's clearly a naturally gifted actress.
One of her earliest projects came in 2002 when she landed the part of Jamie Sullivan in the Nicholas Sparks novel-to-film adaptation, A Walk to Remember.
The movie followed troubled teen, Landon Carter (Shane West), who's forced to do community service to pay for his crime. In the midst, he meets and falls in love with Jamie. Unbeknownst to him, sh's terminally ill.
The movie is loosely based on Sparks's late sister, making Moore's performance that much more powerful.
Kleenex factor: An entire box, minimum.
Milo Ventimiglia as Denny Swift in 'The Art of Racing in the Rain'
Everyone's beloved patriarch, Jack Pearson, may have died tragically on This Is Us, but Ventimiglia's role as Denny Swift in The Art of Racing in the Rain resurrects Papa P.
As another novel-to-film adaptation, The Art of Racing in the Rain is another level of heartbreak. Narrated by a golden retriever, Enzo, the film follows Denny's life and bond with Enzo.
Through losing his wife, Eve (Amanda Seyfried), and even Enzo himself, Denny's story will likely have This Is Us fans sobbing into their sleeves.
Kleenex factor: Three boxes. Prepare to ugly cry.
Sterling K. Brown as N'Jobu in 'Black Panther'
Brown has been in plenty of other well-known projects (American Crime Story, The Predator, or Hotel Artemis), but his role as N'Jobu in Black Panther is an important one.
If you aren't a die-hard Marvel Cinematic Universe fan, N'Jobu is the younger brother of T'Chaka, the King of Wakanda. In Black Panther, N'Jobu betrays his people by attempting to sell vibranium to outsiders until he's confronted by T'Chaka.
One of the opening scenes in Black Panther shows N'Jobu shot by his brother when protecting loyal companion, Zuri. The small son left behind, Erik Killmonger, seeks revenge to avenge N'Jobu's death.
Brown may have only had a small part in Black Panther, but it sets up the entire film, connecting to all others in the MCU.
Kleenex factor: A few sheets will suffice.
Chrissy Metz as Joyce Smith in 'Breakthrough'
In 2015, Joyce Smith's 14-year-old son, John, fell through an icy lake. He remained underwater for 15 minutes before emergency personnel pulled him out. They worked to resuscitate him for 43 minutes but still couldn't locate a pulse.
When Joyce went to the hospital to say goodbye to her son, she did something nearly every parent might do — she prayed.
Her now-famous words, "Lord, Holy Spirit, just give me back my son" may or may not have been responsible for what came next. John regained a pulse within seconds of that prayer.
More than that, Joyce was told John would never have full neurological function. Within 48 hours, he was alert and answering questions.
In Breakthrough, Metz, who plays Joyce, gives the performance of a lifetime in a true story about finding hope in the darkest of times (which is basically the premise as This Is Us).
Kleenex factor: As many as you used when — spoiler alert — Denny loses Enzo in Art of Racing in the Rain.
Justin Hartley as Ty Swindell in 'A Bad Moms Christmas'
Hartley may get all the jokes about being shirtless or playing vapid, conceited characters, but his role in A Bad Moms Christmas flips that on its head.
In A Bad Moms Christmas, Hartley does play an exotic dancer who removes his shirt (and more), but there's also more to this character. Ty is looking for a serious relationship and wants one with his waxer, Carla (Kathryn Hahn).
Hartley's character is clingy, romantic, a little dense (but sweet), and the total opposite of what you'd think this character would be.
You could skip this and head straight to his other movie Little, or catch up on old episodes of The Young & the Restless (where he played Adam Newman for years), but we think A Bad Moms Christmas is a sold ender for a This Is Us list.
Kleenex factor: None. Just enjoy this one.