The Best Boxing Movies Ever Made
Boxing dates back to the original Olympians — so it's had some time to cement itself as a societal staple. Fans know that boxing, maybe more than any other sport, means blood, sweat and tears; it means pushing yourself when you want to give up the most; it means glorious victory and agonizing defeat. That's part of the reason why boxing films have traditionally done very well. The sport embraces themes that Hollywood loves; struggling to succeed, overcoming adversity, underdogs rising to the top. Here are 5 films that convey those themes perfectly.
1. Rocky (1976)
It just wouldn't be possible to make a list of boxing movies without including Rocky. It's the quintessential underdog story, a gripping exploration of the hard work it takes to succeed in boxing.
Sylvester Stallone plays the titular character, a working class dreamer who works his way up from small time fights to earn a shot at the heavyweight title. By following Rocky Balboa as he makes his way up, director John G. Avildsen makes it almost impossible not to root for him. Throughout Rocky's journey, the audience is treated to an intimate look at what it takes to make it as a professional boxer — from sweaty training sessions to the iconic training sequence through the streets of Philadelphia. Rocky made Stallone a movie star and launched a successful film franchise, which will continue with this year's Creed. But the original film will always be a true classic, a must-see for boxing fans and non-fans alike.
2. Raging Bull (1980)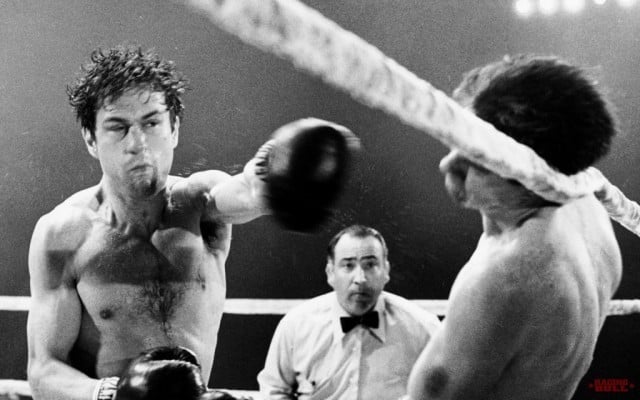 The trials and tribulations of the boxing lifestyle are on full display in Martin Scorsese's Raging Bull — a film that's part celebration of the sport, and part cautionary tale of its trappings. It's the biographical story of the successful but self-destructive middleweight boxer Jake LaMotta, played with incendiary intensity by Robert De Niro. Raging Bull follows LaMotta through his career, but focuses on how the same violent energy that propels him to victory also ultimately eviscerates his relationship with his wife and family. What makes it a classic is both De Niro's performance and Scorsese's directing choices. Neither hold back any punches in their exploration of LaMotta's darker traits, and as a result, the film is memorable for its brutal sequences both in and out of the ring.
3. Ali (2001)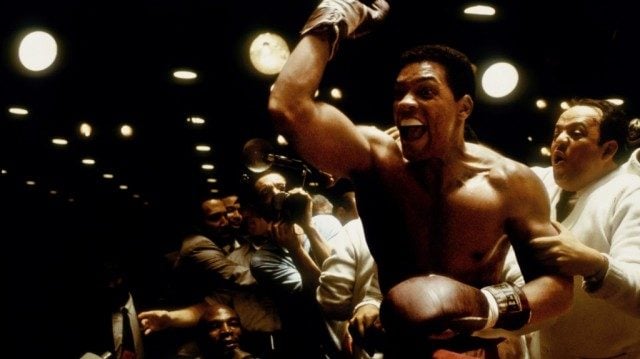 He's probably the most famous boxer of all time – and Will Smith brings him to life with a remarkable fire in this memorable biopic. Ali highlights the hurdles that the man once known as Cassius Clay had to overcome to claim his rightful title as Heavyweight Champion of the world. Smith had big shoes to fill in playing the iconic boxer, but he captured both his fighting stance and his mannerisms perfectly. Ali focuses on the boxer's life at the apex of his career — long before he was diagnosed with Parkinson's syndrome — and as a result, it serves as a triumphant testament to his legendary reign.
4. Million Dollar Baby (2004)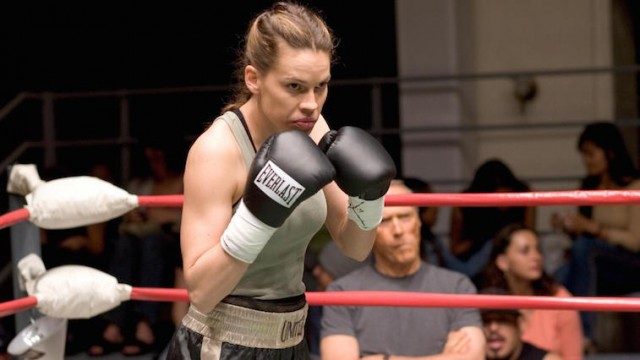 Boxers love their sport so much, they're willing to put their health and their lives on the line every time they step into the ring. In Clint Eastwood's Million Dollar Baby, Maggie Fitzgerald (Hilary Swank) does just that — with devastating consequences. This drama touches many of the hallmarks of a great sports film — it gives us an underdog to root for and lets us experience her highs and lows. Million Dollar Baby rises above the ranks of other boxing films due to its stunning performances; not only from Swank, but Eastwood as Frank, a gym owner and Maggie's trainer and Morgan Freeman as Eddie, a former boxer who lost nearly everything to the sport he loved. The film's conclusion is grim, but ultimately it still feels like a celebration of a sport and those who are willing to give it everything they have.
5. The Fighter (2010)
Athletes can't succeed on their own — they need a support system of family, friends and trainers that help keep them strong when they need it most. The Fighter tells the true story of Micky Ward (Mark Wahlberg), a welterweight boxer who found success and struggled to keep it with the help of his family. Director David O. Russell focuses on the interpersonal drama within the family, including Ward's dysfunctional relationships with his controlling mother Alice (Melissa Leo) and well-meaning but troubled brother Dicky (Christian Bale). This all balances well, though, with intense training and fight sequences that show off Ward's skill and reinforce why Ward worked so hard for a shot at glory.
Check out Entertainment Cheat Sheet on Facebook!