The 5 Most Important TV Premieres Coming in 2015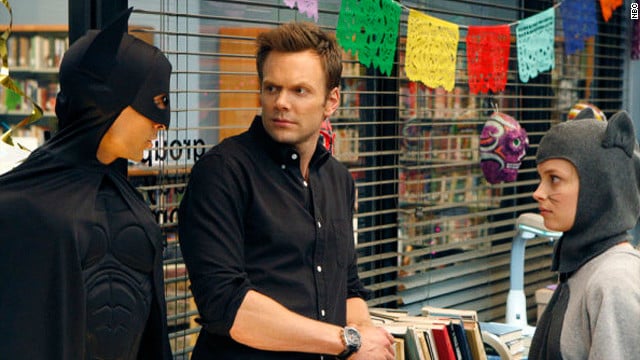 This year more than ever promises to be one with some of the most anticipated TV premieres we've had in years. Sure, we're getting the typical hype for new seasons of established shows like Game of Thrones and House of Cards, but that's excitement we can mark down on the calendar as an annual occurrence. The real interesting stuff in 2015 will be in the shows premiering that have been on the horizon for years now. These shows have quickly become ones we simply can't wait much longer for. Thankfully, soon we won't have to.
But what makes these particular shows important? Some are reboots of treasured classics. Others still are brand new ideas waiting to be sprung on us. Whichever they are, they share one thing in common: We absolutely have to see them.
1. Community (Yahoo! Streaming, Early 2015)
Community, despite being a darling of critics with a cult following, as always struggled to stay on television thanks its strangely inventive mode of comedy. Its devoted audience did everything it could to keep it from getting canceled on multiple occasions despite NBC's best efforts, but in the end the network won out and officially pulled the plug.
For months there were rumblings about whether or not it would return on a streaming service, but it was easy to believe that this was all merely speculation. But then an unexpected savior appeared in the form of Yahoo!, picking up Community for a sixth (and allegedly final) season on their brand new streaming service. It's a move with precedent in shows like Arrested Development, but for a show like Community that thrives on its creative freedom, we could end up with the craziest season of comedy TV ever made. On an episode of The Nerdist podcast back in September, creator and showrunner Dan Harmon marked January 27 as a the tentative airdate for the new season, but without much promo it's hard to believe Yahoo! will be sticking to that. Odds are, though, we'll see it sometime early this year, so keep your eyes and ears peeled.
2. Daredevil (Netflix, April 10)
Marvel's latest foray into television will be coming to Netflix this April, in the form of Daredevil starring Charlie Cox. All 13 episodes will be available to stream on its official airdate, so of course binge-watching will be the order of business for fans come this Spring, making it the first superhero TV show of its kind. With Agents of SHIELD, Arrow, The Flash, and even Agent Carter, we've had to wait patiently every week for new episodes.
For Daredevil, we'll have 13 episodes waiting for us to gorge on at exactly 12:01 a.m. on April 10. Featuring everyone's favorite blind lawyer slash crimefighter, the show represents the first take on the superhero known as the Man Without Fear since Ben Afleck's ill-advised movie back in 2003. The reboot will hopefully be more of the same from a studio that seems to be incapable of doing wrong right now, although they'll likely also be helped by Afleck's Daredevil setting a very low bar.
3. Better Call Saul (AMC, February 8)
Vince Gilligan's Breaking Bad is widely heralded as one of the greatest TV shows ever. Anything that follows will unfortunately be held up to that standard of excellence, giving the spinoff centered around sleaze-bag lawyer Saul Goodman a lot to live up to. In it, we'll be getting the back story behind one of Breaking Bad's most entertaining characters. It remains to be seen though whether Saul has the depth and nuance to carry his own full show, especially when measured against its predecessor. The tale of Walter White was an expertly told story rooted in the complex evolution of one man from father, to drug lord, to failure. Can Better Call Saul tell a similarly intriguing story with an arguably one-dimensional character? Or will it represent a massive overreach by Gilligan and flop?
4. Star Talk, With Neil deGrasse Tyson (NatGeo, April)
Educational TV spent a long time in hibernation before Neil deGrasse Tyson came along with the rebooted Cosmos. Now Tyson is at it again, this time slated to host a talk show named for his wildly popular podcast, Star Talk. For the run of the show, we'll see the man himself sit down with guests, blending pop culture and science to educate the masses. Hollywood Reporter even cites a rumor that fellow scientist Bill Nye will be given a one minute segment each week in the ilk of what Andy Rooney did for 60 Minutes. Perhaps most importantly though, it'll mark another huge step in bringing to life television that both educates and entertains, something we're far too short on in today's ADD culture.
5. The Nightly Show With Larry Wilmore (Comedy Central, January 19)
Stephen Colbert has officially left Comedy Central for greener pastures, and his absence will almost certainly be felt. Stepping into his sizable Peabody-winning shoes will be former Daily Show correspondent Larry Wilmore, and he'll have a tall order to fill. John Oliver already has already found success with Last Week Tonight on HBO, so it stands to reason that another alum of Jon Stewart can reap similar benefits.
But it's never easy replacing an almost universally loved host like Colbert, which will leave a lot of question marks as we settle into The Nightly Show later this month. It marks a tectonic shift in Comedy Central's late-night programming, with Larry Wilmore becoming the first black late night host since Arsenio Hall left the air in 1994. It's hopefully a diverse step in the right direction for an industry dominated by white males, and you can bet we'll be tuning in on the January 19 to see just what this show can do.
More from Entertainment Cheat Sheet:
Want more great content like this? Sign up here to receive the best of Cheat Sheet delivered daily. No spam; just tailored content straight to your inbox.