Television is home to some pretty legendary pairings. From star-crossed lovers to sworn enemies, our favorite shows have captivated us by creating fascinating and unforgettable dynamics. And one of those is the beloved bromance — a relationship that knows no genre and spans target audiences.
Bromances are emotionally intense friendships between two men. Think SpongeBob and Patrick or Bert and Ernie, but all grown up and way more responsible. TV bromances have entertained us and taught us valuable life lessons about the importance of friendship. Whether these duos are formed through living together, working together, or more extreme life-and-death situations, bromances create one of the most entertaining dynamics on television these days.  Here are five of the greatest TV bromances of the 21st century.
1. Rick and Daryl, The Walking Dead
Friends who slay zombies together stay together. At least, that's what we've learned from Rick Grimes (Andrew Lincoln) and his compatriot Daryl Dixon (Norman Reedus) throughout the last six seasons of The Walking Dead. They didn't even know each other before the zombie apocalypse. But the bond they've formed while watching each other's backs is seemingly unbreakable.
Part of what makes Rick and Daryl's bromance so epic is that they are radically different from one another. They would never have become friends in a world where they weren't forced to learn how to survive. But they've come to rely on one another. Whether they're putting walkers down or trying to plan their group's next move, they often look to one another for counsel — and they aren't afraid to call each other out when they make a bad move. So far, their bond has withstood blood, gore, and innumerable loss. We can only hope that their bromance will survive the upcoming drama on The Walking Dead's sixth season.
2. Walt and Jesse, Breaking Bad
The drug trade is a rough business — it helps to have someone on your side. Throughout five seasons of Breaking Bad, chemistry teacher-turned-meth-kingpin, Walter White (Bryan Cranston), and his former student, Jesse Pinkman (Aaron Paul), relied on one another to stay above water. Though often at odds, they were together through the death of loved ones, addiction, cancer, and countless attempts on their lives.
No one said bromances had to be idyllic — and these two brought an enormous intensity to their increasingly volatile relationship. In the end, Jesse and Walt proved that deep down, they cared for one another — even if they had a less-than-perfect way of showing it most of the time.
3. J.D. and Turk, Scrubs
Unlike many of the other pairings in this list, these characters' day-to-day problems tend to be a little bit more run-of-the-mill. They commiserate over work issues, girl issues, and figuring out how to be adults. But that doesn't make J.D. (Zach Braff) and Turk's (Donald Faison) bromance any less memorable.
In fact, their interactions were often the highlight of Scrubs' first eight seasons. From their zany moments killing time at Sacred Heart to their more heartfelt exchanges when times were tough, they proved that their friendship was everlasting.

4. Tyrion and Bronn, Game of Thrones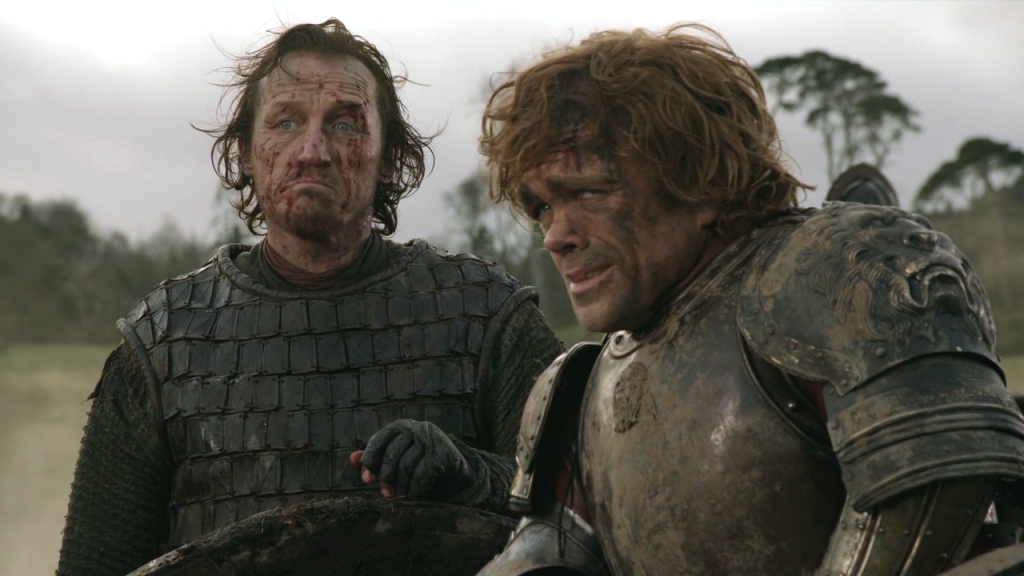 In many ways, Tyrion Lannister (Peter Dinklage) and Bronn (Jerome Flynn) couldn't be more dissimilar. But they've forged a genuine partnership, one built not only on the mutual need for survival, but also a growing affection for one another.
Quite often, their interactions are some of the most humorous on Game of Thrones, with Bronn playing straight man to Tyrion's wisecracks. But it's not all fun and games — the real testament to their friendship is that they're willing to fight and die for one another. And that is without a doubt a bromance move that few can argue with.

5. Bunk and McNulty, The Wire
Both partners on the job and partners in crime, Jimmy McNulty (Dominic West) and Bunk Moreland (Wendell Pierce) are probably not the best role models. With their philandering and heavy drinking, they tend to cause almost as much trouble as the criminals they've sworn to keep off of Baltimore's streets.
But despite their chronic poor judgment, they have a deep and unbreakable bond. They've seen each other through difficult cases and rocky home lives. And they're so much on each other's wavelengths that they can communicate while barely saying a word.
More from Entertainment Cheat Sheet:
Want more great content like this? Sign up here to receive the best of Cheat Sheet delivered daily. No spam; just tailored content straight to your inbox.