5 Reasons to Watch the Puppy Bowl This Year
Although most Americans will be tuning in to watch Super Bowl XLVIII this year, there is an equally entertaining sports championship that is also airing on Sunday. Of course, we're talking about Puppy Bowl X, Animal Planet's adorable alternative to the big game.
The Puppy Bowl had a humble beginning in 2005, when Animal Planet decided to air twelve hours of footage of puppies romping with each other in a halfhearted attempt to compete with the Super Bowl. However, despite little promotion and a complete lack of any advertising sponsorship, the original Puppy Bowl managed to secure an audience of 5.58 million. Since then, the canine championship has grown into a major annual event that has attracted advertisers such as Subaru, Hershey (HSY), Geico, Bissell, Walt Disney (DIS), and Warner Bros., reports AdAge. Last year's Puppy Bowl IX attracted 12.4 million viewers, and this year's audience is expected to be even bigger.
Puppy Bowl X may be the most entertaining Puppy Bowl to date thanks to several extra game features added by Animal Planet this year. So, in case cute puppies running up and down a miniature football field isn't enough reason for you to watch the Puppy Bowl this year, here are five other reasons to tune in for Puppy Bowl X on Sunday.
1. Police Dog National Anthem Ceremony
According to Animal Planet, "furry first responders" will be representing police dogs from the New York area for the National Anthem ceremony at Puppy Bowl X. Although it will be hard to top Pepper the Parrot's heartfelt rendition in Puppy Bowl V, this year's National Anthem ceremony should not be missed.
2. Kitty Halftime Show
Cat lovers will also have something to love about this year's Puppy Bowl, as kittens will provide the halftime entertainment. As reported by the Washington Post, the highlight of this year's halftime show will be a performance from Keyboard Cat, who is expected to play a Bruno Mars song as a tribute to his human counterpart performing at the Super Bowl. A kitten will also "parachute" onto the field, while a troupe of thirty kittens will perform a "domino topple" maneuver.
As noted by AdAge, several cats will also be lounging in a VIP suite sponsored by Sheba cat food. Lil Bub, the famous Internet cat with the perpetually-hanging tongue, will also be lending a feline touch to this year's Puppy Bowl by providing game commentary.
3. Penguin Cheerleaders
Following the Puppy Bowl tradition of changing the species of cheerleaders each year, this year's Puppy Bowl will feature the very first appearance of penguin cheerleaders. Previous Puppy Bowls have featured cheerleading squads of hedgehogs, pigs, chickens, and rabbits.
4. Rescue Shelter Players
As usual, this year's Puppy Bowl roster is being supplied by over three dozen different animal rescue shelters and adoption agencies. Not only does the Puppy Bowl raise overall public awareness for animal shelters, it also gives each participating organization some great publicity by listing the name of the donating shelter next to each puppy player in the starting lineup, as well as the "back up pups." What better way to support the underdog than by watching a game featuring nothing but rescue and adoption dogs?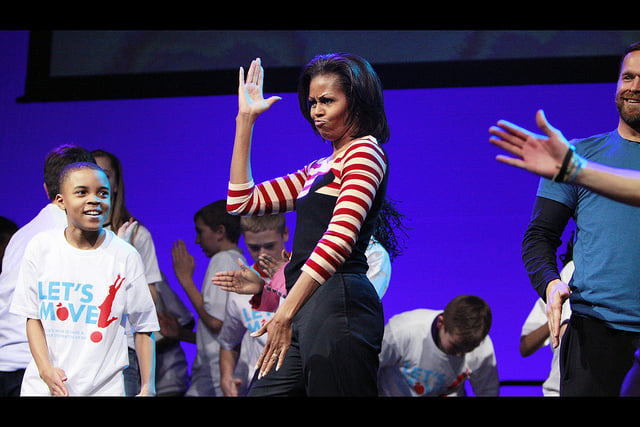 5. Celebrity Human Appearance
First Lady Michelle Obama will make a historic first appearance at this year's Puppy Bowl to promote her "Let's Move!" initiative against childhood obesity, reports the Los Angeles Times. The White House already hosted the Puppy Bowl's training camp with some celebrity dog participation from first dogs Bo and Sunny.  "It was so much fun to see the Puppy Bowl X Team work out at the White House!" said Mrs. Obama per the Los Angeles Times. "As our family has seen with Bo and Sunny, going outside to walk and play with your pet is a perfect way to get moving and have some fun every day."
Puppy Bowl X will air on February 2 at 3 p.m. ET on Animal Planet.
Follow Nathanael on Twitter (@ArnoldEtan_WSCS)
More from Wall St. Cheat Sheet: