5 Roles That Led to Matthew McConaughey's Turnaround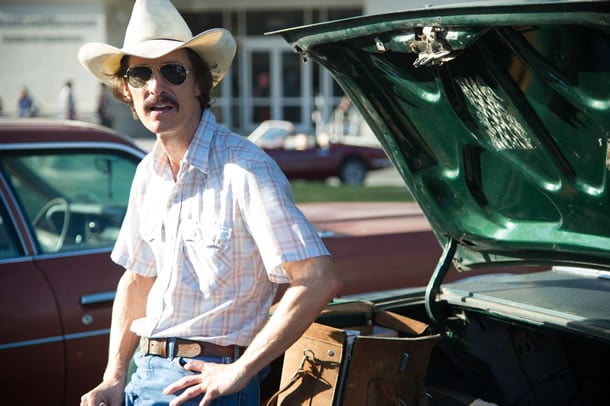 The independent true-life drama Dallas Buyers Club is set to arrive in theaters this weekend, and if you believe the industry whispers, the film's star Matthew McConaughey could be on his way to his first Academy Award nomination for Best Actor.
For McConaughey, his recent string of critically acclaimed roles is a testament to his impressive turnaround after being type-cast as a romantic lead through most of the 2000s. And the incredible thing is that his performance in Dallas Buyers Club is not even his best of 2013, according to some critics.
Dallas Buyers Club stars McConaughey, Jared Leto, Jennifer Garner, and Steve Zahn in a true story about a Ron Woodroof — a homophobic drug addict diagnosed with HIV in 1986 who would later form the Dallas Buyers Club in order to supply HIV positive Americans with anti-viral medications not yet approved for use in the United States by the FDA. Woodroof's actions would lead him to a war with the FDA and pharmaceutical companies while becoming a positive force in the AIDS crisis that plagued the gay community in the 1980s and early 1990s.
With a 100 percent positive reception after 24 reviews according to Rotten Tomatoes' top critics, Dallas Buyers Club is the latest home-run by McConaughey who has firmly planted himself at the top of the actor A-list after a series of strong performances. This is all the more clear when one looks at his upcoming acting roles that include a supporting role in Martin Scorsese's The Wolf of Wall Street; a starring role in the upcoming HBO drama True Detective; a starring role in Christopher Nolan's next film, Interstellar; and a starring role in the upcoming remake of Thunder Run.
So how did McConaughey become one of the hottest actors in Hollywood? When one looks at his recent film roles, it's clear that the actor made a decision to eschew the Hollywood roles he had been offered throughout the 2000s for a focus on acting in smaller, independent films. It's not an unheard of strategy for actors trying to return to strong material, but it's unlikely that any actor has experienced the kind of turnaround McConaughey has had in the early part of this decade.
Starting with 2010′s The Lincoln Lawyer, which has been often cited as the jumping-off point for McConaughey's turnaround, here are the five films in order of its release in theaters that have sparked the actor's remarkable renaissance.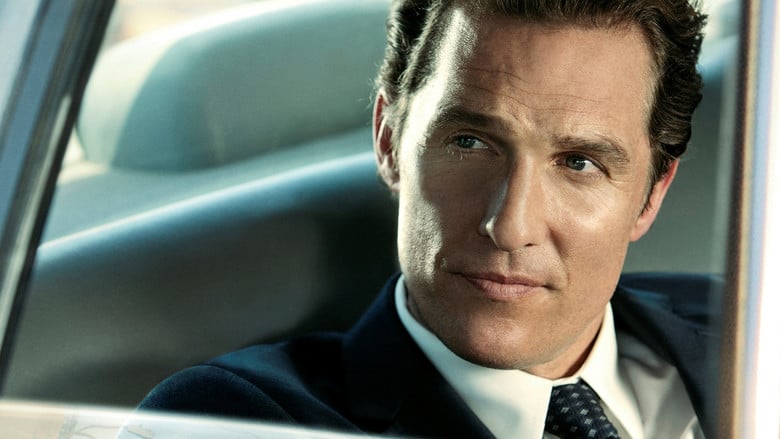 The Lincoln Lawyer (2010)
The Lincoln Lawyer has been widely cited as the film to spark McConaughey's recent critical resurgence. Based on the novel of the same name by Michael Connelly, The Lincoln Lawyer tells the story of low-rent defense attorney Mickey Haller (McConaughey) who believes he's landed the case of a lifetime when he's hired to defend a rich playboy (Ryan Phillippe) accused of rape and attempted murder. But Haller soon comes to find that the case isn't nearly as simple as it appears and he becomes ensnared in a deadly plot.

While it wasn't hugely popular when it was released, The Lincoln Lawyer generally got positive marks from critics and currently sits at 75 percent Fresh on Rotten Tomatoes' list of top critics. But it was McConaughey who impressed critics the most and no one put it better than NPR's Ella Taylor who wrote, "Just when you thought Matthew McConaughey had settled into pre-retirement content to play the (dry-aged) beefcake in a string of dippy romantic comedies, the actor comes roaring back with some real acting."
Manohla Dargis of the New York Times was similarly surprised and impressed. "What happened — did Matthew McConaughey roll out of bed one morning and decide that, after smiling through one too many schlocky movies, playing the pretty boy opposite Sandra-Kate-Jennifer, he wanted to do something decent?" Dargis asked.
Bernie (2011)
McConaughey's next role reunited the actor with director Richard Linklater — the director of 1993′s Dazed and Confused – which first put McConaughey on the Hollywood radar. Starring Jack Black, Shirley MacLaine, and McConaughey, Bernie chronicles the true life 1996 murder of 81-year-old millionaire Marjorie Nugent in Carthage, Texas by her 39-year-old companion Bernhardt "Bernie" Tiede. Bernie would later prove such a popular member of Cathage's community that the District Attorney was forced to change the venue in order to have a fair trial.
Although Bernie didn't find much success at the box office, the film was a big hit with critics — according to Rotten Tomatoes, top critics were nearly unanimous in praise, awarding the film a 93 percent Fresh rating. While Jack Black's transformative performance of the title character received the bulk of attention, critics also praised McConaughey's performance as Carthage's prosecutor.
"It's a nice character turn for McConaughey, who plays the prosecutor as the smartest fish in a small pond, who thinks he'd be just as smart in a big pond, but we see otherwise," wrote the San Francisco Chronicle's Mick LaSalle. And the New Yorker's David Denby was especially impressed with the actor, writing, "He's the acting surprise of the movie, yet it's Jack Black's film. Without him, Bernie would have been little more than an intelligent misfire, a curiosity. The comic actor suppresses his smirk and his devilish stare and stays within character. He gives Bernie a mincing walk — but not too mincing."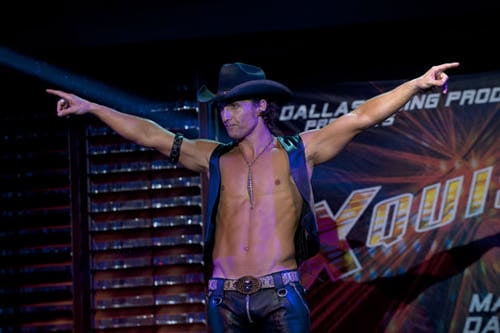 Magic Mike (2012)
Up next for McConaughey was another critically acclaimed supporting role in Steven Soderbergh's comedy-drama Magic Mike. Starring and loosely based on the experiences of Channing Tatum, who was an 18-year-old stripper in Tampa, Florida, Magic Mike revolves around a 19-year-old Adam (Alex Pettyfer) who enters the world of male stripping guided by Mike Lane (Tatum) who has been in the business for six years.
Earning strong marks from top critics, Magic Mike currently stands at 88 percent Fresh on Rotten Tomatoes. Although McConaughey's role as a former stripper who owns the club where Adam and Mike work does not get a huge amount of screen time, McConaughey still manages to steal every scene he's in. The Times' Manohla Dargis calls McConaughey's performance "spectacular" and "amusingly sleazed-out," while Salon's Andrew O'Hehir called one particular sequence "a scene-stealing, award-worthy performance as the unctuous, perm-wearing club owner and dance coach."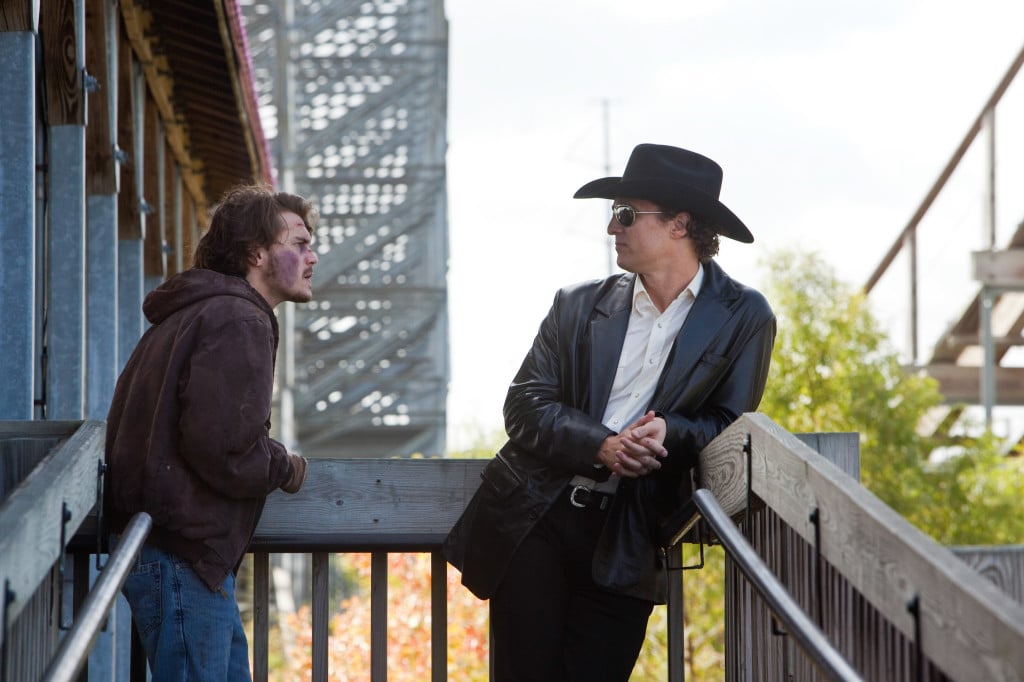 Killer Joe (2012)
Killer Joe is another indie flick that didn't garner much attention or box office success. Directed by William Friedkin (Bug, The Exorcist), Killer Joe is a dark comedy crime film written by Tracy Letts and based on Letts' play of the same name. When 22-year-old drug dealer Chris (Emile Hirsch) finds himself having to come up with $6,000 quick, he hires Detective "Killer" Joe Cooper (McConaughey) to murder his mother in the hopes of taking out an life insurance policy.
Of McConaughey's recent string of critically acclaimed films, Killer Joe find itself at the bottom of the list, though the film's 66 percent Fresh score from Rotten Tomatoes' top critics is certainly nothing to sneer at. Although the film's overall reception from critics was middling, McConaughey still commanded the majority of praise when it came to the film. Roger Ebert, who awarded the film three stars, wrote that the film took advantage of McConaughey's "reptilian charm and his snaky, hunky, me-first aura." He added, "This is one of his best performances." Salon's Andrew O'Hehir called McConaughey's performance "stunning," adding that it "might be the defining role of McConaughey's ongoing career reboot."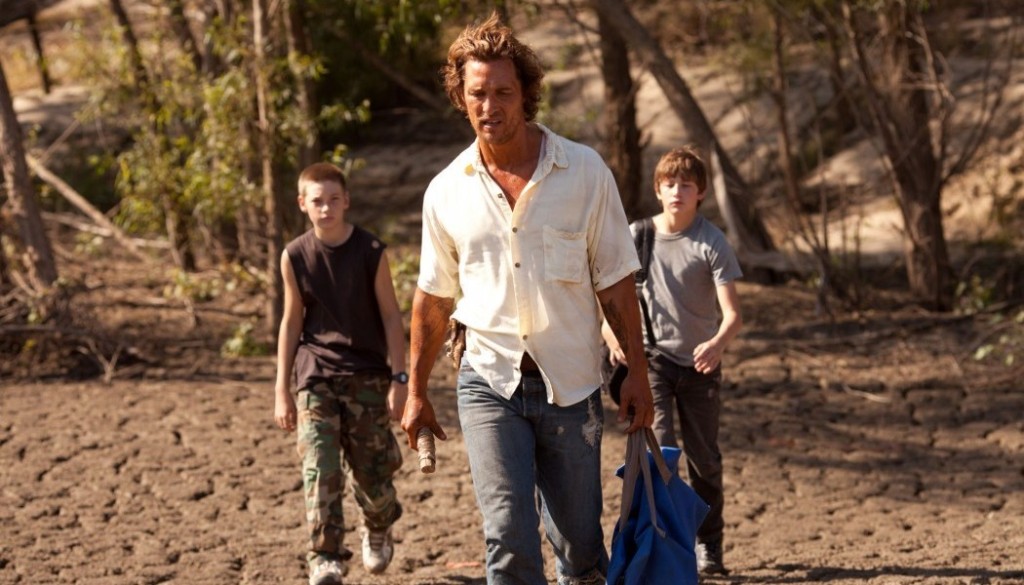 Mud (2013)
Given the kind of attention that Dallas Buyers Club is getting from award voters and critics, the amazing thing about McConaughey's acting resurgence is that his performance in Mud, released earlier this summer, was already getting Academy Award buzz before Dallas Buyers Club was even on the radar. Directed by indie standout Jeff Nichols, Mud is a coming-of-age drama starring McConaughey, Tye Sheridan, Sam Shepard, and Reese Witherspoon. When two boys find a man named Mud hiding out on an island in the Mississippi, they decide to help him escape with the love of his life as bounty hunters descend on the small town.
One of the best films of the summer and likely to remain on top ten lists when the year is done, Mud was universally praised by critics, holding a 97 percent Fresh rating from Rotten Tomatoes' top critics. McConaughey's performance was again a standout with critics again praising his recent return to form. The Times' A.O. Scott calls the role "the latest in a series of surprising, intense, and often very funny performances following his escape from the commercial romantic-comedy penal colony." Scott adds, "McConaughey commands attention with a variation on a certain kind of Southern character: handsome but battered, charming but also sinister, his self-confidence masking a history of bad luck and trouble."
Scott wasn't alone. Betsy Sharkey of the Los Angeles Times writes, "McConaughey beautifully articulates with his honeyed drawl the very essence of a grizzled, determined romantic," and called it the "best work of the actor's career." The Rolling Stone's Peter Travers called the performance "magnificent," explaining that, "His deeply felt scenes hit you like a shot in the heart."
Don't Miss: Can Oil Companies Spend Their Way Out of Industry Headwinds?