5 Rumors: Martin Freeman's Marvel Role, Lively to Allen Film
Each week, we bring you a roundup of the rumors that have been reported in the entertainment world as various sources get wind of casting rumors and top-secret talks about new projects in film, TV, and music. Here's a look at the rumors that have been buzzing in Hollywood over the past week.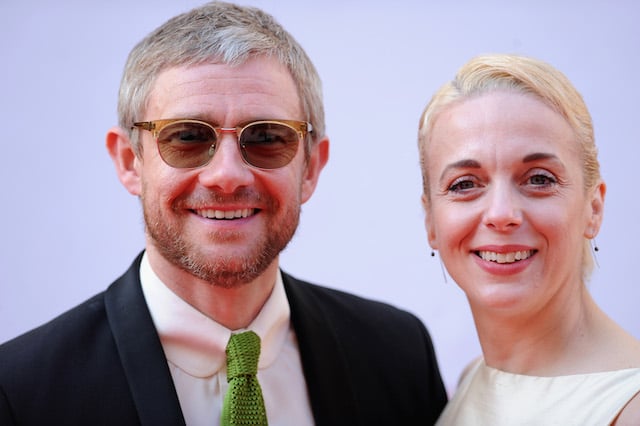 1. Who will Martin Freeman be in Civil War?
This week Marvel announced the casting for the upcoming Captain America: Civil War. The movie is going to include a lot of familiar faces, making it almost like another Avengers sequel, as well as some new characters from the comics for fans to get excited about. It was announced that Emmy-winning Sherlock and Fargo star Martin Freeman will have a role in the movie, but what his part is was not disclosed. Marvel rumor reporter Latino Review has some info about what Freeman's part could be. The site says that according to its sources Freeman's character will be "some sort of interrogator" and will also appear in Black Panther. The site speculated that this character could be Everett Ross, an employee of the U.S. State Department who escorts foreign diplomats while they're in America. His life is forever changed and becomes an expert on the African nation of Wakanda when he's assigned to escort Black Panther, who will be played by Chadwick Boseman. It's worth noting that Freeman's Sherlock co-star Benedict Cumberbatch was cast a few months ago in the role of Doctor Strange, so Latino Review said there could be some interesting overlap there. It seems like as Marvel takes over all of Hollywood lots of actors will end up interacting with former co-stars. In other Civil War news, fans are still waiting to hear who will play the new, younger Spider-Man, as the character is known to be making a cameo in Civil War before getting his own standalone movie.
2. Broad City duo making a movie with Paul Feig
Ilana Glazer and Abbi Jacobson are widely considered to be two of the funniest women in Hollywood with their critical darling of a show Broad City on Comedy Central. Originally starting out as a web series, the show has won a Critic's Choice Award and has been deemed one of the most original voices on TV right now. Glazer and Jacobson are now setting their sights on the big screen, as The Hollywood Reporter says they've sold an untitled comedy project to Fox with Bridesmaids director Paul Feig eyeing it to produce. While Glazer and Jacobson won't star in the movie, sorry superfans, their quirky and funny voice will still be present. This probably isn't worth really fangirling about until it's known who is going to star in and direct the movie, but with names like this involved hopefully the good news about the untitled project will keep coming. Details about the plot are being kept secret, but if it's anything like Broad City, it will involve female friendship, sex, and marijuana.
3. Cinderella joins Baby Driver
Casting news regarding Edgar Wright's first project since dropping out of Marvel's Ant-Man due to creative differences just keeps coming. The film, Baby Driver, has already cast The Fault in Our Stars's male star Ansel Elgort as its lead. The movie will star Elgort as a young and talented getaway driver for a band of criminals. He uses a specific playlist of songs to help psyche himself up to drive in the most challenging of circumstances. The character ends up being forced into working for a crime boss and has to complete a doomed heist that threatens every aspect of his life. Now according to sources who spoke to TheWrap, Cinderella star Lily James is in negotiations to play Elgort's love interest in the movie. It had previously been reported that Emma Stone was in talks for that role as well. James starred in Downton Abbey before being cast as Cinderella in the live-action reboot from Disney co-starring Cate Blanchett and Helena Bonham Carter. She'll soon be seen in Pride and Prejudice and Zombies.
4. Who will replace Paul Walker in the Fast and Furious franchise?
As Furious 7 continues to rake in the dough at the box office, the eighth film in the series is already planned. Christian Today has published a recap of some of the rumors going around about how the filmmakers will fill the gap left by Paul Walker's character. Walker of course passed away in a car accident in November 2013 and Furious 7 had to be completed without him while wrapping up his character's storyline. Paul Walker's brother Cody helped complete the filming of Paul's scenes, but he might be drafted by the directors to either keep filming small snippets of scenes as Paul's character Brian O'Connor or perhaps even play a new part. The publication also suggested that Kurt Russell's character Mr. Nobody will use his mix of humor and James Bond-esque qualities to fill the void left by Paul Walker. One rather far-fetched rumor has it that Gal Gadot and Sung Kang will somehow come back from the dead to repopulate Vin Diesel's crew. The Furious franchise leaves the possibility of miraculously surviving accidents, as Michelle Rodriguez's character did, so even characters that have died are fair game to come back.
5. Blake Lively joins Woody Allen film
With her new romance The Age of Adaline getting the best reviews of her career, Blake Lively has proven that she can actually act on top of having great taste in clothing. That was apparently enough to convince Woody Allen to cast her in his as-yet-untitled upcoming project alongside Jesse Eisenberg, Bruce Willis, and Kristen Stewart, according to a source who spoke to Deadline. There are no plot details yet available about the movie and Allen might not have even written it yet, but big actors are willing to sign on without a script in order to work with the legendary director. The Age of Adaline has been performing very well with the critics and at the box office, as it tells the love story of a woman who doesn't age. Allen's next film, Irrational Man, stars Joaquin Phoenix and Emma Stone and debuts at Cannes this summer.
Follow Jacqueline on Twitter @Jacqui_WSCS
More from Entertainment Cheat Sheet: