5 Rumors: 'Rogue One' Info, Delevingne to 'Fifty Shades'
Each week we bring you a round-up of the rumors that have been reported in the entertainment world as various sources get wind of casting rumors and top-secret talks about new projects in film, TV, and music. Here's a look at the rumors that have been buzzing in Hollywood over the past week.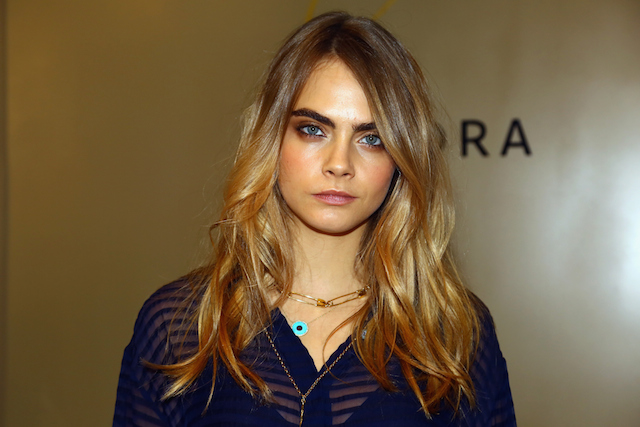 1. Cara Delevingne to Fifty Shades franchise
According to an article from Venture Capital Post based on whispers from an anonymous source, the model-turned-actress is going to be in the next Fifty Shades movie, Fifty Shades Darker, along with stars Jamie Dornan, Dakota Johnson, and Rita Ora. Fashion & Style says that Delevingne will play Leila Williams, a former submissive lover of Dornan's character, Christian Grey.
There's been a big shakeup with the movies in the wake of the first film's massive box office success. Director Sam Taylor-Johnson dropped out of making the sequels after getting in creative arguments with the book trilogy's author, E.L. James, who has a huge amount of creative control over the movies.
Delevingne has gotten her movie career off to a running start with a starring role in the upcoming John Green adaptation Paper Towns, a part in the anti-hero superhero movie Suicide Squad, and a role in the big-budget Peter Pan reboot Pan. Seeing how she does in carrying Paper Towns will be a big indication of whether the model can actually act, although judging by the awful reviews that Fifty Shades of Grey got, it won't really matter much for her role in the sequel.
2. Ben Mendelsohn addresses Rogue One rumors
It's been rumored for a few weeks that the Bloodline star has been tapped to co-star alongside Felicity Jones in the upcoming Star Wars standalone movie Rogue One. The Australian actor addressed the rumors in a conversation with ComingSoon.net about his new western, Slow West, and he gave the typical Hollywood answer that he's not sure about the potential casting.
"All I can say is that I've heard these rumors myself and I would be thrilled if something like that were to come to pass, and I can say with all truthfulness that there's nothing definitive to those rumors. So who knows?" Mendelsohn told the website. That could be him telling the truth, or it could be him sticking to an ironclad nondisclosure agreement. Mendelsohn isn't exactly a household name, but he has earned great reviews for his work in indie films and the Netflix original series Bloodline. Rogue One is scheduled to hit theaters in December 2016.
3. More Rogue One actors
TheWrap got an inside scoop on more actors being lined up for the Rogue One film. Character actor Sam Claflin, who is known for his smaller roles in movies like Snow White and the Huntsman, The Hunger Games, and Pirates of the Caribbean, is being eyed for a bigger part than he's played before.
Riz Ahmed, of Nightcrawler and Four Lions, is also in discussions for a supporting role, according to TheWrap. Disney and Lucasfilms are trying to keep as much about the Star Wars franchise quiet as possible, which means we can expect many more rumors as production on Rogue One continues to move forward.
4. Spider-Man shortlist
Some fans had briefly hoped that Sony would choose the African-American character Miles Morales for its next iteration of Spider-Man, but that doesn't look like it is to be.
TheWrap reports that Sony's shortlist for actors to play the part of a high school-aged Peter Parker includes Nat Wolff (Paper Towns), Asa Butterfield (Hugo), Tom Holland (The Impossible), Timothee Chalamet (Homeland), and Liam James (The Killing).
TheWrap heard from multiple sources that these actors are all strong contenders for the role, and that the studio will begin making offers soon. Much attention has surrounded this casting, as Sony and Marvel have finally worked out their differences and agreed to sort of share the character. The new Spider-Man is needed for a cameo appearance in Captain America: Civil War, which is due to begin filming soon.
Sony seems to be correcting a previous mistake it has made in its Spider-Man franchises by making the actor playing Peter Parker too old to believably be in high school, as at age 20, Wolff is the oldest actor of the young bunch. The new Spider-Man is scheduled for a summer 2017 release.
5. Who is going to be on Fashion Police?
It seems no one in Hollywood wants to touch the E! fashion commentary series Fashion Police with a 10-foot pole after the show's funniest host, Joan Rivers, passed away last year, and Giuliana Rancic's controversial comments about Zendaya's dreadlocks.
Comedian Kathy Griffin was briefly hired and then quit after only filming a few episodes, and then longtime co-host Kelly Osbourne quit in the wake of the Rancic-Zendaya controversy. Model Amber Rose was rumored to be in the running for hosting duty, but she shot down those rumors, telling Kandi Burruss on her Web series Kandi Koated Nights, "It's not my type of show. … Who am I to critique anyone?"
Talk show host Wendy Williams has also turned down a hosting role, telling HuffPost Live, "There is only one place I like to be critical of people, that I feel comfortable, and that is in my own studio." NeNe Leakes, Khloe Kardashian, and RuPaul are still on the rumor list, according to the U.K.'s Mirror, as possibilities to host the show. The series is scheduled to return to the air in September.
Follow Jacqueline on Twitter @Jacqui_WSCS
More from Entertainment Cheat Sheet: