5 TV Comedies to Binge On Before Summer Is Over
Heat wave keeping you indoors this month? No matter how your summer is going, you can cap it off with a mad binge of funny television shows to keep things light. To help you pass the time while you wait for your regularly scheduled favorites to premiere this fall, here are some comedy recommendations that ensure you're occupied through Labor Day.
'Good Girls'
Where to begin? Part drama and part comedy, NBC's Good Girls is probably popping up in your Netflix recommendations for good reason. Three suburban moms, Beth (Christina Hendricks), Ruby (Retta), and Beth's sister Annie (Mae Whitman) go bad and rob a grocery store to pay the bills. Marriages unravel, gangsters show up, friendships are tested, and close calls pile up.
Between the laughs, you'll find yourself yelling at the TV once you realize these three women have gotten in over their heads. Stream the first two seasons before the show returns for a beefed-up 16-episode third round. According to Deadline, the mid-season hit has been extended for season three.
'Schitt's Creek'
Pop TV's Schitt's Creek was just renewed for its sixth season, and unfortunately, it will mark the end of the series. Father and son duo Daniel and Eugene Levy produce and star in the hit about the Rose family and their adventures in Schitt's Creek. After losing their fortune and affluent lifestyle, Johnny, Moira, Alexis, and David are forced to move to the small town and live in a motel. Watching them adapt to each other and their new environment is both hilarious and enlightening. Catherine O'Hara plays the matriarch Moira, and her bizarre accent and 33rd century vocabulary deserves its own TV special.
Hop on Netflix or CW Seed to stream the first four seasons and once you're hooked, you can find the latest episodes of the Emmy-nominated show on platforms like Amazon, YouTube, or Pop TV.
'Kim's Convenience'
From the first episode, you'll be laughing at Mr. Kim and his fondness for good photography. There are plenty of other reasons to tune into the family-centered show that revolves around the Kims' relationships, the family business, and their colorful customers. "Appa" and "Umma" are relatable as opiniated parents who mean well but get on their adult children's nerves. Simu Liu—who's been tapped to play Marvel's Shang-Chi—and Andrea Bang star in this series.
Like Schitt's Creek, Kim's Convenience airs on a Canadian network, so viewers may have to wait until season four comes out and hits Netflix (it was renewed in 2018 but hasn't aired). Until then, you can watch the first three on the platform.
'Fleabag'
If you somehow managed to let this one slip by you, it's time to correct the ship. Phoebe Waller-Bridge stars as the titular character Fleabag in the two-part series that's based on her stage play. While the name "Fleabag" might give you pause, she isn't nearly as bad as her moniker sounds. Why should you watch?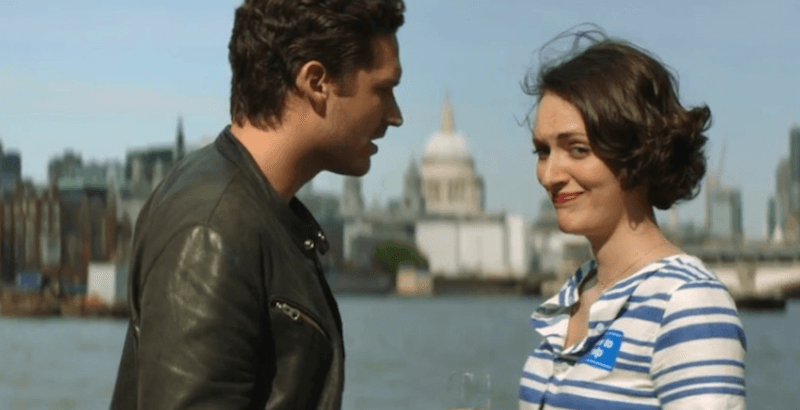 Fans love how the outspoken protagonist breaks the fourth wall as she figures out her family squabbles, her struggling guinea pig café, and her feelings for a hot priest—and more. You'll laugh out loud but pay attention or else you'll miss some of Fleabag's slickest one-liners. It's time to get acquainted with her through your Amazon Prime account.
'House of Flowers'
Prefer to watch a dark comedy? House of Flowers is a telenovela/dramedy that will, at times, remind you of Desperate Housewives. Because of that, you'll teeter-totter between cracking up and saying, "mmmm" at all the shadiness, melodrama, and ridiculous dysfunction in the de la Mora family. While the House of Flowers is a longstanding family business, there are two different agendas that require your attention to understand.
There's a meddling mom who wants to keep up appearances, competitive siblings, secret love triangles, backstabbing, and a cabaret. Watch the first season of Spanish-language Netflix Original to see how this all makes sense and then get ready for an upcoming season two.