5 TV Shows That Hired Real Adult Stars as Actors
In pre-internet times, it may have been possible for an actor or actress to make a few adult films before breaking into the mainstream without anyone being the wiser. But now that the internet exists, actors don't have the luxury of anonymity. However, the entertainment industry might be changing its attitudes toward sex workers.
Some major TV shows have started to hire porn actors for comedy purposes, or because they are much more comfortable doing nude and sex scenes. So there's a real chance that you've seen a mainstream television show with real adult stars and didn't even know it. But which television shows are breaking the boundaries between the two entertainment worlds? Here are five television shows that have featured adult entertainment industry stars in their casts.
1. Game of Thrones
HBO's hit fantasy show has not only hired real porn stars, but has also given them roles that involve more than just sex. Actresses Sibel Kekilli, Samantha Bentley, Jessica Jensen, Aeryn Walker, Maisie Dee, and Sahara Knite have all worked in the porn industry. On Game of Thrones they typically portray prostitutes, although Sibel Kekilli got a really dynamic role in Shae, a prostitute who has a tumultuous relationship with Tyrion Lannister.
Kekilli's porn past is very much behind her. Since her adult entertainment days, she has won Germany's equivalent of an Oscar twice for Best Actress. One was for her role in Head-On, and the other was for her role in When We Leave. So what does she have to say to people who bring up her time in porn?
"Let me say it like this — you know, it's my past," Kekilli told Vulture. "It's a past. So I'm not … do you know what I mean? It's nothing to do with my future, or with my present. It's past. And with acting, I always try to understand my part when I act. It's nothing to with my past, it's nothing to do with me."
2. True Detective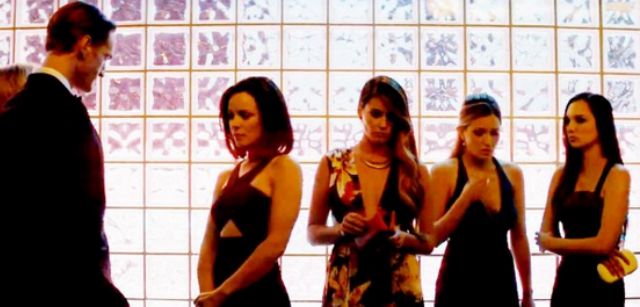 In season two, this show spiced things up with an orgy scene. But instead of just hiring regular extras for it, they decided to hire some actresses that were already comfortable filming sex scenes. Daily Mail reports porn actresses Amia Peta and Peta Jensen were hired to shoot the sex scene for a couple of days. However, the HBO series won't have them stripping down fully for their roles. It should also be noted that this isn't Amia Peta's first mainstream role. She also appeared in Britney Spear's music video, "Work B****."
3. Sons of Anarchy
This show about an outlaw motorcycle club has definitely had its share of risqué scenes. For one of them, the show's creator turned to the porn industry to find actors who were more comfortable portraying sex on screen. Jenna Jameson was one of them and was cast as "Porn Girl Doctor" in season seven.
The show also hired Howard Levine to be in charge of casting adult stars for acting roles and as body doubles. "I wanted real porn stars," explained Kurt Sutter to LA Weekly. "Howard was very helpful bringing in the right talent. And often in [Sons of Anarchy], sex and violence were interwoven in scenes. We needed players who were comfortable enough with the nudity to be able to react to someone's head getting blown off. Literally, not orally. We found that adult talent was the best choice."
4. Weeds 
This Showtime series followed Nancy Botwin, a mother of two who is trying to deal weed. The show hired porn actor, Lexington Steele, for two episodes in which he portrayed himself. Not surprisingly, getting the gig was a big deal for Steele.
"I'm approaching my tenth year in the adult business and one of my greatest achievements to date is appearing in Weeds, a mainstream show that I watch regularly," said Steele, according to AVN. "Appearing as Lex Steele is a testament to Lexington Steele being a household name." The actor has also appeared on Nip/Tuck.
5. Entourage
While on the road to becoming a more mainstream actress, former adult star Sasha Grey played a version of herself on this HBO show for six episodes. Although her name doesn't change for the part, the actress is very much acting and is different from the character that she portrayed.
"I'm definitely an open person," Grey told HBO. "What you see is what you get. On the show, I'm kind of like Vince's race horse, and he's always trying to keep up with me. We're testing each other and seeing how far we can go, and that's definitely not me at all. I always want to do my best and prove that I can do it — but this is more in terms of partying. We're trying to outdo each other and that's not who I am."
Check out Entertainment Cheat Sheet on Facebook!