5 U.S. New Year's Eve Bashes Worth Catching
On December 31, people all over the United States will be celebrating the new year in their own special way. For some, that means popping some popcorn and settling back to watch the ball drop. For others, it might mean downing a fifth. Regardless of how you choose to ring in the new year, 2014 only comes around once — appreciate it whichever way you find best, whether it be with family time or a wild night. In case you need some ideas, here's how five cities in the U.S. will be throwing some of the most impressive New Year's Eve bashes out there.
1. Lawrence, Kansas
Head on down to Liberty Hall for some "tastefully" provocative dancing form the Lawrence Burlesque Collective in Lawrence, Kansas — at least, according to The Kansas City Star — though differing definitions of tasteful may have some significance.
According to the publication, the burlesque group's performance is tradition that has been going on for as long an age-and-a-half — hence the historical venue. It's not every day you can head on down to Liberty Hall for a tantalizing tease, with great music to boot, unless you're one of those lucky few in Lawrence with just that opportunity this New Year's Eve.
2. Baton Rouge, Louisiana
The Red Stick Revelry, as it's called, takes place in North Bulevard Town Square. What the event doesn't have in glamor it makes up for in bizarre entertainment and family friendliness. At 11 a.m., children are told the legend of the red stick by the theatrical Robby Wilson while they do art projects, reports The Times-Picayune.
Meanwhile, others can learn to do a line dance to the newest red stick theme song. In the evening, the mayor of Baton Rouge, Kip Holden, leads the singing of "Auld Lang Syne" as the red stick is raised in the town square. Musical performances start at 9 p.m. and the red stick ball will drop at midnight for the coming of the new year.
3. Chicago, Illinois
If you're feeling flush, are close to Chicago, and don't mind a wave here or there, the New Year's Eve Firework Dinner Cruise looks to be one sweet party. Featuring a dinner buffet and a well-stocked bar, the cruise has a nice view of the fireworks at the Navy Pier, according to CBS Chicago.
Celebrating on the water rings up to nearly $160 — not the cheapest celebration — but with tenderloin and jerk chicken steaming on plates, that may not matter so much. Still, Chicago is a big city, and there's a hefty supply of parties more within the price range of more modest partiers.
4. Oakland, California
San Francisco being the city that it is, it's hardly surprising that residents there have a lot of New Year's options — but while there are more than a million great options for the hip young folks, what about the hip very young folks? For those with kids, don't fear: there are plenty of options, and one has the advantage of involving a large number of balloons.
Chabot Space and Science Center in Oakland does a balloon drop every year for multiple midnight time zones at 11 a.m., 1 p.m., and 4 p.m.. Ages range from 5 to 12, and thousands of balloons fall at each event.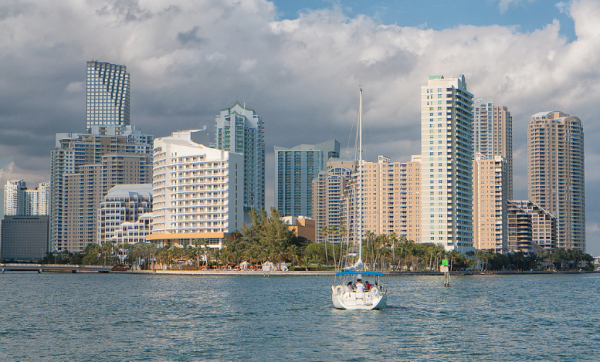 5. Miami, Florida
If you're feeling particularly rich this year, Lil Wayne is headed to 1445 Washington Ave., Miami Beach, for a New Year's party that will really break the bank. Tickets range from $50 to $100,000 but they include bottles of GT Vodka, Rose, Hennessy VS, and Patron, according to the Miami New Times.
The party is proud to be considered the "most expensive table in the country," and the most expensive ticket price buys you time with the artist himself in the studio, along with four friends. Lil Wayne isn't the only musician in Miami with exorbitant ticket prices and wildly glutinous party treats — Luciano Vegabundos, Dirty South, and a number of others will also be in town.
More from Wall St. Cheat Sheet: