5 Young Adult Novels That Everyone Is Reading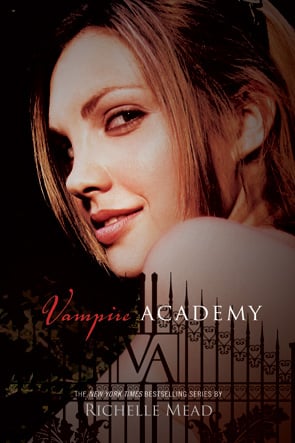 When the weather outside is cold and dreary, there's nothing better than cozying up on the couch and getting lost in a great book. The young adult genre has become a popular choice for both teens and adults alike. These coming of age stories are an easy read and are often full of first loves, fun friendships, and defining life-changing moments. Whether it's set in a high school, the future, or a world full of vampires and werewolves, if you're looking for a good read, you can't go wrong with a young adult book. Here are five YA books to read this winter.
Vampire Academy
If you like vampires and high school drama, Richelle Mead's Vampire Academy is perfect for you. A New York Times best seller, the book follows Rose Hathaway, a half-human, half-vampire teen who's training to be a bodyguard for royal vampires. The book is exciting, funny, and will make you want to enroll in the Vampire Academy yourself. Another reason to pick up the book? The movie version hits theaters February 7, so you can read the book and then watch it come to life on the big screen.
Steelheart
The New York Times best selling author Brandon Sanderson is wowing readers with his latest YA book, Steelheart. Deemed an "absolute page turner," by Publishers Weekly, the story is set in a futuristic city run by "unfriendly" superheros called Epics. This book is perfect for anyone who loves Marvel, science-fiction, or just a heart-pounding read. Be prepared — once you start this one, you won't be able to put it down.

The Selection
If you like The Bachelor and The Hunger Games, chances are you will love The Selection by Kiera Cass. Set in a dystopian society where a prince has a "Bachelor style" contest to find his bride, the book follows America Singer — a teenage girl picked to participate against her wishes. Full of glamour and lots of drama, Publishers Weekly praised the novel as well as the main character. The Selection also hit #1 on The New York Times best sellers list, and is the first book in a trilogy.
Divergent
With Divergent being one of the movies to look forward to in 2014, reading the book should be on your list as well. A New York Times best seller, this YA series by Veronica Roth is set in a futuristic/dystopian Chicago where each member of society is placed in one of four factions depending on their personal strengths. The book follows Beatrice Prior — a 16-year-old girl who does not fit in any sector and is labeled a divergent. The upcoming movie franchise is projected to be the "next big thing" after the first book in the series sold over 5 million copies and won "Favorite book of 2011 in 2011′s Goodreads Choice Awards."
The Fault In Our Stars
If you're looking for a heart-warming story, and tear-jerker at that, reach for The Fault In Our Stars by John Green. The book is #1 on the New York Times YA best seller list as we speak, and follows a 16-year-old cancer patient named Hazel, whose parents make her attend a Cancer Kid support group where she meets a young boy named Augustus. Winner of the "2013 Children's Choice Teen Book of the Year Award," the book received mass critical acclaim for telling a such moving story about teenagers fighting illness and finding love.
More From Wall St. Cheat Sheet: