6 Great Modern Rock Bands You've Probably Never Heard Of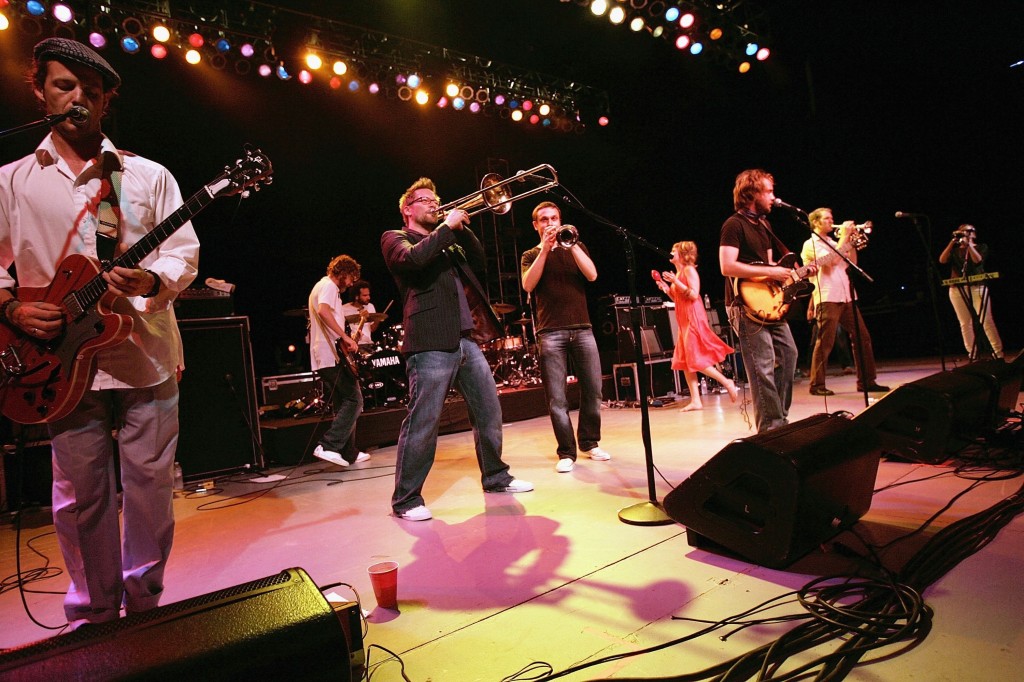 Rock isn't dead. It's certainly not alive and kicking as a massive cultural force the way it once was, but many bands are continuing the genre's best traditions, though often they're doing it out of the limelight. These modern rock bands may not be topping Billboard charts or performing with Miley Cyrus at the VMAs, but they're worth listening to and loving all the same. Here are six great modern rock bands you've probably never heard of.
1. The Drive-By Truckers
Frequently labelled as southern rock or even alt-country, the Drive-By Truckers have been churning out guitar-centric records that combine creative riffs with complex, often historically-based storytelling since 1998, with no significant dip in quality throughout their long career. Their best albums are cohesive statements that draw upon the unique talents of singer-songwriters Patterson Hood and Mike Cooley, as well departed band members Shonna Tucker and Jason Isbell. They've dabbled in country, soul and folk over the years, but their music always sounds gritty and unpretentious, even as they embrace the power of soaring guitar solos and rock operas. Start with Decoration Day or Go-Go Boots and go from there.
2. Electric Six
Electric Six are primarily known for singles "Gay Bar" and "Danger! High Voltage" from their debut album, but the band has continued to churn out quality albums since. Their music blurs the line between parody and loving tribute to rock music's silliest tendencies, blending nonsense lyrics and lead singer Dick Valentine's vocal bluster with astoundingly catchy hooks. This is arena rock, if arena rock knew how silly it was. Beyond the tongue-in-cheek sensibility, the band is consistently willing to push their sound to find creative directions, often featuring new-wave style synthesizers, with each new record. Try listening to Flashy and Zodiac without getting at least one tune stuck in your head.
 3. The Hold Steady
The Hold Steady was conceived of as little more than another average bar band, but lead singer and songwriter Craig Finn's knack for lowlife storytelling propelled the band to international acclaim, but never mainstream success. Finn talk-sings dense lyrics frequently concerning Catholicism and teenage drug-abuse and often focusing upon a core cast of characters living in the Twin Cities. Their best albums are feats of storytelling with threads connecting the songs. Better still, their music owes much to The Replacements, so often rousing with its fist-bumping choruses ("our songs are sing-along songs," Finn sings in one song), but always human in the flaws omnipresent between all the raging parties. Unfortunately, The Hold Steady has apparently disbanded, though details are still scant at this point. Boys and Girls in America is an ideal entry-point for the band's music, as long as you can get past Finn's nasally vocals.
4. Baroness
Genre labels might have you believe that Baroness is a metal band, but make no mistake — despite the deep-voiced singing and aggressive production style, this band leans heavily toward progressive rock. With three albums out and a fourth due at the end of the year (all named after a specific color), their sound leans heavily upon creative guitar interplay and surprisingly melodic vocal parts. They rock, but they rock cleverly — it's the kind of music that you can either enjoy for the sludge-y surface level appeal or dissect to discover its complexities. All three of their albums are stellar, but double album Yellow & Green offers the best sampling of the band's sound.
 5. Fang Island
Fang Island almost sounds too happy to be a rock band, but their sound is founded upon guitar interplay and life-affirming choruses buried beneath often-muddy production, so I thought they merited inclusion here. They aren't so much storytellers of lyricists as they are competent players who hit upon a great sound, particularly in the chiming, but crunchy, guitar tone present in almost all their songs. It's hard to describe the quality of their complex but infectious music without quoting the band's proclamation that their songs sound like "everyone high-fiving everyone." If that sounds up your alley, try listening to either one of their two LPs, Fang Island and Major.
6. Broken Social Scene
Not so much a band but rather one of those "musical collectives" (whatever that means), Broken Social Scene is composed of a rotating roster of Toronto-based musicians that occasionally get together and churn out an album. The music is founded upon familiar instruments — guitar, drums, the occasional orchestral or brass instrument — but is so richly textured and follows such unrecognizable song structures that it's often difficult to know what to make of it. Some have labelled them as baroque pop for their complex arrangements, but I'd liken their songs to shortened film scores, using impressionistic, often barely audible lyrics to complement instrumentation that often paints a scene or tells a story, in combination with creative titles like "Meet Me in the Basement" or "Anthems for a Seventeen-Year Old." The critical favorite is You Forgot It in People, but I think the more cleanly-produced Forgiveness Rock Record is a better point of entry.
Check out Entertainment Cheat Sheet on Facebook!       
More from Entertainment Cheat Sheet:
Want more great content like this? Sign up here to receive the best of Cheat Sheet delivered daily. No spam; just tailored content straight to your inbox.