6 New Records Coming Out This Month
Here's a look at six of the biggest albums that are coming out this month. From a pop star who's already had a huge hit this summer to a feminist rock icon making a comeback to a stoner rapper, something for everyone will be released this month.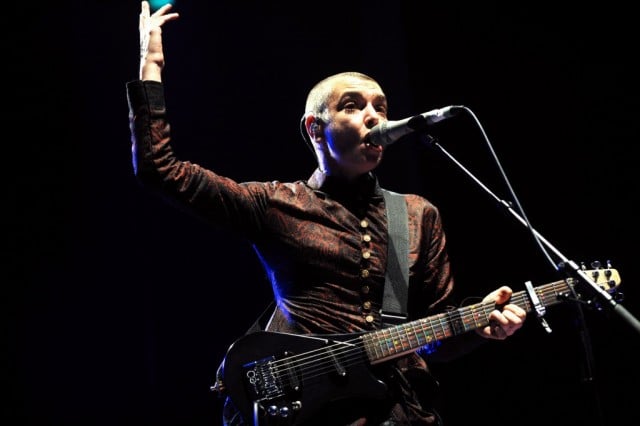 Sinead O'Connor
The controversial Irish singer-songwriter Sinead O'Connor is set to release her tenth album, I'm Not Bossy, I'm the Boss, on August 12. While the title sounds like a promo for Sheryl Sandberg's feminist 'ban bossy' campaign, O'Connor is consciously using her sexuality on the album's artwork to draw more attention to the record, which she says would've gone unnoticed if she hadn't used a picture of herself in a wig and a form-fitting dress to promote it. The song's first single, "Take Me to Church," is a bit of adult contemporary rock-pop that lacks the minimalist power of O'Connor's most famous song, her cover of Prince's "Nothing Compares 2 U," but might please fans of other female singer-songwriters like Melissa Etheridge.
Kimbra
The unique electro-pop singer from New Zealand Kimbra will release her new album The Golden Echo on August 19. Kimbra is best known for singing on the Gotye hit "Somebody That I Used to Know" and has been compared to artists like Bjork and Janelle Monae. The Golden Echo will be her first album since receiving that wider recognition for the Gotye song. The record is produced by Rich Costey, who has also worked with the Shins and TV on the Radio. It features contributions from The Mars Volta's Omar Rodriguez-Lopez, Dirty Projectors' Dave Longstreth, and others, according to Brooklyn Vegan.
Wiz Khalifa
The stoner rapper's album Blacc Hollywood will see its release on August 19 even though Khalifa's arrest earlier this year for marijuana possession had thrown some doubt on whether the record would be released on time. Khalifa is the rap poster boy for weed, infamous for spending upwards of $10,000 a month on marijuana and smoking every day, but he still wants his fans to be able to relate to him. The rapper told Yahoo Music that he wants Blacc Hollywood "to give people something to live by" and help them see that "I'm one of y'all."
Ariana Grande
Ariana Grande already has had a number one song this summer, and her sophomore album My Everything doesn't even come out until August 25. The singer rose to fame as a star on teen-centered Nickelodeon shows, then became more recognized for her voice, which has been compared to Mariah Carey's. Her song "Problem" featuring Iggy Azalea has been inescapable this summer. This singer's star is definitely on the rise and she'll likely see a few more hits off this record.
Brad Paisley
Country singer and Rising Star judge Brad Paisley will release his new album Moonshine in the Trunk on August 26. Moonshine is the tenth album from one of country music's most successful stars and he plans to celebrate its release with a pool party at the Cosmopolitan in Las Vegas. The album's first single, "River Bank," with its lyrics about inner tubing and drinking beer, is a country song crafted just for summer.
The New Pornographers
Renowned indie rock band the New Pornographers are putting out their sixth album, Brill Bruisers, on August 26. The New Pornographers are a supergroup composed of various members of the Canadian indie rock scene — most famously Neko Case, A.C. Newman, and Dan Bejar — and are considered to be one of the greatest Canadian bands of all time. Newman told Rolling Stone that Bruisers, the band's first album in four years, "is a celebration record." He added that the album will feature happier music than has been seen from the group in the past: "After periods of difficulty, I am at a place where nothing in my life is dragging me down and the music reflects that… We wanted Xanadu and we wanted Sigue Sigue Sputnik, which translated into sparklier and faster [music]."
If you want to see what other albums are coming out this month, check out the list over at Metacritic.
More from Entertainment Cheat Sheet:
Want more great content like this? Sign up here to receive the best of Cheat Sheet delivered daily. No spam; just tailored content straight to your inbox.
Follow Jacqueline on Twitter @Jacqui_WSCS