6 of the Most Anticipated Movies Coming Out in 2015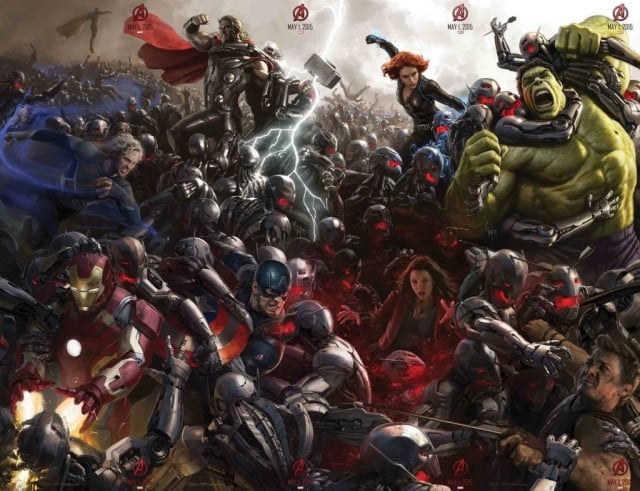 2014 was a big year for massive blockbusters, featuring wildly successful flicks like Lego Movie and Guardians of the Galaxy. Even so, this next year promises to be bigger, and we're not talking "oh those would be kind of cool movies to see" kind of stuff. 2015 will be a year featuring sequels and reboots a decade or more in the making, while others we've been clamoring for in just the last couple years. That said, they all have one thing in common: We can't wait to see them. Superhero flicks, reboots of beloved franchises, and even the return of a visionary director all make our list of the can't-miss movies of 2015, each of which is sure to amaze in its own way.
1. Mad Max: Fury Road
Release Date: May 15, 2015
The post-apocalyptic franchise by which all others have been measured, Mad Max was an instant classic when it came out back in 1979, followed by the equally as awe-inspiring Road Warrior sequel. Now, the original writer/director George Miller is back to reboot the franchise he brought to life over 30 years ago, this time starring Tom Hardy, Charlize Theron, and Nicholas Hoult. If the teaser trailers are any indicator, this version promises to be just as amazing as its source material. Miller now has all the CGI and modern filmmaking technology he could possibly need to create a bigger and better version of his cinematic masterpieces, and it looks like he's pulling out all the stops this time around.
2. Avengers: Age of Ultron
Release Date: May 1, 2015
Ever since Joss Whedon's first Avengers movie released, the genre has seen a definite shift toward making superheroes come off as decidedly human. His depiction of Earth's mightiest heroes made for one of the most entertaining and exciting Marvel movies, forever setting the bar for all that follow. For the next installment due out in May, we see what happens when Tony Stark accidentally creates an evil, unstoppable cyborg hellbent on destroying humanity, pitting the Avengers against their toughest challenge yet. The trailer features the creepiest version of "No Strings on Me" from Pinocchio you've ever heard, getting us more than a little excited for what's sure to be an adrenaline-packed follow-up effort.
3. Chappie
Release Date: March 6, 2015
Ever since the release of the visionary alien flick District 9, Neill Blomkamp has been relatively quiet, having only come out with Elysium in the interim. For his newest movie, it looks like he's out to redefine yet another sci-fi sub-genre with Chappie, starring a sentient WALL-E-esque robotic lead. The film focuses on a newly self-aware machine having achieved singularity, as it learns to function in a world that may not be ready for it. Blomkamp managed to shock us with District 9, and we see no reason why Chappie won't be able to do the same with the South African maestro at the helm once again. And, to top it all off, rap group Die Antwoord is among the stars in the film.
4. Jurassic World
Release Date: June 12, 2015
We've talked about Jurassic World before, and our tentative excitement remains about the same. This latest sequel to the dinosaur classic has the potential to be a stand-alone adventure of its own, or the uninspired derivative mess that the last two sequels were. We're obviously hoping for the former; Jurassic Park will always have a special place in our hearts, and we'd hate to see the franchise sink even further. All that aside, the first teaser for World makes us hopeful that this time around will be different (honestly, how much bad can come of Chris Pratt riding a motorcycle alongside his own pack of raptors?).
5. Star Wars Episode VII: The Force Awakens
Release Date: December 18, 2015
Fanboys and girls pretty much lost it when the trailer released for The Force Awakens, and for good reason. Director J.J. Abrams himself admitted he didn't even want to release a teaser, but the studio opted to do so anyway to build hype. We can say now that was a very good decision. We see very little in terms of plot, but just enough Millenium Falcon and lightsaber to get us excited for next December. Abrams did a stellar job rebooting the Star Trek franchise, so at the very least we can rest easy knowing the Star Wars franchise is in good hands. Although, after Episode 1: The Phantom Menace, the bar has been set pretty low.
6. Kingsman: The Secret Service
Release Date: February 13, 2015
Directed by the man behind Kick-Ass and X-Men: First Class, Kingsmen promises to be a fresh take on what's become a tired spy genre. In it, we see the Tarantino-esque violence that made Kick-Ass what it was, paired with the wit and humanity of First Class. Combined, we have a secret agent movie that looks every bit as exciting as teasers and trailers would have us believe. Of course having Colin Firth, Michael Caine, Mark Strong, and Samuel L. Jackson certainly doesn't hurt its chances at greatness either. We have a hard time imagining any movie with that collection of actors being anything but, at the very least, an entertaining guilty pleasure.
More From Entertainment Cheat Sheet:
Want more great content like this? Sign up here to receive the best of Cheat Sheet delivered daily. No spam; just tailored content straight to your inbox.