60 Perfect Celeb Thanksgiving Quotes That Are Funny, Grateful, and Inspirational
Thanksgiving is one of the most well-known American holidays. Every year on the fourth Thursday in November, people gather with friends and family to eat delicious food and be grateful for what they have in life.
It's a celebration that has been around for centuries, with many families even having their own special traditions related to Thanksgiving. A lot of Americans have memories and emotions related to these special holidays, and your favorite celebrities are no different.
Check out the following memorable quotes from various people about Thanksgiving and its traditions. Some are hilarious, and others are simply touching. But most importantly, they all remind us of what this holiday is all about.
Famous Thanksgiving quotes from celebrities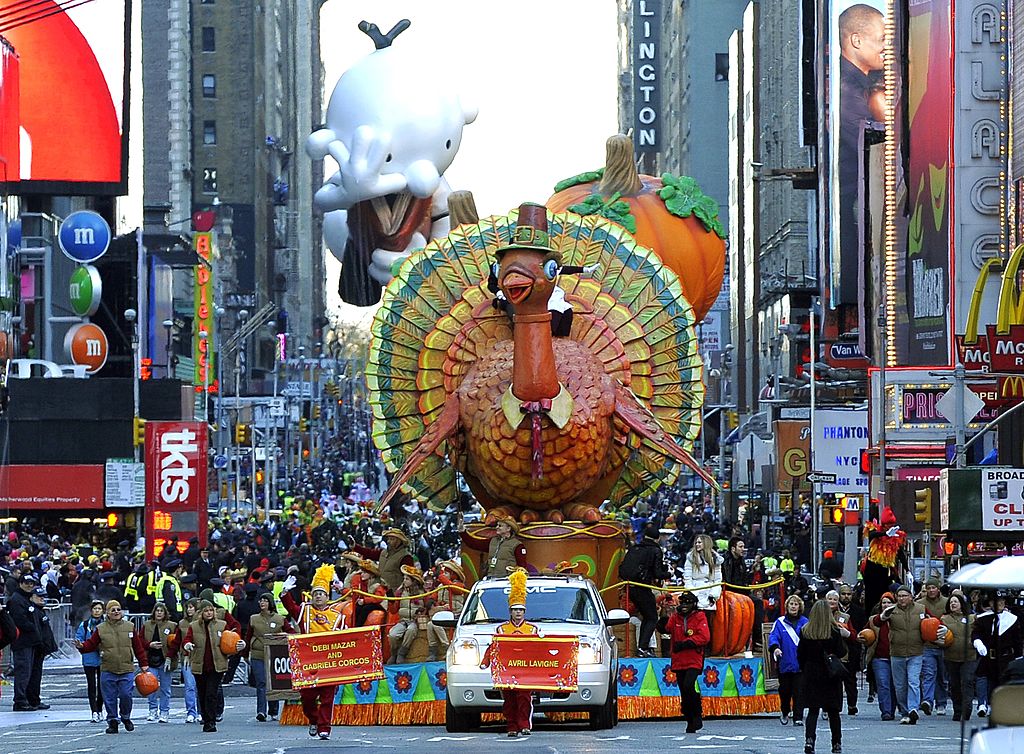 "On Thanksgiving we always just have a big feast. Stuffing is my favorite food in the world! I actually have been known to go buy stuffing and make it in the middle of summer." — Emma Roberts
"Neither Tina or I have sisters in real life. We are each other's chosen sister… We call each other to complain about how mom and dad have treated us at Thanksgiving." — Amy Poehler
"I love Thanksgiving traditions: watching football, making pumpkin pie, and saying the magic phrase that sends your aunt storming out of the dining room to sit in her car." — Stephen Colbert
"Thanksgiving is my mom's most important holiday. No matter what I'm working on, it always has to be put into the contract that I'm able to home for Thanksgiving. My mom cooks a massive, massive feast." — Michelle Trachtenberg
"As a kid, I was always mad – just noticing the women at Thanksgiving, running around the kitchen, while the men were watching football. For one, I don't want to cook, and for two, I hate football. I was stuck in the middle." — Beth Ditto
"Screw turkey. Turkey sucks. Turkey is gross! I do two whole roasted chickens because chicken is so much better and you can still get a great gravy out of it. I just really feel like people feel like they're forced to eat turkey, and nobody really enjoys it." — Chrissy Teigen
"I'm Australian, and my husband Sacha is English, but we've embraced Thanksgiving… I enjoy cooking, but I have a meat thermometer so I make sure no one gets food poisoning." — Isla Fischer
"My sister Kim and I have competitions with our turkeys on Thanksgiving, and my sister Kathy loves my famous mashed potatoes. I really have fun  cooking during the holidays. My kids love to help me. It's just family tradition to have everyone cooking together, and we have holiday parties as well." — Kyle Richards
"I just stole some vegetables from my neighbor's garden to make my centerpiece. I'm calling it my 'CornucOprah.'" — Ellen DeGeneres
"I go to the Gentle Barn and hang with the turkeys. I tickle them under the wings and I sit them on my lap, and I feed them pumpkin pie." — Pamela Anderson
"Happy thanksgiving to everyone in the world who feels lost. Know that there are many strangers who love you even if we haven't met. We will." — Chelsea Handler
"My mom will not let you cook one thing or be near the kitchen. It's her masterpiece. I always thought that was strange — like not even cleaning the dishes. It was the quirkiest but most awesome tradition." — Olivia Munn
"We started a new tradition last year of me hosting Thanksgiving… We have an open door policy. Anyone is welcome. I also make everyone bring a dish so that I'm not left [making] everything!" — Kristin Cavallari
"I'm just looking forward to spending time with my friends and family. I'll be eating a lot of food on Thanksgiving — I put gravy on everything on my plate!" — Stacy Keibler
"My restaurants are never opened on Thanksgiving; I want my staff to spend time with their family if they can. My feeling is, if I can't figure out how to make money the rest of the year so that my workers can enjoy the holidays, then I don't deserve to be an owner." — Michael Symon
"My fondest memories are generally the day after Thanksgiving. I get the total decorating Christmas itch." — Katharine McPhee
"I'm from Canada, so Thanksgiving to me is just Thursday with more food. And I'm thankful for that." — Howie Mandel
"I've spent a lot of Thanksgivings on the road with my band, so anytime that I can spend Thanksgiving with my family in a traditional aspect, eating sweet potatoes and cranberries and stuffing and all the trappings of Thanksgiving and then get on a treadmill the next day extra long, I'm happy." — Richie Sambora
"I would like to thank all those people who randomly smile while walking down the street. It always makes me smile!" — Nat Wolff
"I must say that I think this holiday is beautiful. All about gratefulness and togetherness. We should make it an international holiday." — Gal Gadot
Funny Thanksgiving quotes
"Here I am, 5 o'clock in the morning, stuffing bread crumbs up a dead bird's butt." – Roseanne Conner from Roseanne
"Thanksgiving – it's like we didn't even try to come up with a tradition. The tradition is we overeat. Hey, how about at Thanksgiving we just eat a lot. We do that every day. Oh, what if we eat a lot with people that annoy the hell out of us?" – James Gaffigan
"I celebrated Thanksgiving in an old-fashioned way. I invited everyone in my neighborhood to my house, we had an enormous feast, and then I killed them and took their land." – Jon Stewart
"Thanksgiving's not Thanksgiving without Frugal Hoosier canned corn, Safeway boxed stuffing, and CVS pumpkin pie." – Sue Heck from The Middle
"My cooking is so bad my kids thought Thanksgiving was to commemorate Pearl Harbor." – Phyllis Diller
"If you're at a Thanksgiving dinner, but you don't like the stuffing or the cranberry sauce or anything else, just pretend like you're eating it, but instead, put it all in your lap and form it into a big mushy ball. Then, later, when you're out back having cigars with the boys, let out a big fake cough and throw the ball to the ground. Then say, 'Boy, these are good cigars!'" – Jack Handey
"Do you know what I dream about when I dream about Thanksgiving, which is often? I dream about eating so much deliciousness that all the blood rushes to my stomach and I pass out at the table. Please don't deny me that." – Seth Cohen from The O.C.
"Thanksgiving is a time to count your blessings, one by one, as each relative goes home." – Melanie White
"This was a really, really big year for me. I got to go home for Thanksgiving and sit at the adults' table. That's 'cause, you know, somebody had to die for me to move up a plate." – Andre Kelley
"Here's a tip: Don't cook Thanksgiving dinner for five people in 14 hours. Here's another tip: Don't ask a guy out for a first date on the least sexy holiday in America." – Schmidt from New Girl
"When I was about nine years old, I announced to my mother that I was going to cook Thanksgiving dinner. And I went to the library and got this whole pile of books. I'd love to say it all turned out great. It didn't." – Nathan Myhrvold
"You can't have Thanksgiving without turkey. That's like Fourth of July without apple pie or Friday with no two pizzas." – Joey Tribbiani from Friends
"I hate turkeys. If you stand in the meat section at the grocery store long enough, you start to get mad at turkeys. There's turkey ham, turkey bologna, turkey pastrami. Someone needs to tell the turkey, 'man, just be yourself.'" – Mitch Hedberg
"The Thankstini – a fun and delicious new novelty drink I just invented. Cranberry juice, potato vodka, and a bouillon cube. Tastes just like a turkey dinner." – Barney Stinson from How I Met Your Mother
"I have strong doubts that the first Thanksgiving even remotely resembled the 'history' I was told in second grade. But considering that (when it comes to holidays) mainstream America's traditions tend to be over-eating, shopping, or getting drunk, I suppose it's a miracle that the concept of giving thanks even surfaces at all." – Ellen Orleans
"Thanksgiving is an emotional holiday. People travel thousands of miles to be with people they only see once a year. And then discover once a year is way too often." – Johnny Carson
"I love to eat… If I don't walk away from a meal hurting, I didn't do it right. If I don't walk away from Thanksgiving dinner feeling like I've been turkey-f**ked in a gingerbread prison, I didn't do it right." – Greg Behrendt
"They sent me two turkeys. The more photo-friendly of the two gets a Presidential pardon and a full life at a children's zoo. The runner-up gets eaten." – C.J. Cregg from The West Wing
"My mom has a little nickname for [when I came out]. She calls it 'the Thanksgiving that Stephanie ruined.' All time is told in our family tree by this one day. I'll go, 'Hey Mom, what year did Grandpa have his heart surgery?' 'Well, let's see. The Thanksgiving that you ruined was in '92, so that means he had his surgery in '67.'" – Stephanie Howard
"It was dramatic to watch my grandmother decapitate a turkey with an ax the day before Thanksgiving. Nowadays the expense of hiring grandmothers for the ax work would probably qualify all turkeys so honored with 'gourmet' status." – Russell Baker
Thanksgiving quotes on gratitude
"I always make a gratitude tree and hang it up and then we make leaves and write things that we're grateful for on them every day of November." – Jennifer Garner
"Be thankful for what you have; you'll end up having more. If you concentrate on what you don't have, you will never, ever have enough." – Oprah Winfrey
"As we express our gratitude, we must never forget that the highest appreciation is not to utter words, but to live by them." – John F. Kennedy
"Gratitude is the inward feeling of kindness received. Thankfulness is the natural impulse to express that feeling. Thanksgiving is the following of that impulse." – Henry van Dyke
"I'm thankful for the people I have in my life – that's the biggest thing I am thankful for. Also, I'm thankful for the opportunities that I have." – Shawn Mendes
"Thanksgiving is one of my favorite days of the year because it reminds us to give thanks and to count our blessings. Suddenly, so many things become so little when we realize how blessed and lucky we are." – Joyce Giraud
"Sometimes it's best to simply be grateful for being alive." – Lucy Hale
"Fall is a season to slow down and take stock of what we're grateful for. Take a moment today to count your blessings. I'm sure they're many if you think about it!" – Dolly Parton
"One of the greatest parts of the holidays is that they are at the end of the year, and they are a great way to celebrate all the blessings that we are given every year. We've gotten to share our music in so many parts of the world and we've meet so many amazing people with such beautiful stories. It's so rewarding!" – Echosmith
"This is the time to be our most loving. That is what these holidays are for. To be kind and grateful and to take care of ourselves and each other." – Drew Barrymore
"Cultivate the habit of being grateful for every good thing that comes to you, and to give thanks continuously." – Ralph Waldo Emerson
"Each Thanksgiving, I am reminded even more of all the blessings I receive every day. It's a special day where I get to be with my family, friends and spend some time reflecting on all the experiences in my life. I am most grateful to have health and to be surrounded by love." – Gisele Bundchen
"Enjoy the little things, for one day you may look back and realize they were the big things." – Robert Brault
"This is the time of year to remember what we are thankful for and I am most thankful for my parents. They gave my sister and me the opportunity to have a loving family and happy life. There are no words to express my gratitude to them for adopting us. All children deserve a loving family." – Simone Biles
"Gratitude unlocks the fullness of life. It turns what we have into enough, and more. It turns denial into acceptance, chaos to order, confusion to clarity. It can turn a meal into a feast, a house into a home, a stranger into a friend." – Melody Beattie
"The key to contentment lies solely in being thankful for what one has been blessed with. Stop looking at what you don't have and pay attention to the blessings around you. Manifest beauty in your life. Only then will one be blessed with more." – Khloe Kardashian
"I woke up this morning in bed with my children, in the same house as my sisters, my brothers, the father of my kids, my mommy, my grandma, my nieces and nephew. I feel beyond grateful." – Kourtney Kardashian
"So grateful to have such wonderful people in my life. I owe so much to my family, friends and fans." – Vanessa Hudgens
"Give thanks not just on Thanksgiving Day, but every day of your life. Appreciate and never take for granted all that you have." – Catherine Pulsifer
"On Thanksgiving I will stop to give thanks that my family is safe and healthy, especially because I realize that, following the tragedies of this year, it is all too real a possibility that they might not have been." – Bobby Jindal