7 Hollywood Actors Who Had to Make a Comeback
The saying goes that Hollywood loves a good comeback story, and there's no greater comeback in recent memory than the ongoing renaissance of Matthew McConaughey (aka "The McConaissance"). Once considered the quintessential romantic lead — someone forever lampooned as the actor sure to take his shirt off in a film — McConaughey is now the owner of an Academy Award for Best Actor. But there wouldn't be a platitude in Hollywood about comebacks if McConaughey was the only one. In fact, Hollywood comebacks have dominated the entertainment industry, going as far back as Hollywood itself. Here are seven of the greatest recent Hollywood comebacks.
1. Matthew McConaughey
The turnaround of McConaughey's acting career — now dubbed "The McConaissance" by the media and fans — reached its high point in 2013 when the actor earned an Academy Award for Best Actor for  Dallas Buyers Club and an Primetime Emmy nomination for his turn in HBO's critically acclaimed series True Detective.
So how did this all start? How did an actor who languished in romantic comedies and generic action films become the most talked about and critically acclaimed actor of 2014? It starts in 2011, when McConaughey took the lead role in the critically acclaimed thriller The Lincoln Lawyer and followed it up with strong turns in Killer Joe and Bernie. While those three films weren't seen by many movieoers, industry insiders were paying close attention. 2012 became his true breakout year, with The Paperboy, Mud, and Magic Mike — the last of which sees McConaughey almost lampooning the roles he had been known for before his turnaround.
But if 2011 and 2012 were proof that McConaughey still had the chops to do complex and difficult roles, it was 2013 that truly catapulted him back to stardom and critical acclaim. Although only a minor character in Martin Scorsese's The Wolf of Wall Street, McConaughey still managed to leave his mark in an early scene, in which he bestows his wisdom upon a young Jordan Belfort played by Leonardo DiCaprio, and got everyone talking about his hilarious improvisation based around a breathing technique he uses to prepare for a scene. Dallas Buyers Club, as we've already mentioned, needs no introduction, and McConaughey also had a starring role in Christopher Nolan's sci-fi epic Interstellar last year.
2. Robert Downey Jr.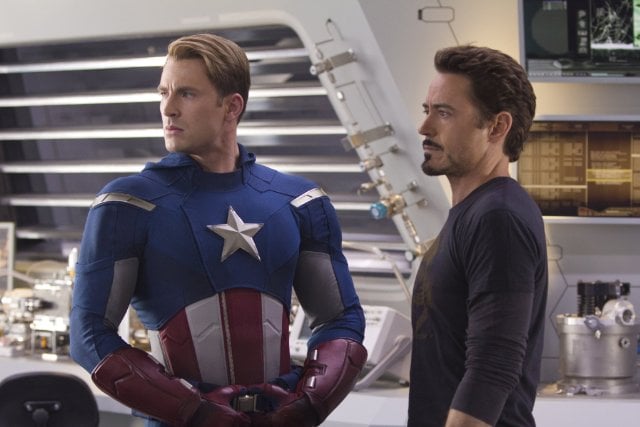 Before there was the "The McConaissance," it was Robert Downey Jr. who took up the mantle of Hollywood's greatest turnaround. After strong early turns in Tuff Turf (1985) and John Hughes's Weird Science (1985), he would see his breakout role in 1987′s Less Than Zero — a film based on Bret Easton Ellis's novel of the same name about a rich, drug-addicted boy whose life falls apart. Besides becoming Downey Jr.'s first hugely critically acclaimed role, it would oddly mirror the actor's later problems with substance abuse, which nearly derailed his promising acting career. Before his drug problems really started to take hold, Downey Jr. also had strong turns in Only You, Natural Born Killers, Two Girls and a Guy, Black and White, and Short Cuts, among other works.

But in the late 1990s and early 2000s, Downey Jr.'s drug problems spiraled out of control to the point that it seemed like he would become yet another case of a supremely talented actor whose career was cut short. After years of substance abuse, stints in rehab, and arrests, Downey Jr. announced in 2001 that he was fully recovered, and his career quickly got back on track. Mainstream films like Gothika and Kiss Kiss Bang Bang soon followed, along with turns in independent cinema like Good Night, and Good Luck; A Scanner Darkly; and A Guide to Recognizing Your Saints.
Despite his return to mainstream acting, no one could have been prepared for the massive turnaround that began when Downey Jr. earned the starring role of Iron Man/Tony Stark in Marvel's Iron Man. From there, the rest is history: roles in Iron Man 2, Iron Man 3, The Avengers, Sherlock Holmes, and Tropic Thunder, among many others, have rendered Downey Jr. the highest-paid actor in Hollywood. Not bad for someone who was on the brink a little over ten years ago.
3. Mickey Rourke
One of the more fascinating acting stories, Mickey Rourke's talent as an actor is said to have been visible to everyone who worked with him early in his career, and he was considered one of those rare, transcendent talents along the same lines as Marlon Brando. Rourke would go on to be selected to the famed Actor's Studio after his first audition, and Elia Kazan was reportedly completely enamored with the young Rourke's talents. In the 1980s, Rourke would gain attention from critics with turns in Body Heat, Rumble Fish, The Pope of Greenwich Village, Year of the Dragon, and Angel Heart, as well as various other critically acclaimed films.
But before acting had ever become a pursuit of Rourke's, it was boxing that had been his central interest. In 1991, Rourke decided to leave acting after personal and career problems (he is said to have been a nightmare to work with on set just before his 1991 retirement) began to dominate his persona. Additionally, Rourke is said to have turned down a slew of high-profile roles shortly before and after his 1991 stint in boxing, including Pulp Fiction, Silence of the Lambs, Platoon, Top Gun, Beverly Hills Cop, and Rain Man.

By the time Rourke retired from boxing in the mid-1990s, it was tough for the actor to regain the success he had experienced before. On one hand, his previous reputation still followed him, and on the other hand, his face had undergone physical changes due to boxing and botched plastic surgery attempts. It would be just that — his physical appearance — that would eventually jump start his acting career again with his role as Marv in Robert Rodriguez's Sin City (2005) and as Randy "Ram" Robinson in Darren Aronofsky's The Wrestler — the latter of which would earn him a Best Actor nomination at the Oscars.
4. Ben Affleck
Ben Affleck's career might have started strong, with an Academy Award for Best Original Screenplay for 1997′s Good Will Hunting, but his career as both an actor and behind the camera was not evident until many years later. Despite consistent acting work in films like Chasing Amy, Shakespeare in Love, Armageddon, Dogma, Boiler Room, and many others, Affleck remained pigeonholed for many years as the type of actor who could lead an uncomplicated action film or drama but wasn't necessarily the kind of of actor to earn strong marks from critics. This reputation reached a boiling point in 2003, when Gigli became both a box office bomb and a critical punching bag.
While Affleck would continue to act in several films a year after the Gigli debacle, it wasn't until 2007 that his stock officially started to rise. That year, Affleck would make his feature-length directorial debut with Gone Baby Gone — a mystery-thriller co-written by Affleck and starring his brother Casey Affleck. 2010 would become Affleck's breakout year as both an actor and director with the critically acclaimed crime drama The Town, reestablishing Affleck's talent as an actor and proving his status as one of Hollywood's best directors. Affleck's meteoric rise would reach its height in 2012, when he received the Academy Award for Best Picture for Argo — a film in which he directed, starred, and produced.
Now firmly entrenched as one of Hollywood's top actors and directors, Affleck's resurgence is showing no signs of slowing down. In 2014, Affleck starred in David Fincher's mystery-thriller Gone Girl and he will also play the role of Bruce Wayne/Batman in the upcoming DC Comics reboot Batman v Superman: Dawn of Justice.
5. John Travolta
John Travolta first hit the A-list in Hollywood during the 1970s, starring in hit films like Saturday Night Fever, Grease, and Urban Cowboy, but his career hit a snag during most of the 1980s after a string of critical and commercial failures (Perfect, Two of a Kind), along with several missed opportunities on box office hits (American Gigolo, An Officer and a Gentleman). Although he would again experience box office success starting with 1989′s Look Who's Talking and its two follow-ups, Look Who's Talking Too (199) and Look Who's Talking Now (1993), it wasn't until Quentin Tarantino tapped Travolta to star as Vincent Vega in 1994′s Pulp Fiction that he was officially back on the map.
Tarantino, who has since gained a reputation for sparking acting career turnarounds, would lead Travolta back to the kind of critical and commercial acclaim the actor hadn't seen in more than a decade. Travolta would go on to earn an Academy Award nomination for Best Actor, as well as a slew of other major awards and nominations, leading to a return to major roles. In subsequent years, he would have starring turns in Get Shorty, Michael, Phenomenon, Broken Arrow, Face/Off, The Thin Red Line, and Primary Colors.
While critical reception to Travolta's work over the years hasn't been consistent, he has certainly kept himself busy compared to the slow period of the 1980s. In recent years, he has earned praise for his role as Edna Turnblad in Hairspray, along with roles in The Taking of Pelham 123, Savages, and Killing Season.
6. Winona Ryder
In the mid-1980s, Winona Ryder quickly established herself as one of the most talented young actresses in Hollywood. After her well-received feature debut in Lucas and a starring role in Square Dance, Ryder had her breakout role in director Tim Burton's Beetlejuice (1987). She would go on to find consistent critical and commercial success for over a decade with turns in Heathers (1988), Edward Scissorhands (1990), The Age of Innocence (1993), Little Women (1994), Alien Resurrection (1997), and Girl, Interrupted (1999).
But 2001 proved a huge step back for Ryder after a very public shoplifting incident rendered her a tabloid punching bag in Hollywood and problems with depression and anxiety limited her work. Despite the problems in Ryder's personal life, she managed to star in the hit romantic-comedy Mr. Deeds (2002), but it appeared her status as an A-list talent was waning. However, starting in 2006, she would slowly reestablish herself critically with turns in A Scanner Darkly (2006), The Ten (2007), The Informers (2009), and Stay Cool (2009). Once Ryder had gotten over the hump, well-received supporting roles in Star Trek (2009), Black Swan (2010), The Iceman (2012), and Homefront (2013) soon followed. 
7. Drew Barrymore
When it comes to Hollywood acting stories of spectacular drug- and alcohol-fueled burnouts, it's hard to find one more shocking than Drew Barrymore's turbulent youth. After her small feature debut in 1980′s Altered States at the age of 4, Barrymore would explode onto the Hollywood scene with her turn as Gertie in E.T. the Extra-Terrestrial at the tender age of 7. Soon after, she would earn strong marks from critics and viewers in Firestarter (1984), Irreconcilable Differences (1984), and Cat's Eye (1985).
But Barrymore's meteoric rise to fame came at a price: She was soon the topic of extensive media attention with stories of cigarettes, alcohol, and hard drugs before the actress had even turned 13. By 14, Barrymore was in rehab, and her safety — never mind her acting career — was seriously in jeopardy. However, Barrymore would prove to be one of Hollywood's brightest success stories in overcoming addiction, and she would slowly crawl back into the limelight throughout the mid-1990s and beyond.
After a string of consistent and commercially successful turns in films such as The Wedding Singer (1998), Never Been Kissed (1999), Charlie's Angel's (2000), 50 First Dates (2004), and Fever Pitch (2005), 2009 would see the critically acclaimed directorial debut for Barrymore in the comedy-drama Whip It, starring Ellen Page, Kristen Wiig, and Barrymore herself.
More From Entertainment Cheat Sheet: