7 Musicians Who Couldn't Stay Retired
Musicians have a long history of not sticking to their claims of retirement. Over the years, there have been plenty of notable artists who have quit the industry, supposedly for good, only to come back in full force a short time later. Here are seven musicians who couldn't stay retired for very long.
1. Garth Brooks
The country music superstar announced his retirement in 2000, giving up life on the road in order to spend more time at home with his daughters. Though he stayed true to his decision not to tour for the most part, he didn't swear off the stage completely, committing to a five-year residency in Las Vegas in 2009 and performing at various charity shows. That all changed in the summer of 2014, when he announced plans to release a new album and launch a world tour.
2. Frank Sinatra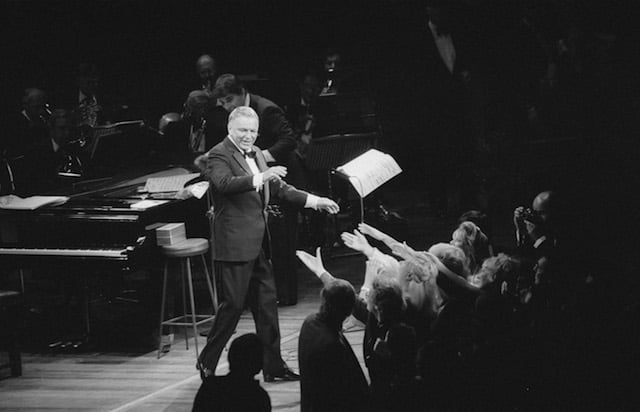 The legendary singer left a lot of his fans heartbroken when he decided to call it quits on the music scene in 1971. But luckily, their heartbreak and disappointment didn't have to last too long. In 1973, after just two years of retirement, he returned to music with a bang, staging a television special and dropping a new album, both of which were entitled Ol' Blue Eyes Is Back. Both were a huge success and he continued recording and releasing music (including signature hit "New York, New York") until the mid-1990s.
3. Barbra Streisand
By the time she announced her retirement in 1999 during a packed show at Madison Square Garden, the multi-talented and critically acclaimed actress and singer had years of successful albums, tours, and films under belt. She couldn't stay away for long. She returned returned in 2006 for a new tour, titled "Streisand: The Tour." Since then, she's stayed in the public eye by releasing a couple of new studio albums, as well as continuing to appear in various films, such as the Meet the Fockers movies and The Guilt Trip.
4. Ozzy Osbourne
Osbourne, the on-and-off again lead singer of Black Sabbath, tried to retire back in 1993, when he announced that "No More Tours," his tour in support of the live album Live & Loud, would be his final run on the road. But by 1995, only two years later, he was back on the music scene. He released the album "Ozzmosis and also returned to the stage, embarking on an appropriately titled scheduled set of concert performances that he dubbed "The Retirement Sucks Tour". In 2011, he reunited with band Black Sabbath and the trio released 13 in June 2013, grabbing the top spot on the Billboard album chart.
5. Jay Z
After releasing The Black Album in 2003, the rapper declared it would be the last album he would ever make. He continued to pursue other side projects, but couldn't stay out of the studio for long. He released Kingdom Come in 2006 and has been releasing music ever since. Nowadays, it's hard to believe he ever left. His most recent album Magna Carta…Holy Grail went platinum almost immediately after its release, and he's since gone on two largely successful tours—the first with Justin Timberlake and the latest with his wife, Beyonce.
6. Toni Braxton
In February 2013, Braxton announced she was retiring from music, telling fans that her heart wasn't in it anymore and that she was instead planning on putting all of her focus and energy on furthering her film career. Despite her claims, her retirement didn't even last more than a few months. Later that same year, the singer had a change of heart, announcing the launch of a new tour, as well as plans for a duet CD with singer/songwriter Babyface. That album, entitled Love, Marriage & Divorce, was released in February 2014.
7. Lily Allen
The singer announced her plans for retirement in a blog post in 2010, telling fans she was taking a break from the music world in order to focus both on her fashion store and her personal life. But in 2012, the singer took to Twitter to announce that she was heading back into the studio. Last summer, she once again used social media to assure fans new music was coming soon—and sure enough, it did. Allen's third studio album, Sheezus, was released in May 2014.
More from Entertainment Cheat Sheet:
Want more great content like this? Sign up here to receive the best of Cheat Sheet delivered daily. No spam; just tailored content straight to your inbox.