7 New Foods Gordon Ramsay Tried On 'Gordon Ramsay: Uncharted'
Gordon Ramsay has a reputation for being a demanding chef on shows like Masterchef and Hell's Kitchen. On his new show, Gordon Ramsay: Uncharted, he's discovering new foods and he's open to trying whatever his hosts suggest. National Geographic's six-episode series sends Chef Ramsay around the world trying exotic regional cuisines.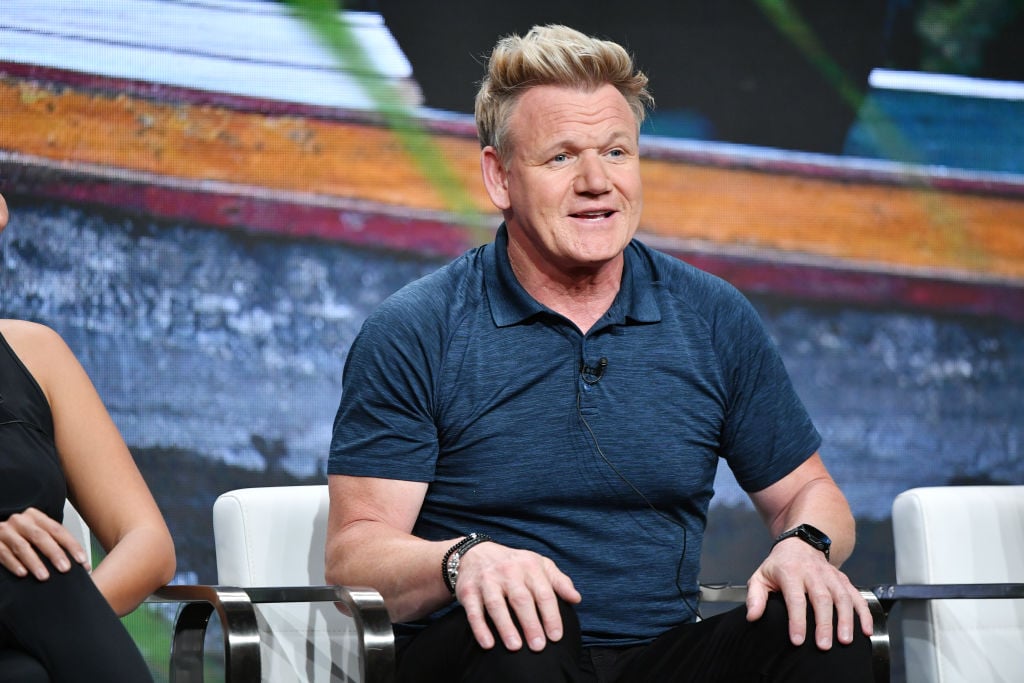 Ramsay took a break from filming Masterchef to be on a Gordon Ramsay: Uncharted panel for the Television Critics Association yesterday. Joined by some of the adventurers and chefs he met on the show, Ramsay described some of the foods he tried that are new to him. Gordon Ramsay: Uncharted airs Sundays on NatGeo.
Timon and Pumba would be proud of Gordon Ramsay
New Zealand chef Monique Fiso taught Ramsay the delicacies of local insects, just like Simba's jungle friends did in The Lion King.
"With Monique, foraging and having that kind of oasis on your doorstep and highlighting stuff that I couldn't even see walking through a forest was incredible," Ramsay said. "Understanding Hāngi and just what it meant making the most amazing oven."
Returning to the industrial ovens made Ramsay miss doing it all himself.
"We're in the middle of the finale today of MasterChef Season 10 and we got the top of the range Viking stoves. They're amazing, but what we dug and the pit we made and getting those rocks super-hot, you actually baked in there."
Gordon Ramsay won't be serving guinea pig in his restaurants
Ramsay admitted that many of the cuisines he tried on Gordon Ramsay: Uncharted wouldn't be fit for his restaurants. It was still an informative experience sampling different kinds of meat and fowl.
"I won't be putting guinea pig on the menu in Vegas, that's for sure," Ramsay said. "You have to look beyond that furry, cuddly pet thing because this is a means to an end and a way of not just surviving, but an incredible protein."
The local menu in Laos
Bugs weren't only a "fend for yourself" situation. In Laos, they were on the menu at markets for Gordon Ramsay, along with local fruits.
"The toe pinchers [were] a little bit bizarre," Ramsay said. "The snails were delicious, the freshwater snails. The betel nut was a little bit bizarre."
Eat your heart out, alpaca
Gordon Ramsay has experience serving internal organs as a delicacy. Each animal has unique requirements though.
"I thought the alpaca hearts had to be served pink, like any heart," Ramsay said. "We used to have liver and kidneys at school, and they were so overcooked. You could use them for leather. I took it from the local. I listened and I bedded myself down, but they were a little bit too undercooked."
Gordon Ramsay used ocean plants to cook in New Zealand
Back in New Zealand, the local waters provided not only fish for meals. Ramsay learned how to use the aquatic vegetation as a natural stove too.
"There was this amazing, almost like beautiful bags of kelp, the seaweed that we used to steam the fish in, in New Zealand," Ramsay said. "God, what an amazing method. You don't need salt, olive oil, any rich ingredient. It's there within. You have the vitamins from the kelp, from this incredible, salty, beautiful bag of seaweed that we're steaming this fish in, which was just refreshing."
That method could inform Ramsay's own kitchens.
"There will be little influences popping up across several menus without a doubt," Ramsay said. "Especially that kelp. Slicing that in half, opening it up, blowing inside. I'm not too sure about the blown-up small intestines of the seal, how well that would go down for Sunday lunch at the Savoy Grill, I don't know. Ask me that question next week when there's a riot outside the hotel."
The mountains indulged Gordon Ramsay's sweet tooth.
The exotic cuisine around the world wasn't all salty protein. They had plenty of sweet desserts too, especially up in the mountains.
"Honestly the level of concentrated sugar because of the wind and the sun and that height was breathtaking," Ramsay said. "I suppose from a viewer's point of view, I always put myself on my mum's sofa with her friends Sunday night watching it, thinking God, would that mango really taste like that? I said, 'Mum, it does. It's just concentrated with 35, 40 percent flavor.'"