7 of Hollywood's Most Popular Stuntmen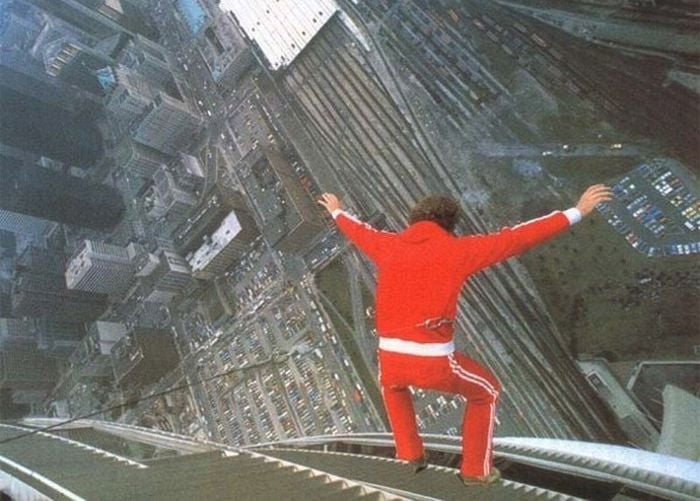 Everybody loves a good action movie. The amazing tricks, crazy maneuvers and adrenaline-pumping action scenes are mesmerizing, mainly because many of us couldn't imagine completing a wild, and often dangerous, stunt. But many actors don't feel up to risking their necks for these show-stopping stunts, either. Instead, movies often rely on stuntmen to ensure the movie is action-packed.
Surprisingly, despite the danger associated with the job, there are tons of people vying for roles as stuntmen and women. Because so many are competing for these positions, an average stunt double typically doesn't make a fortune. In fact, according to the Screen Actors Guild, a union of theatrical workers that sets minimum day and weekly rates for stunt work, the daily minimum for a stunt double is $859, and the weekly rate is $3,200.  It's by no means a meager wage, but it certainly lags behind the other performers on set.
But sometimes a stunt double finds a way to separate themselves from the rest of the pack. Curious about who the most in-demand stunt doubles are? This list takes a look at some of the biggest stunt double names in Hollywood.
1. Dar Robinson
As one of the world's most famous stuntmen, Robinson first appeared in the prison movie Papillon as the stunt double for Steve McQueen. The Richest writes that Robinson went on to perform stunts for other big names in Hollywood, including Christopher Plummer and Burt Reynolds. He appeared in movies such as Sharky's Machine, Turk 182, and Stick, along with the well-known TV series That's Incredible.
Robinson was so talented that he was named the highest paid stuntman ever by the Guinness Book of Records. How much was Robinson making exactly? An outstanding $100,000 per stunt. But many would say he earned every penny of that $100,000 price tag ­– he was known for his incredible drop offs and death-defying jumps. One of his most memorable stunts was a 900-foot free fall jump with from Toronto's Canadian National Tower, with wires catching him 200 feet from the ground. Sadly, his dangerous moves eventually caught up with him. While filming a motorcycle stunt for the movie Million Dollar Industry, 39-year-old Robinson wrecked his bike and died.
2. Hal Needham
With a reputation for being the highest-paid stuntman in movies, Needham was in countless classics such as Blazing Saddles, Chinatown, The Spirit of St. Louis, How the West Was Won, Our Man Flint, and Little Big Man.
"When I came in, Westerns were the big thing, so I did horse falls, transfers, bulldogs, big fights. That's where you could really shine if you were really good at it. But then all the Westerns stopped, and I was capable of doing car stunts, motorcycle stunts and high falls. I could do it all. I worked every day. I never turned down a stunt," he once told the Hollywood Reporter.
During the course of the approximate 300 movies and 4,500 television shows Needham performed in, he broke 56 bones, including his back twice, and dislocated a shoulder, punctured a lung and knocked out several teeth. Needham then moved on to directing films, bringing his total net worth to about $2 million. Needham died in 2013 at the age of 82.
3. Michelle Yeoh
What has she been in? You'll definitely recognize her for her most famous role as the leading lady in James Bond's Tomorrow Never Dies. She is also known for her impressive motorcycle work in Supercop, where she matched Jackie Chan stunt for stunt, according to The Guardian. Yeoh is so talented that she is actually said to be the only woman that Chan allowed to perform stunts on his films. She's also been in Crouching Tiger, Hidden Dragon, Memoirs of a Geisha and Sunshine, helping to bring this stuntwoman's total net worth to an estimated $245 million, according to The Richest.
4. Rick Sylvester
Another Bond alumni, one of his best-known performances was when he doubled for Roger Moore in The Spy Who Loved Me. The Richest writes that one of his most legendary scenes occurred when Sylvester, acting as Bond, jumped from the El Capitan cliff face in Yosemite National Park, relying on a parachute to survive the landing. The stunt cost the studio $500,000 just to capture, and Sylvester reportedly only received a measly $30,000 for the daring move. While he was able to pull the stunt off, it was a close call. While performing it, one of his skis got caught. Luckily, it came free and the parachute deployed as planned.
5. Colin Follenweider
It is not an exaggeration to say that Follenweider has been in almost all of the major action movies that have recently hit theaters. The 38-year-old has appeared in giant film franchises including Die Hard, X- Men, Iron Man, Avatar, Transformers, and Spider-Man. You've also seen him in films such as Divergent, Brutal, To Have and to Hold, Ender's Game, Gangster Squad, Savages, Captain America: The First Avenger and The Green Hornet (and that's not even close to everything he's been in!). He's been the body double for Daniel Craig, Shia LaBeouf, Kevin Bacon, and Bruce Willis, in addition to many other Hollywood actors.
"Stuntmen are there for situations which are too dangerous for the actor. Ultimately, we're expendable where the lead in a film isn't," Follenweider said during an interview with the Daily News. As a gymnast, Follenweider specializes in aerials and wire work, along with parquet and free running. In Spider-Man Three, he was responsible for flying around the city on wires, while being thrown around from explosions. He's not one to back away from a stunt, which is partially why he is one of today's biggest go-to stuntmen.
6. Bobby Holland Hanton
The stuntman has doubled in many well-known roles, including Christian Bale's Batman, Daniel Craig's James Bond, and Chris Hemsworth's Thor, per Business Insider. Not a bad resume, right? His stuntman debut came in 2008 when he doubled on the Bond film, Quantum of Solace. After that, his career took off, and he's now one of the most in-demand Hollywood stuntmen.
During an interview with Business Insider, Hanton said there are two tricks he's most proud of: "On The Dark Knight Rises, when I was Bruce Wayne, I had to climb out of the prison he's in and jump, miss the landing, fall 100 feet, and slam into the opposite wall. It was one of my first ever high-falls, a 100-footer, which is quite a nice feat to achieve for a stunt performer," he said. "And on the set of Quantum of Solace in Panama, I had to free jump — no safety wires, no safety mats — from a three-story ledge onto a balcony space while I was being shot at by a SWAT team."
It's fairly easy to see why he's one of the most popular stuntmen around – how many people can actually pull something like that off?
7. Richard Bradshaw
You've (unknowingly) seen him in Van Helsing, where he doubled for Hugh Jackman, as well as in other major blockbusters including Van Helsing and X-Men: Days of Future Past. He's also played the double for Guy Pierce, Pierce Brosnan, Timothy Dalton, Matthew McConaughey, Colin Firth, Ted Danson and Hugh Grant. Bradshaw describes himself as an all-around performer, a quality that allows him to land many extremely diverse roles, which is key to a stunt double's success. A few of his skills include stunts that involve cars, riding wires and anything related to horses.
During an interview, Bradshaw described the details that help set him aside from other stuntmen: "Stunt doubling adds in a whole different element to the role of a stunt man. You need to carefully study the way your actor holds himself and moves, understand the implications of him being left handed, or of nursing some old injury, etc. You need to be able to mimic his movements, while at the same time potentially making him look cooler by moving better than would be natural for him. In addition to this, you are the person who gives the actor the comfort level they need to perform the elements of action required of them." Bradshaw epitomizes professionalism, a trait that many in Hollywood have come to appreciate.
More From Wall St. Cheat Sheet: