7 Signs You're Way Too Into Christmas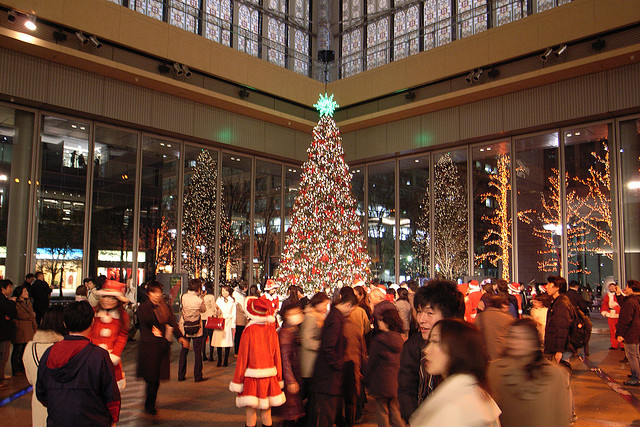 There is something about the holidays that bring out the joy in people. The music, the food, the shopping — you can't help but be in a good mood. But while this truly is the most wonderful time of the year, there are some of us (myself included) that may get a little too in to the holiday, and have absolutely no shame about it. Here are seven signs you are way too in to Christmas.
1. You Start Playing Christmas Music Long Before Thanksgiving
Did you start playing Christmas right after Halloween against the urges of others? Do you have a list of favorite songs that you can't help but run on repeat? This is of course completely normal for someone who is way too in to Christmas. Since Christmas music is the ultimate way to get yourself in the holiday spirit, starting early means more time to enjoy the season. And for the ultimate Christmas lover, this is the goal.

2. You Sing Christmas Songs All Day
Once you start playing the Christmas tunes, they become a part of you — at least that's what you think. Whether you're in the shower, on your commute, or walking down the street, you can't help but quietly sing aloud to your favorite holidays songs. The best part is, you don't even care if someone looks at you strange because you're own little Christmas world.
3. You Are Really Proud Of Your Christmas Tree
Has your Christmas tree has made it's rounds on your Facebook, Instagram, and Twitter? If you are way too in to Christmas, then of course it has. There is a sense of pride that comes with decorating a good Christmas tree, and you want to share this with the world — or at least just your social media followers. On top of this, you throw in the "Christmas Tree Emoji" whenever you have the chance during texts. You just can't help yourself.

4. You Look Forward to Starbucks' Holiday Cups
There is nothing that brings a smile on a Christmas lovers' face faster than a holiday cup from Starbucks. There is something special about these adorable red cups that get you even more excited about the holiday. On the days when you're looking to be extra 'Christmassy,' you fill those holiday cups with a peppermint mocha or a gingerbread latte.

5. You Secretly Wish Santa Was Real
Who wouldn't want a man in a sleigh to deliver your favorite presents on Christmas? If you've thought about it a lot, or even just for a quick second, you may just be way too in to Christmas. In this case, you might have even second guessed his non-existence, and conducted some Santa research of your own — just to confirm, of course.

6. You Watch Holiday Movies Non-Stop
Already gone through a couple rounds of Elf? Are you choosing movies on Netflix like The Santa Clause and The Holiday over newly released features? For someone who is way too into Christmas, this makes perfect sense! You want to get the most out of your favorite holiday movies while you can, and you may even just sneak in a couple watches once the big day has passed.

7. You Start to Panic the Week Before It's Almost Over
For someone that truly loves Christmas, the thought of it being almost over is a literal nightmare. You start to get a little panicky, and may even feel clammy. Since Christmas ending is a touchy subject for you, you might even snap at someone who mentions that it's almost over. In addition, the possibility of you going in to hiding for a few days after Christmas is expected and justified to recover from the holiday loss. But once you're out of hiding you can still find joy in counting down the days till your favorite holiday returns.
Don't Miss: 5 Prevalent GMO Foods.