7 Things You Didn't Know About 'Rocky'
Rocky has grown from an independent film that didn't have enough money to fill the stadium for its big fight, to a franchise that shows no signs of stopping. The latest installment was Creed, in which Sylvester Stallone returns as Rocky to train Adonis Johnson (played by Michael B. Jordan), the son of Apollo Creed. Many fans are excited to watch it, but are they well-versed in the history of the movies that came before it? The making of the Rocky films are just as interesting, if not more interesting, than the movies themselves. So what don't you know about the franchise? Here are seven awesome facts.
1. Stallone permanently flattened his knuckle punching carcasses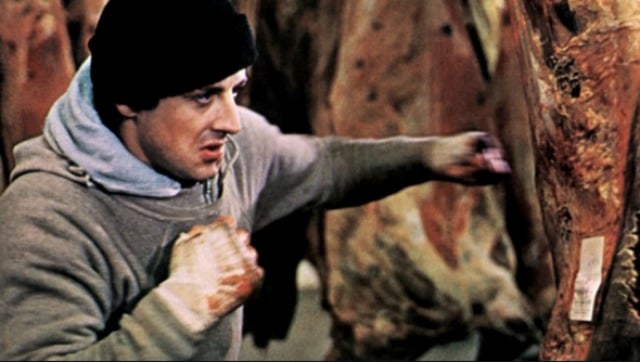 You can't talk about montages without mentioning this movie, but a lot of the scenes that make up Rocky's training were actually dangerous and not good for any athlete to do. One of those things was the use of meat as punching bags that left Rocky's fists bloody. What you might not know is that this iconic scene had a lasting effect on Stallone's body.
"The trainer taped my hands in such a fashion that I thought it would protect me against any broken bones while hitting the carcasses," wrote Stallone in The Official Rocky Scrapbook. "But after eight hours, the cold penetrated the bandages and hitting the meat finally caused a cracked knuckle and drove it back into the middle of my hand. To this day, I still haven't seen it. But again, it was worth it. Hell, I've still got nine other knuckles."
2. Rocky was inspired by a real fight
Stallone watched Muhammad Ali and Chuck Wepner's fight on March 24, 1975 and was inspired to recreate the same dynamic in the Rocky Balboa and Apollo Creed fight. After watching it, Stallone went home and began writing a script featuring a similar situation. It only took him three-and-a-half days to write the first draft of the movie. Stallone wrote in the scrapbook:
Wepner, a battling bruising type of club fighter who had never really made the big, big time, was now having his shot. But the fight was not regarded as a serious battle. It was called a public joke. He would barely go three rounds, most of the predictions said. Well, the history books will read that he went 15 rounds and established himself as one of the few men who had ever gone the distance with Muhammad Ali, and he can hold his head up high forever no matter what happens.
3. Stallone's family members appear in the movies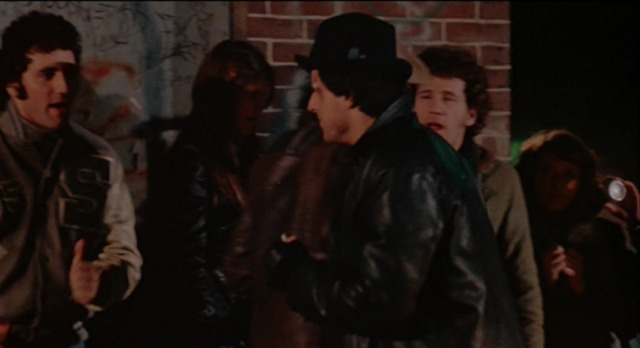 The Rocky franchise definitely seems like a passion project for not only Stallone, but his whole family. In the first movie alone there were three family members who were a part of the project. His father is the man who rings the bell to start a round of the fight. His brother, Frank, plays a man who is singing on the street. His wife, Sasha, was in charge of photographing production stills.
In the following movies there were even more cameos. Brigitte Nielsen played Drago's wife in Rocky IV. At the time Nielsen was actually married to Stallone. The actor's son also got in on the action. In Rocky V, Sage plays Rocky's son in his movie debut.
4. The artist who painted this portrait of Rocky appears in the movies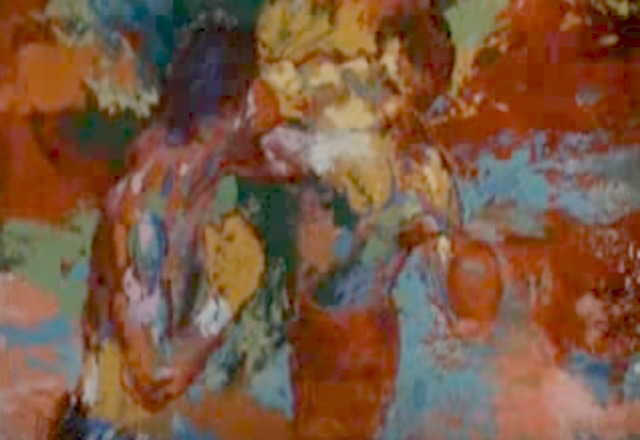 Family members weren't the only ones who got a cameo in the Rocky movies. At the end of Rocky III, you can find this beautiful portrait of Rocky and Apollo fighting. LeRoy Neiman not only painted that picture and the portrait that is in Rocky II, but he was also the ring announcer in the three following movies. So who is he?
Neiman was a sports artist who painted the likenesses of athletes such as Muhammad Ali and Sugar Ray Robinson. In 1968 he was the artist-in-residence for the New York Jets. He also used entertainers, like Leonard Bernstein, Joe Louis, Frank Sinatra, and Brigitte Bardot, as his subjects.
5. Muhammad Ali held a private screening for Rocky II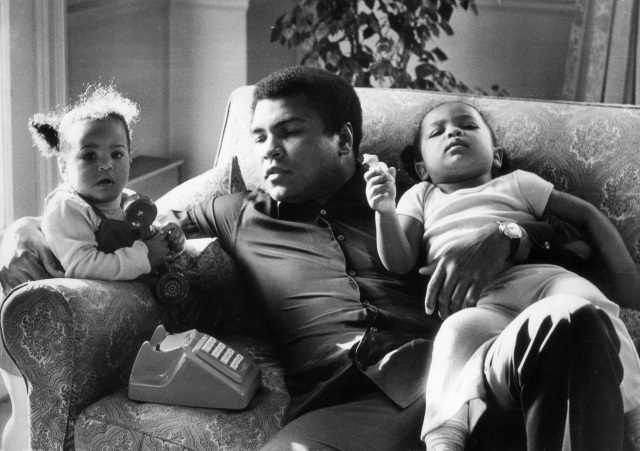 Some don't take very kindly to people creating a fictional character based on them, but Ali isn't one of them. He loved Rocky so much that he held a private screening for the second film with Roger Ebert. The movie critic wrote about the whole experience and interviewed the boxer. "That's me, all right," Ali said during the screening, according to Ebert. "Apollo sounds like me. Insulting the opponent in the press, to get him psyched out. That's me exactly."
Although the boxer relates a lot to Apollo, Ali could also understand Rocky's strife in the second movie. "Now he don't feel like fighting because his wife is sick," Ali said. "That's absolutely the truth. The same thing happened to me when I was in training camp during one of my divorces. You can't keep your mind on fighting when you're thinking about a woman. You can't keep your concentration. You feel like sleeping all the time."
6. Hulk Hugan was fired for being in Rocky III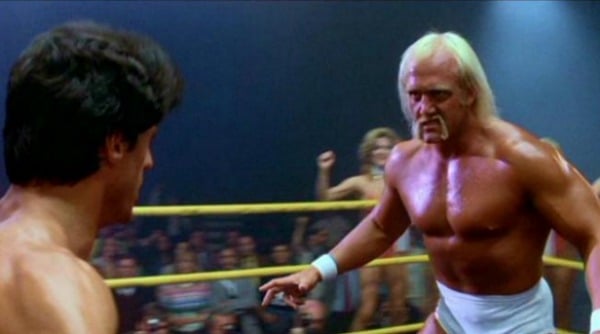 Hulk Hogan made a huge career move by leaving wrestling for a bit part in a movie. It actually didn't sit well with Vince McMahon Sr. who fired him from WWF for taking the part. In the movie, Hulk played Thunderclips, a fighter who is supposed to be 7-feet-tall. Hogan is actually only 6-foot-1-inch, but that doesn't mean he wasn't a tough opponent. Stallone revealed that the wrestler really did a number on him while filming.
"The hardest I was ever hit was by him," Stallone told VH1. "I [still] have visions of it… I'm in the corner and Rocky's been stunned… I'm laying there… and I see this guy running… and he comes down and hits me and I'm laying on the ground saying, 'Don't shove me, don't roll me over… I know there's a bone sticking up here with a vein… and part of my heart.' Oh my God. I said, 'I know I'm shattered.'"

7. The fight in Rocky IV sent Stallone to the hospital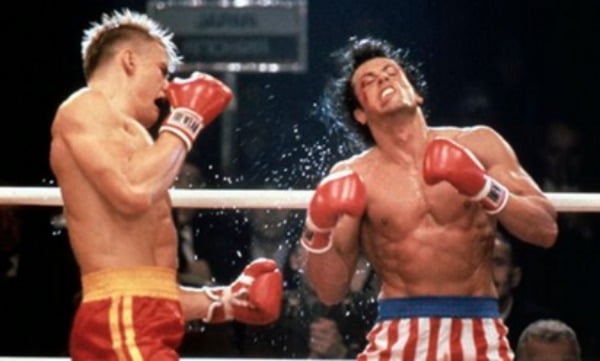 Stallone might have gotten hurt in the first movie, but that doesn't mean he pulled punches in the following ones. In Rocky IV, he told his costar, Dolph Lundgren — who played Ivan Drago —  to really hit him to the point of knocking him out in their fight scene.
The actor did so but it had dire consequences. "Bad idea," Stallone said according to Muscle & Fitness. "He comes across — boom, boom! He catches me in the chest. Woah. Cut, cut cut, I am directing so I can do that. CUT, CUT. He says, 'What?' I said, 'What? I thought I had a car accident!'"
He went to the hospital and was found to have a  blood pressure of 260. He was in intensive care for five days. "He hit my heart so hard that it banged against my ribs and started to swell," Stallone explained. "And that usually happens in car accidents. So I was hit by a truck!"
Check out Entertainment Cheat Sheet on Facebook!