8 Actors Who Acted With Their Real Kids On Screen
Some well-known Hollywood stars seemed to have passed on the acting bug to their children. From Angelina Jolie to Will Smith, some of the biggest names in the industry have been known to share screen time with their real-life children. Here are eight actors who teamed up with their kids in movies and on TV.
1. Johnny Depp and Lilly-Rose Depp, Yoga Hosers
The longtime movie star is teaming up with his teenage daughter for what is labeled an upcoming comic book movie. The film stars the younger Depp as Colleen Collete, one of two 15-year-old yoga nuts who must join forces with legendary man-hunter Guy Lapointe (Johnny Depp) to fight for their lives using "all seven Chakras, one Warrior Pose at a time." The movie will also feature Harley Quinn Smith, daughter to director Kevin Smith, as the other 15-year-old Colleen. It's the second installment in Smith's True North trilogy of movies that follow Canadian myths and culture.
2. Angelina Jolie and Vivienne Jolie Pitt, Maleficent
When Jolie donned scary black horns and pale makeup to play the Sleeping Beauty villain Maleficient, she knew they'd be hard-pressed to find a child who wouldn't be too terrified of her get-up to play the younger version of Princess Aurora — so she turned to her own kids for help. Her youngest daughter, Vivienne, eventually got cast in the film, largely because she was the only one brave enough to take on the part. Two of Jolie's older children, Pax and Zahara, also made brief cameos in the movie, as extras in the famous christening scene in which Maleficent first casts the sleeping curse.
3. Will Smith and Jaden Smith, Pursuit of Happyness
Smith first teamed up with real-life son Jaden Smith in the 2006 biographical drama Pursuit of Happyness, based on Chris Gardner's bestselling memoir of the same name. Smith played Gardner, a father and on-and-off homeless salesman struggling to get by. Jaden co-starred as Gardner's son, Christopher Jr. The project marked not only their first collaboration together but also Jaden's first feature film. But that wasn't the only time the two were co-stars. The father-son duo teamed up again more recently for 2013's sci-fi action adventure flick After Earth. Smith also teamed up with daughter Willow Smith in the 2007 film I Am Legend.
4. Jon Voight and Angelina Jolie, Lookin' to Get Out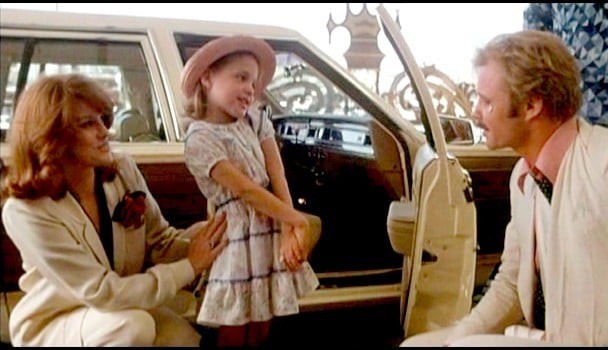 Jolie made her film debut as a child alongside her father (with whom she's known to have a tumultuous relationship) in the 1982 gambling comedy, Lookin' to Get Out. They also had another memorable collaboration after Jolie's ascent to fame, in the 2001 action film Tomb Raider. The flick, based on the popular video game series, starred Jolie as an archeologist who must race against time and face off against villains in order to recover powerful ancient artifacts. Voight played Lord Richard Croft, her deceased dad who informs her of the Illuminati's agenda.
5. Martin Sheen and Charlie Sheen, Anger Management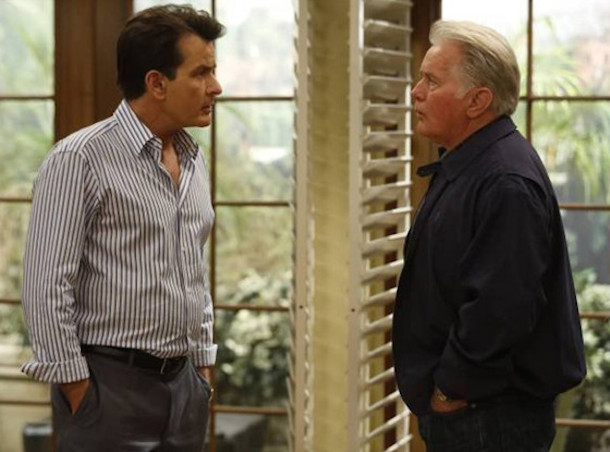 The father and son stars have teamed up multiple times, starting with the 1987 drama Wall Street, in which Charlie plays a junior stockbroker who goes against his father's values (Martin) in an effort to partner with a corporate power player. They followed up that collaboration with the 1990 film Cadence (which also starred fellow Sheen family member Ramon Estevez) and the 1993 flick Hot Shots! Part Deux. Most recently, however, the actors joined together on the new FX series, Anger Management, in which the elder Sheen plays — you guessed it — Charlie's dad.
6. Ben Stiller and Jerry Stiller, Zoolander
The Stiller men have also teamed up on the big screen multiple times. Notable collaborations involving the father-son duo include the 1987 flick Hot Pursuit (in which Ben made his acting debut), the now-favorite 1995 comedy Heavyweights, and 2007's Heartbreak Kid. But perhaps the most beloved of their collaboration is in the 2001 comedy Zoolander. In that flick, the younger Stiller plays the dim-witted but good-natured model Derek Zoolander, who's on the verge of losing his spot at the top to another male fashion model. Stiller's real-life dad plays his agent, Maury Ballstein.
7. Demi Moore and Rumer Willis, Striptease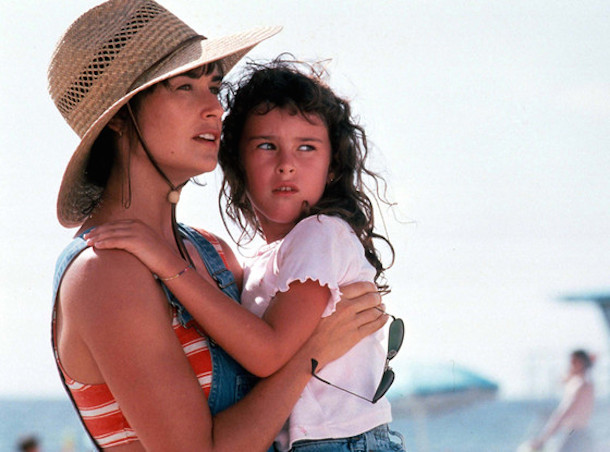 Moore and Willis have also brought their mother-daughter relationship to the big screen. Willis played on-screen child to Erin Grant, Moore's stripper character, in the 1996 comedy-drama film Striptease. Willis also had a small role in the classic coming-of-age film,Now and Then, in which the then-7-year-old played the little sister to the younger version of Moore's character. But Moore's not the only parent who Willis has teamed up with in film. She also made an appearance in the 2001 film Bandits, starring dad Bruce Willis.
8. Susan Sarandon and Eva Ammuri, The Banger Sisters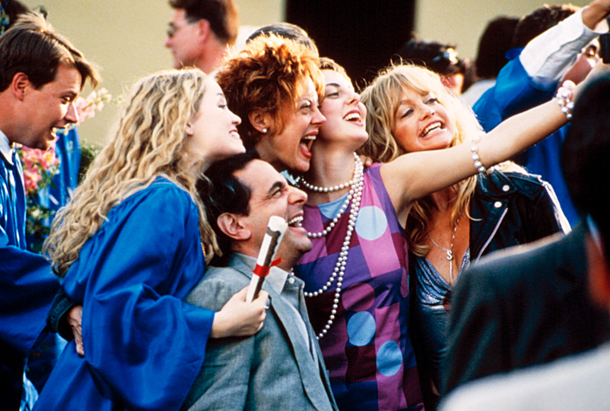 The famous mom and then-17-year-old daughter also played a mom-and-daughter duo on screen in the 2002 comedy. The flick co-stars Goldie Hawn and chronicles the reunion of two best friends and groupies, now middle-aged. It wasn't the first time the two appeared on screen together. They both made guest appearances in the same 2001 episode of Friends. Amurri also made a brief cameo in Sarandon's 1998 drama Stepmom (co-starring Julia Roberts) as a student at the school that Sarandon's character's daughter attends.
More from Entertainment Cheat Sheet:
Want more great content like this? Sign up here to receive the best of Cheat Sheet delivered daily. No spam; just tailored content straight to your inbox.