8 Great Hard Rock Bob Dylan Covers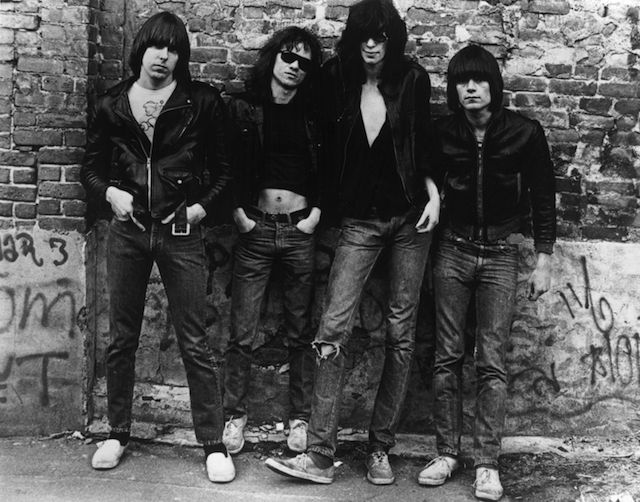 Bob Dylan is one of the most covered musicians of all time. Widely regarded as one of the most talented songwriters in history, Dylan's material has lent itself to a huge variety of interpretations. From country (Johnny Cash and June Carter's "It Ain't Me, Babe") to soul (Sam Cooke, "Blowin' in the Wind") to pop (Patti Labelle, "Forever Young"), Dylan's songs have been covered by artists across any genre you can think of.
This list is narrowed down to the hard rock takes on Dylan's repertoire. When he infamously "went electric" at the Newport Folk Festival in 1965, he infuriated his fans and the folk music establishment by embracing rock and roll, a genre that folk purists at the time spurned as a teenybopper fad. The move turned Bob Dylan into an early proponent of rock and roll as a serious art form and also showed that he was and always would be too punk to care what his fans think of him. Here's a list of the hardest-rocking, most fuzzed-out, and loudest Bob Dylan covers of all time.
1. The Ramones, "My Back Pages"
The New York punks play this folksy Dylan classic in characteristically Ramones fashion, with blazing-fast power chords, pounding drums, and snotty, off-key vocals. But this isn't a sarcastic punk parody designed for ridicule. This is a heartfelt, real tribute to Dylan without being drenched in punk's irony. While Dylan was a reluctant leader of the counterculture and hippies in the 1960s, he was perhaps the only "hippie" that was also a big influence on the punks of the 1970s. The Ramones' cover of "My Back Pages" epitomizes the enormous and complicated way Dylan has influenced everyone that has come after him.
2. PJ Harvey, "Highway 61 Revisited"
PJ Harvey replaces Dylan's cool delivery with desperate screams in this tale of a post-apocalyptic mess in which everyone solves their problems on Highway 61 — a real highway that runs from Dylan's hometown of Duluth, Minnesota, to New Orleans. Harvey replaces the siren whistle on the original with a slithering, creepy blues guitar line, and in doing so refuses to allow the song to tip over into ridiculousness, like the original. There's no winking here to assure you that it's all a joke, an approach that yielded the song's truly terrifying potential.
3. The White Stripes, "One More Cup of Coffee"
The exotic violin line from this track on Desire is replaced with screeching guitar, and Emmylou Harris's sweet vocals are swapped out with Jack White's high-pitched tremolo on the White Stripes' debut album. Jack and Meg beat the song's descending chord pattern until it comes back biting, nastier than Dylan's original. If you were imaging some sort of beautiful gypsy on the Desire version, the girl in the Stripes' take is an oil-drenched Suzy Lee crawling out of the wreckage of Detroit.
4. Rage Against the Machine, "Maggie's Farm"
The politically conscious rapping metalheads picked the perfect protest song from Dylan's catalog, railing against the concept of working for anyone besides oneself. "America touts itself as the land of the free, but the number one freedom that you and I have is the freedom to enter into a subservient role in the workplace. Once you exercise this freedom, you've lost all control over what you do, what is produced, and how it is produced. And in the end, the product doesn't belong to you," guitarist Tom Morello said in an interview with Guitar World magazine. Morello wasn't discussing this song in particular in the interview, but it shows how closely "Maggie's Farm" aligns with RATM's ideals.
5. Them, "It's All Over Now, Baby Blue"
This version of Dylan's classic from his first electric album, Bringing It All Back Home, was covered by Them when Van Morrison was just 20 years old. Morrison's iconic vocals bring a sincerity to the song that doesn't come across on Dylan's version. Dylan seems like he's mocking the object of the song, like she should have realized what would be the outcome of her previous behavior, but Morrison sings the song as if she's weathered the worst and can finally rest. This is a more laid-back ballad than other songs on this list, but deserves inclusion based on Morrison's simultaneously rough and tender vocals.
6. Patti Smith, "Wicked Messenger"
Patti Smith lends her characteristic sneer and growl to this John Wesley Harding track, recorded for the 1996 album Gone Again, which was preceded by the deaths of several close friends and associates of Smith, including her husband Fred "Sonic" Smith. The song's lyrics are heavily influenced by Dylan's study of the Bible, and the "wicked messenger" can be found in Proverbs 13:17 — "a wicked messenger falleth into mischief: but a faithful ambassador is health." Smith counts Dylan as one of her biggest influences, and her adoration of him shines through her impassioned delivery.
7. Beck, "Leopard-Skin Pill-Box Hat"
Dylan's "Leopard-Skin" on 1966′s Blonde on Blonde is a slight twist on the straightforward blues with weird lyrics (supposedly about Warhol socialite Edie Sedgwick, who had a penchant for wearing leopard print), but Beck's version is a funk ditty with fuzzed-out guitar and cawing crows thrown in. The screaming bursts of harmonica pay tribute to Dylan without feeling like a ripoff. Beck's take on this song does the opposite of PJ Harvey's "Highway 61″: He strips away the sexy blues of the original to revel in the song's silliness.
8. Jimi Hendrix, "All Along the Watchtower"
Hendrix's version of "All Along the Watchtower" is considered not only to be one of the loudest hard rock covers of Dylan but also hands-down the best Dylan cover ever, possibly even surpassing the original acoustic take from John Wesley Harding. Hendrix's guitar-playing perfectly accentuates the song's foreboding lyrics, making you picture something truly horrifying is approaching that watchtower.
But Dylan's opinion of Hendrix's take on the song says it all. "It overwhelmed me, really. He had such talent, he could find things inside a song and vigorously develop them. He found things that other people wouldn't think of finding in there. He probably improved upon it by the spaces he was using. I took license with the song from his version, actually, and continue to do it to this day," Dylan said to the Fort-Lauderdale Sun Sentinel in 1995.
Check out Entertainment Cheat Sheet on Facebook!