8 Musicians Who Went Acoustic, With Amazing Results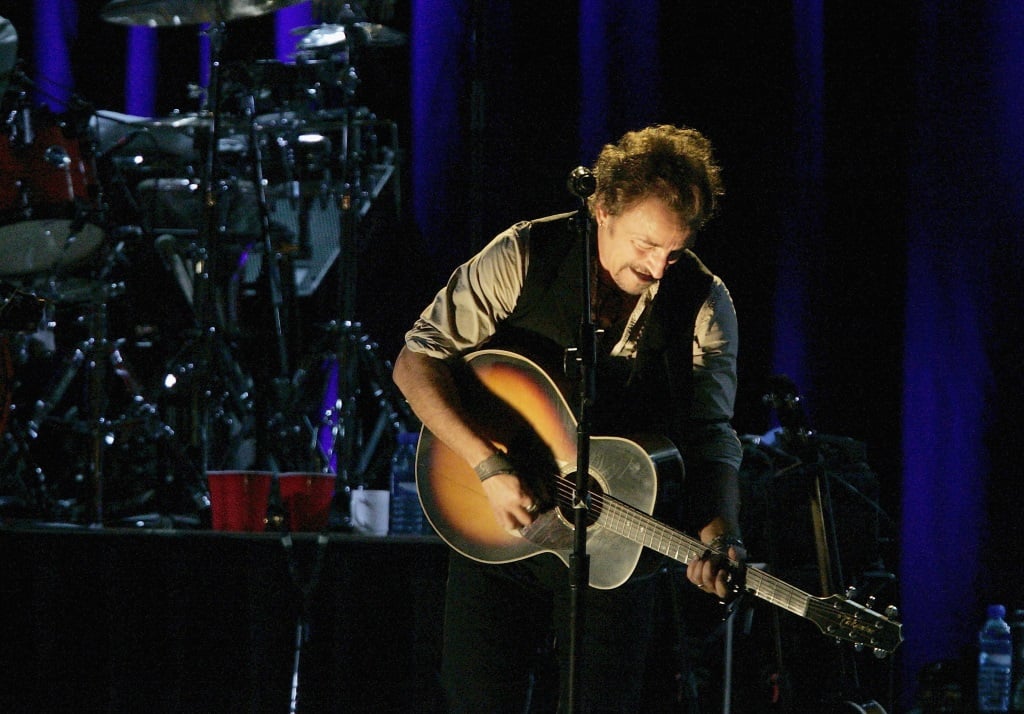 Bob Dylan made rock music history by performing an electric set at the Newport Folk Festival in 1965, but what about all the artists who did the exact opposite? Music history is littered with artists reinventing themselves and their music, and there are few better ways to reinvigorate a career or prove one's songwriting chops than with an acoustic album. We've scoured the annals of recent music history to compile a list of musicians who went acoustic, with amazing results.
1. Bruce Springsteen
Bruce Springsteen made a name for himself fronting the E Street Band and belting out escapist anthems about seaside towns and tramps who were born to run, but with his 1982 album Nebraska, the singer went solo and turned his songwriting talents towards the American heartland. Springsteen is at the height of his storytelling abilities, whispering harrowing tales of poverty and heartbreak, crime and corruption into a microphone with only the tinny sound of an acoustic guitar to accompany him. He's since returned to a similar formula for two subsequent albums, 1995's The Ghost of Tom Joad and 2005's Devils and Dust.
2. Beck
It's not quite accurate to call Beck's 2002 album Sea Change acoustic, since Beck — being Beck — fills his stark songs with myriad studio flourishes. Nonetheless, the album is still rooted in quiet, deeply personal folk, as the chameleon-like artist who made his name with hip hop-infused alt-rock looked inward for inspiration to write a series of songs influenced by a recent breakup with a long-term girlfriend. The album's distinct, quiet yet fully-thought out sound made it a favorite with critics, and Beck recently recorded Morning Phase in the same vein as Sea Change, which went on to win Album of the Year and made Kanye West very mad about it.
3. Nirvana
Nirvana only had the chance to release three proper studio albums before the untimely demise of frontman Kurt Cobain, but its MTV Unplugged special, recorded in 1993 and released the following year, gave audiences and fans to see another side of the grunge band. The set consists mostly of the band's lesser-known material recorded in an intimate setting that makes the songs both lovelier and more immediate. The album, only released after Cobain's death, stands alongside Nevermind as the most popular and acclaimed Nirvana album, frequently appearing on lists of the best albums of the '90s and even of all-time.
4. Johnny Cash
In the early '90s, nobody much cared about Johnny Cash anymore. Long after his heydays in the '60 and '70s, Cash had been plagued by record contract disputes and obscurity for more than a decade, until his career was rejuvenated with the help of producer Rick Rubin and his American Recordings label. The first album to come out of their collaboration is the appropriately titled American Recordings, which features Cash singing country staples and contemporary covers in his living room, accompanied only by his guitar. Rubin's production allows Cash's iconic, weathered voice to shine through, elevating the material into something truly great. Their collaboration led to five other American albums from Cash, two released post-posthumously after his death in 2003, but the first remains the most intimate.
5. The Rolling Stones
Legendary British rockers The Rolling Stones managed to resist recording an acoustic album for more than three decades before releasing the popular partially-live album Stripped in 1994. Stripped blends live and studio recordings of the Stones performing favorites like "Angie," "Wild Horses," and "Street Fighting Man" alongside deep cuts like "Sweet Virginia" and "The Spider and the Fly," and even a cover of Bob Dylan's "Like a Rolling Stone," using primarily acoustic techniques. The album went platinum and deservedly so — presenting the Stones in a stripped-back format makes their rock songs seem much more informal, inviting, and raw, much like the Delta blues artists they often emulate in their songs.
6. Led Zeppelin
Led Zeppelin 3 isn't actually an acoustic album — in fact, it features one of the band's most celebrated rock songs ("Immigrant Song") and a smoldering electric blues jam ("Since I Been Loving You") — but the third album from the hard-rocking four-piece flexes the band members' folk rock muscles like no other album in their catalog. Lovely acoustic guitar songs like "That's the Way" and "Tangerine" showed that Zeppelin could do more than melt your face off with mean riffs — it could craft lovely and moving folk melodies, too, or even blend folk and rock into powerhouse tracks like "Gallow's Pole."
7. Eric Clapton
As American Recordings did for Johnny Cash, Unplugged marks a clear upturn in the career of an acclaimed musical legend fallen on hard times. Blues-rock pioneer Eric Clapton recorded an intimate acoustic live set at Bray Film Studios in Windsor in 1992, and the heartbreaking recordings resonated with audiences and critics alike. The album went platinum and won three Grammy awards, but Clapton's true accomplishment is in the emotional immediacy of songs like "Tears in Heaven," in which he sings about the recent death of his son.
8. Above & Beyond
The acoustic album has become something of a rock music staple, but it remains a novelty in the newer world of electronic music. Trance group Above & Beyond managed it, however, by reworking songs from its back catalog into acoustic versions for the predictably-titled Acoustic. The album is impressively lush, utilizing acoustic guitars and orchestral arrangements as often as keyboard blips and layered vocals. The band's songwriting skills shine with a legitimacy here that isn't quite evident in the other electro-tinged recordings, and the album was successful enough to warrant a sequel, Acoustic II, due out sometime in 2016.
Follow Jeff Rindskopf on Twitter @jrindskopf
More from Entertainment Cheat Sheet:
Want more great content like this? Sign up here to receive the best of Cheat Sheet delivered daily. No spam; just tailored content straight to your inbox.