The Greatest Bands and Musicians of the 1970s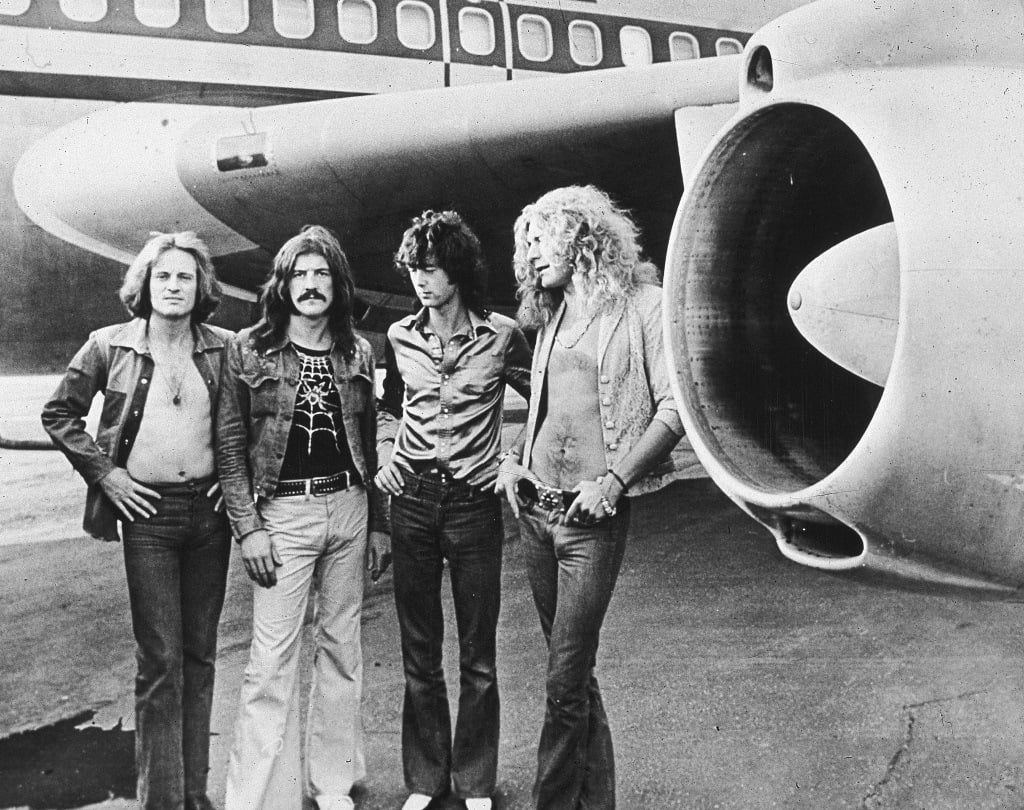 In many ways, American music reached its peak in the 1970s, as artists from every genre drew upon the innovations in rock, soul, and pop music of the previous decade to perfect their own sounds. Then the sounds became too perfect, to the point where rock music began to sound like a factory-produced commodity made for arena audiences to sing along with, thus spawning the reactionary new wave and punk rock movements. There was plenty happening in music throughout the 1970s, and we've done our best to condense an eventful decade into just eight artists who helped to define the genres of the time while laying the foundation for decades to come.
1. Led Zeppelin
Led Zeppelin began its career unofficially aping old blues tunes and adding its own otherworldly heaviness to them in order to make them new. But it didn't take long for the band to expand its sound in all directions, as the members used subsequent albums to dabble in (or even help to invent) hard rock (Led Zeppelin II), folk rock (III) and psychedelia (Houses of the Holy). Thanks to the contributions of all four skilled band members, each album has a core sound that could only come from these veritable rock Gods.
2. David Bowie
David Bowie had a long and storied career before his recent death and it's not controversial to say he released much of his best material in the '70s, which saw the chameleon-like singer-songwriter disappear into several different phases of his career beginning with the title character from The Rise and Fall of Ziggy Stardust and the Spiders from Mars. He mined the same vein of glam rock majesty and dramatics for the follow-ups Aladdin Sane and Diamond Dogs before trying his skilled hand at soul (Young Americans) and art rock (Station to Station) while inhabiting his other great character, the Thin White Duke. Finally, he closed the decade out with his audacious Berlin trilogy, combining his own hitmaking instincts with fascinating krautrock and atmospheric techniques.
3. The Clash
Punk rock was far more a major cultural movement in the U.K. than in the U.S. The Clash managed to survive beyond the brief cultural moment and continued to expand without losing its angry political awareness (for the most part) beyond the raw energy of its self-titled debut. By the time of its decade-closing and career-defining third LP London Calling, the band had expanded its sound to include elements of reggae, dub, funk, and rockabilly. It seemed to collect influences from around the world, but at the core of its songs are the members' own talents for writing great melodies with lyrics that feel just as vital.
4. Parliament/Funkadelic
George Clinton amassed quite a roster of talent around him, particularly during the 1970s, when his easily-confused bands Parliament and Funkadelic released many of their best records. Using mythology-building, outrageous humor, group vocals, audacious funk rock, and experimental soundscapes, the bands (which often consists of more than a dozen members) invented their own genre dubbed P-Funk and released albums that were as sonically interesting as they were just plain fun: They ran the gamut from rousing funk anthems like "Give Up the Funk" to the psychedelic weepy soloing of Maggot Brain's title track.
5. Curtis Mayfield
Parliament and Funkadelic were certainly politically aware, but their songs don't have the same heartfelt pain and hope contained in those of Curtis Mayfield. The soul songwriter used his high-pitched croon to plead for peace and understanding atop densely layered tracks combining piano, brass and guitar. Mayfield injected social commentary into popular music and crafted albums that continue to inspire artists, including There's No Place Like America Today and the blaxploitation B-movie Superfly.
6. Pink Floyd
Progressive rock bands sought to elevate the world's most popular music genre to the realm of art with sprawling concept albums and tracks that morphed in much the same way as classical music did. Pink Floyd transcended the trappings of the genre because its albums and songs are more deeply felt than they are intellectual, thanks primarily to the open-hearted songwriting of Roger Waters. Waters penned both personal (The Wall) and political (Animals) songs within the confines of concept albums while his bandmates Dave Gilmour, Richard Wright, and Nick Mason gave every song the musical prowess it deserved to make every lengthy musical break as emotional and transcendental as Waters's lyrics.
7. Talking Heads
New wave developed alongside punk rock as a sort of alternative to the sanitized arena rock that dominated radio stations by the late '70s. Talking Heads dealt in jagged riffs and yelping paranoia rather than sing-along choruses, led by its nervous-sounding frontman David Byrne who had a habit of writing songs about things as innocuous as "Paper" or "Air." Though the band's greatest album (Remain in Light) wouldn't come until 1980, its first three releases present perhaps the most creative new wave band as it expanded beyond arty anxiety to include hypnotic atmospheres and afrobeats, especially on its stellar third release Fear of Music.
8. Bruce Springsteen
Bruce Springsteen drew inspiration from the socially conscious folk music of Woody Guthrie to make rock music that appealed to and directly addressed the struggles of America's working classes and frustrated youths. But The Boss's talents extend far beyond his lyrical storytelling, as evidenced on his magnum opus third album Born to Run. The 1975 effort consists of eight tracks concerning trapped city kids dreaming of escaping their oppressive lives, scored with a monolithic backdrop of guitar, drums, and saxophone all merged into one great musical wall of sound. Springsteen continued to mature as a songwriter throughout the decade, addressing shattered dreams and economic woes on subsequent releases.
Follow Jeff Rindskopf on Twitter @jrindskopf.
Check out The Cheat Sheet on Facebook!