8 True Stories Hitting the Big Screen in 2014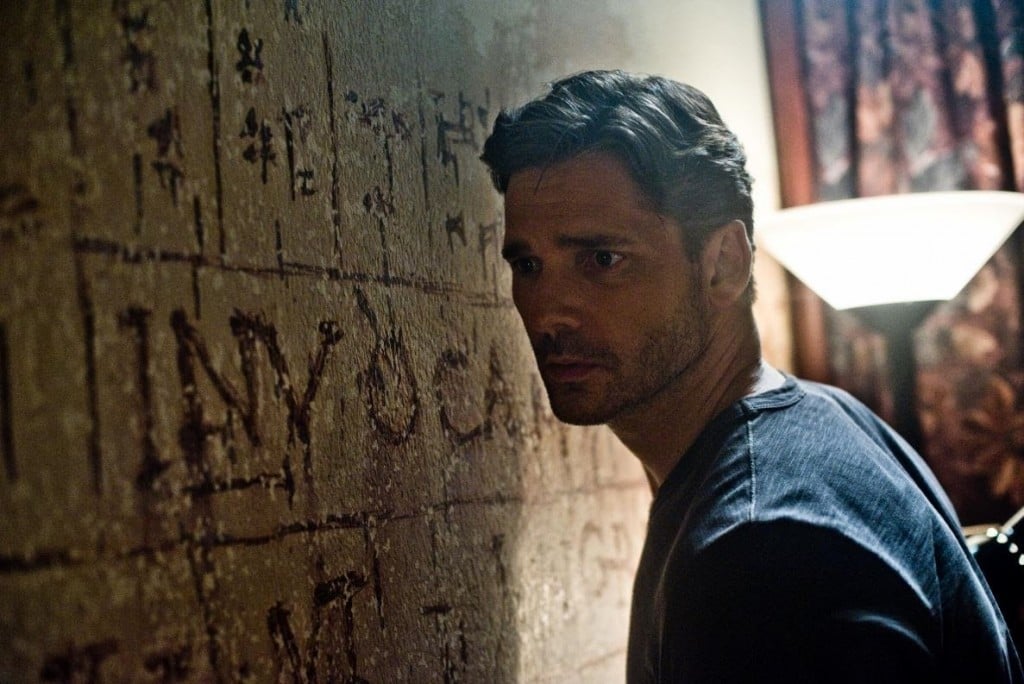 True stories that are transformed into Hollywood hits are often both inspirational and emotional. Several of these touching films offer sneak peaks into people's lives each year, and 2014 is no exception. From heartwarming feel-good flicks to unbelievably sad tales, these emotional movies are guaranteed to make you laugh and cry. Here are eight true stories coming to a big screen near you.
1. Deliver Us From Evil
Hitting theaters July 2, this movie is based on the book and true-life crime cases of New York policeman Ralph Sarchie (played by Eric Bana.) Sarchie's investigations into disturbing crimes eventually cause him to team up with a priest, played by Édgar Ramirez, who is able to perform exorcisms. After being pulled into a dark and chilling case, Mendoza (Ramirez) begins to open Sarchie's eyes to the possibility that it may involve forces much darker than he ever imagined.
Writer and director Scott Derrickson told Hitfix, "There's some definite skepticism going on with the main character, and what was interesting to me about the movie from the beginning was that the real Ralph Sarchie was a complete skeptic — a lapsed Catholic — and he was encountering a kind of evil in the real world every night. He worked in the most dangerous precinct in the country at the time in the South Bronx."
Derrickson added that, "This foul-mouthed Italian tough undercover cop would be the guy to begin to believe in these things because of the things he was experiencing, because of the cases he was working. I just thought that was so fascinating. And that he would follow that path all the way to the point of working with an exorcist. I think that's a story that's worth telling, and he's in real life a larger-than-life character."

2. Get On Up
Get On Up, which hits theaters August 1, stars Chadwick Boseman and chronicles the life of funk legend James Brown. Viewers will get a glimpse into Brown's rise from poverty, and will witness how he ended up being referred to as the Godfather of Soul and one of music's most influential artists. Other actors include Viola Davis, Octavia Spencer, Dan Aykroyd, and Craig Robinson.
In one of the film's trailers, the story begins with six-year-old Brown being abandoned by his mother (played by Davis) and left to live with his Aunt Honey (Spencer), who runs a brothel. The film ends in 1993 with a comeback concert after Brown has served prison time for aggravated assault and eluding the police in a crazy car chase.

3. When the Game Stands Tall
Coming to a theater near you on August 22, this film is inspired by the true story of legendary football coach Bob Ladouceur (Jim Caviezel), who took the De La Salle High School Spartans from unknown to well-known when they went on a 151-game winning streak that broke an endless string of records.
A Max Preps article writes, "In real life, Ladouceur and former players have often said the program has never been about winning. It was simply a byproduct of doing things the right way, something the movie — and more so Hayes' book — tried to display."
Spoiler alert: Viewers can expect to see a lot of drama in this movie. Part of the movie centers around the shooting of one of De La Salle's greatest players, Terrance Kelly, who was murdered right before he was set to leave for the University of Oregon, where he had a scholarship.

4. Dolphin Tale 2
For those of you who loved 2011's Dolphin Tale, the second flick is set to hit the big screen September 19. The sequel dives into more stories surrounding the Clearwater Marine Aquarium's rescue and rehabilitation of marine animals, writes History vs Hollywood. Winter the dolphin makes an appearance with a baby dolphin named Hope, and the second film also looks at Mandy, a rehabilitated dolphin. In Dolphin Tale 2, Winter's surrogate mom, Panama, dies, leaving the dolphin in a saddened state. A doctor at the aquarium then sets out on a mission to find another pool companion who is in need of some care. Morgan Freeman, Ashley Judd, and Harry Connick Jr. return for the sequel, along with surfer Bethany Hamilton, who had her left arm bitten off by a shark while surfing in 2003.
The first Dolphin Tale hit No. 1 at the box office in 2011, making $95 million worldwide, according to Deadline. In a USA Today article, Director Charles Martin Smith joked about how Winter has now become a dolphin diva. "Winter had some demands, she knows she's a star now," he said. "I did have to throw in some higher-quality herring. She wants it fresh."

5. Foxcatcher
Debuting November 14, Foxcatcher is a drama based on the true story of  Mark Schultz (Channing Tatum), an Olympic wrestler, who is guided by multi-millionaire John du Pont (Steve Carell.) The film shows Schultz's struggles in the '80s and '90s to try and rise above his successful brother, Dave Schultz (played by Mark Ruffalo.) However, du Pont's coaching style isn't healthy for Mark. It breaks him both mentally and physically, eventually leading to a tragic ending.
During filming, Mark actually spent some time on set. "He definitely coached me early in the movie, wrestling-wise, and when he was on set … at times I was so thankful and grateful that he was there, at other times I was completely terrified," Tatum said to Fox News. "When you are literally looking off camera and the person you are playing is there."

6. Wild
Expect to see this flick, starring Reese Witherspoon, hit theaters December 5. The movie looks at Cheryl Strayed, who hiked 1,100 miles of the 2,663 mile-long Pacific Crest Trail in June 1995. The Wild movie documents Strayed's journey, which began in in Mojave, California, and finished at the Bridge of the Gods on the Oregon-Washington border. She had originally planned to complete her journey in Ashland, Oregon, which was just over the Oregon border, but decided to continue to Washington, according to History vs Hollywood. Strayed decided to go on the adventure to leave behind her troubles, including drug use, divorce, and the death of her mother.
Director Jean-Marc Vallée told Entertainment Weekly that he tried to recreate the hiker's journey as faithfully as possible. "[Reese] went method with the hair and no makeup," says Vallee. "We wanted to see Reese out there, not vain at all, not concerned with her image, and she went for it. Wait until you see her in the film. It's a new Reese."

7. Unbroken
Unbroken, a movie about Louis Zamperini — an Olympian and WWII hero — will be released December 25. The movie documents the Olympic runner's survival through 47 days at sea and three years in a Japanese prisoner of war camp after his plane is shot down over the Pacific. British actor Jack O'Connell stars as Zamperini in the World War II drama, with Domhnall Gleeson, Garrett Hedlund, and Jai Courtney rounding out the cast.
The movie, also based on a book, was directed by Angelina Jolie. "I read Laura Hillenbrand's brilliant book, and I was so moved by Louie Zamperini's heroic story, I immediately began to fight for the opportunity to make this film," Jolie said in a Deadline article. "Louie is a true hero and a man of immense humanity, faith, and courage. I am deeply honored to have the chance to tell his inspiring story."

8. Love & Mercy
Although no specific release date has been set, this movie is expected to hit theaters sometime in 2014. The movie details the life of Beach Boys frontman Brian Wilson (played by Paul Dano), who became the leader of the 1960s band, in addition to their lead songwriter, writing classics such as Surfin' U.S.A. and California Girls.
However, success doesn't ensure happiness. The movie shows how his mental health began to fade, leading to many treatments and the cause of friction with the group, eventually leading to Wilson leaving the band, per The Hollywood Reporter. The movie looks at Wilson's life and the many moment that occurred throughout it, including his art, his struggles, and the love that kept him going.
More From Wall St. Cheat Sheet: