8 TV Personalities America Loves
Harris Interactive recently released the results of if its Harris Poll, aimed at measuring who America's favorite television personality is. Altogether, 2,311 adults (aged 18 and older) across various ages, educations, regions, and gender were polled in order to get a sense of America's favorite television personality overall as well as the favorites among specific groups of people. According to Harris Interactive, here are America's eight favorite television personalities.
8. Oprah Winfrey
When it comes to public opinion, Oprah Winfrey's popularity as a television personality has been remarkably consistent over the years. In the past ten years alone, Winfrey has polled as the overall favorite in Harris Interactive's polls five different times, along with twice coming in at number two. But the past several years have also shown a notable downturn in popularity. After polling at number seven on the list in 2011 — a fall from number two the year before — she fell again to number eight in 2012 where she polled once more in 2013. Dating back to 1993, Winfrey had only slipped out of the top three once before 2011, falling to number four in 2008, and it looks like Winfrey might finally be losing steam with viewers.
7. Tom Selleck
Tom Selleck, known to most as Thomas Magnum from Magnum P.I., is gaining in popularity recently due to his newest show Blue Bloods. According to Harris Interactive, Selleck has not appeared on the top ten in popularity polls since at least 1993 (which is where their chart stops), but saw a boost to the number ten spot in 2012 and the number seven spot in 2013.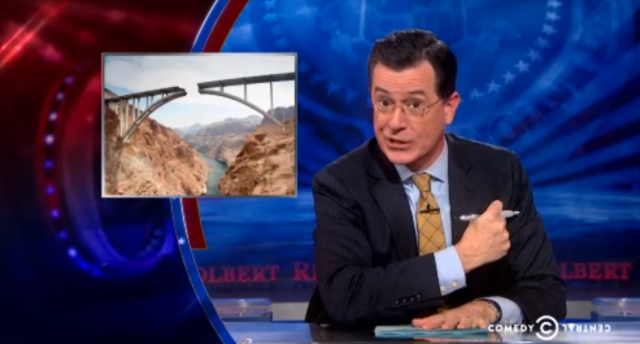 6. Stephen Colbert
Despite being one of the most popular television personalities around, Stephen Colbert hasn't had the kind of consistency overseen by Comedy Central news host Jon Stewart. After polling at number ten in 2011, Colbert dropped off the list entirely in 2012 before making a return all the way up at number six this year. Additionally, Colbert appears to be a hit among those with lots of education, polling as the favorite among viewers with post-graduate education.
5. Jay Leno
The Tonight Show's Jay Leno has had a hectic past couple of years. After polling as the overall favorite television personality in 2008, Leno was forced to start from scratch following the Conan O'Brien debacle, which positioned him as the villain in the situation. After dropping off the list entirely in 2010, Leno saw a quick return to form, polling as number five in 2011 and number four in 2012. While Leno slipped one spot this year back to number five, it should still be considered a huge success given where he was only several years ago in the court of public opinion.
4. Jim Parsons
Jim Parsons has experienced a surge in popularity over the past few years playing the role of Sheldon Cooper on The Big Bang Theory. After first hitting the chart back in 2011 with the number nine spot, Parsons has since risen to the number five spot and the number four spot this year. Meanwhile, The Big Bang Theory continues to dominate TV ratings with this year's episode "The Deception Verification," becoming the highest rated episode of the series with 20.44 million viewers.
3. Jon Stewart
After polling as high as number two overall from 2004 to 2006, Jon Stewart saw his popularity slightly decline for several years before trending upwards again to the number three spot, which he's held for three years straight.
Despite the fact that Stewart took a twelve-week summer sabbatical to spend time working on a Middle Eastern political documentary entitled Rosewater, viewers don't appear to have forgotten about The Daily Show. Additionally, Harris Interactive's data shows that Stewart is still the most popular television personality among male viewers.
2. Mark Harmon
NCIS's head agent, Mark Harmon, comes in this year as the second most popular television personality, holding steady from a second place vote last year after being polled as the number one personality in both 2010 and 2011.
Of the categories listed, Harmon garnered the highest polling score in three categories: the Matures generation (68 and up), Republicans, and conservatives. As Harris Interactive notes, it appears that Harmon's tough-minded agent on NCIS resonates with conservatives and republicans, displaying a difference in political philosophy. Since age often corresponds with politics, it would make sense that the oldest viewers would also vote for Harmon.
1. Ellen DeGeneres
The most popular television personality for a second year in a row, Ellen DeGeneres ran the gamut of polling categories from generational to regional to education. While gender was unsurprisingly split between male and female voters for Stewart and DeGeneres respectively, the generational poll showed that DeGeneres has a strong pull across almost all the generations including Echo Boomers (or Millennials), Generation X, and Baby Boomers — those three generations span all viewers between the ages of 18 and 67. The only generation that didn't poll in favor of DeGeneres is the Matures, ages 68 and up, who voted for Harmon.
When it comes to politics, DeGeneres polled as the favorite among both liberals and moderates, and specifically Democrats and Independents. Given the older generation's support of Harmon, it might also be unsurprising that DeGeneres polled behind Harmon among both conservatives and Republicans who are typically a bit older than their liberal counterparts. But whether it's the East, Midwest, South, or West, DeGeneres is the favorite among viewers coming in at number one in all four regions. Finally, when it comes to education, DeGeneres again comes out on top across the majority of viewers with the top polling choice among those with High School education or less, those with some college, and college graduates. However, among those with post-graduate education, Colbert reigns supreme.
All in all, of the twenty-two categories that Harris Interactive formulated, DeGeneres polled as the number one television personality across a whopping seventeen categories making her, by far, America's favorite.
More From Wall St. Cheat Sheet: