9 Outdoorsy Movies That Challenge the Wild
The great outdoors has often served as as a source of inspiration for Hollywood. From gripping real-life survival stories like 127 Hours to adventure dramas like Life of Pi, there's a long history of feature films capturing the battle between man and nature. Here are 9 of the best movies in which the characters take on the wild (listed in increasing order of their critical ranking on Rotten Tomatoes):
9. The Edge
Anthony Hopkins stars as a billionaire and Alec Baldwin as a fashion photographer, who fly to a remote land in order to find an authentic Indian hunter attractive enough to pose alongside Hopkins' supermodel wife (played by Elle Macpherson). On their way home, their plane crashes, leaving the men stranded in a dangerous wilderness where they have to confront nature and a terrifying bear. Adding to the tension? Prior to the crash, Hopkins' character makes it clear he's convinced that Baldwin's photographer character is having an affair with his wife. Once stranded, the two must battle with both the elements and each other. The Edge has received mixed reviews from critics and holds only a 60% rating on Rotten Tomatoes, but is still considered a solid depiction of the deceptive relationship between not only man vs. nature, but also man vs. man.
8. Alive
The 1993 Frank Marshall-directed film recreates the true story of the Uruguayan rugby team that crashed into the Andes mountains on October 13, 1972, while traveling on Uruguayan Air Force Flight 571 and their desperate attempts to survive. Based on Piers Paul Read's 1974 book Alive: The Story of the Andes Survivors, the movie stars Ethan Hawke, Vincent Spano, and Josh Hamilton. With a 68% rating on Rotten Tomatoes, it didn't earn the same critical acclaim as some of the movies on this list (with some reviewers calling the casting unrealistic). Still, it did receive generally positive reviews and remains one of the most unflinching portrayals of how far people will go to survive.
7. The Way Back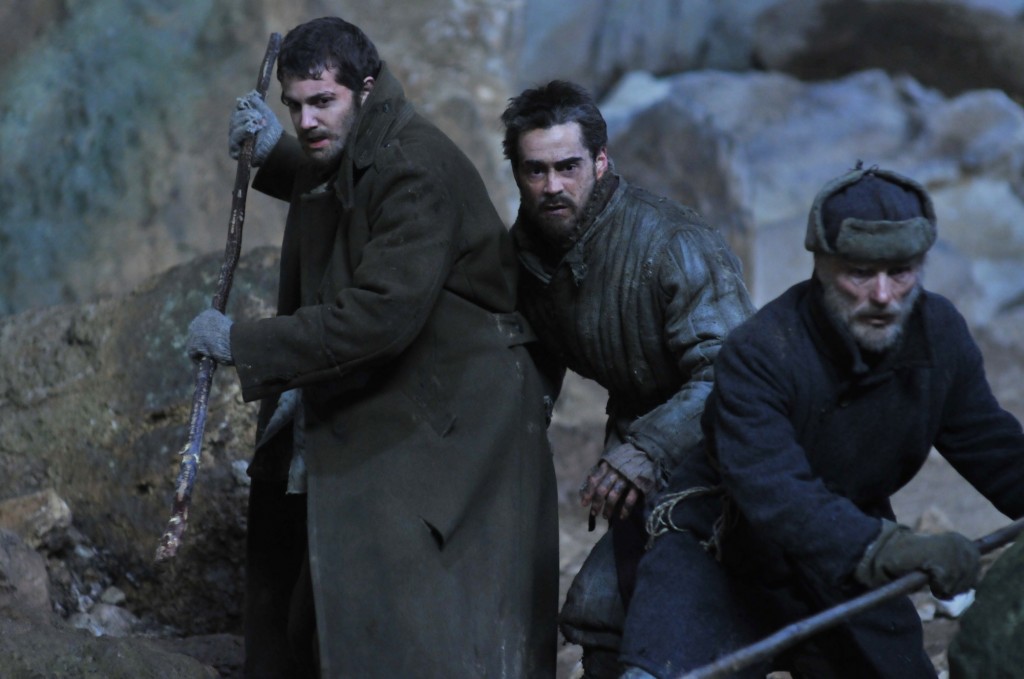 Inspired by the 1956 memoir The Long Walk, the 2010 Peter Weir-directed drama follows the story of former Polish POW Slawomir Rawicz and a group of survivors, who escape from a Soviet Gulag during World War II and walk 4,000 miles to freedom. As they trek to Mongolia, they are forced to survive off the land and battle the most extreme weather, from severe snowstorms to desert heat. The movie stars Jim Sturgess, Colin Farrell, Ed Harris, and Saiorsa Ronan and received a 75% fresh rating on Rotten Tomatoes, with the critical consensus being that while not an entirely emotionally genuine portrayal, the film gives a detailed, in-depth look at the effects of such a grueling journey.
6. The Grey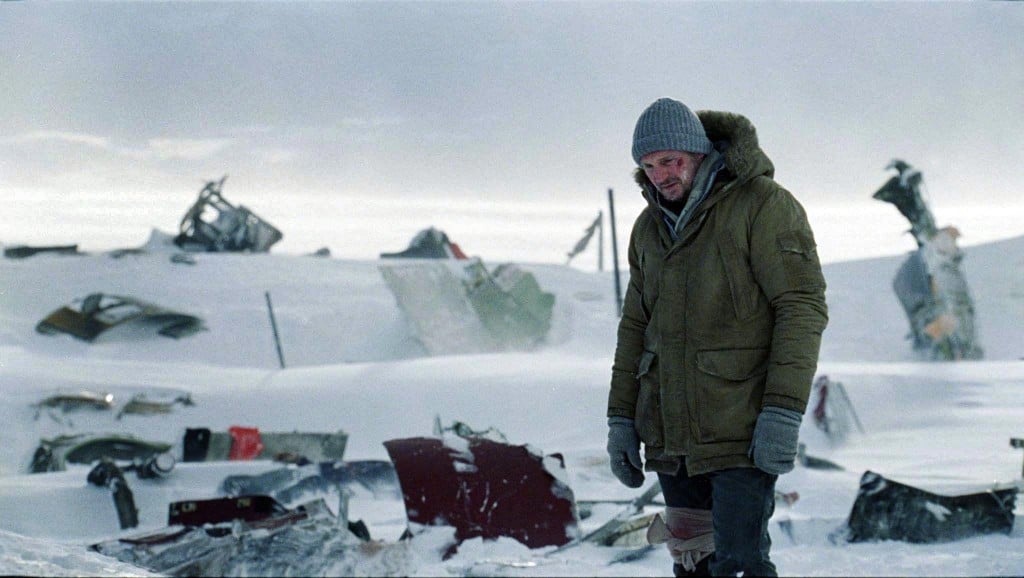 The 2011 thriller starring Liam Neeson, Frank Grilo, and Dermot Mulroney, is based on Ian MacKenzie Jeffers' short story Ghost Walker. The movie follows a group of oil men who are left stranded in Alaska after a plane crash and must find ways to survive in the blistering cold, all the while fending off a pack of gray wolves that are following them in their tracks. The survival film generated a positive critical reception and a 79% fresh rating, for its "fleshed-out characters" and for Neeson's performance in particular.
5. Into the Wild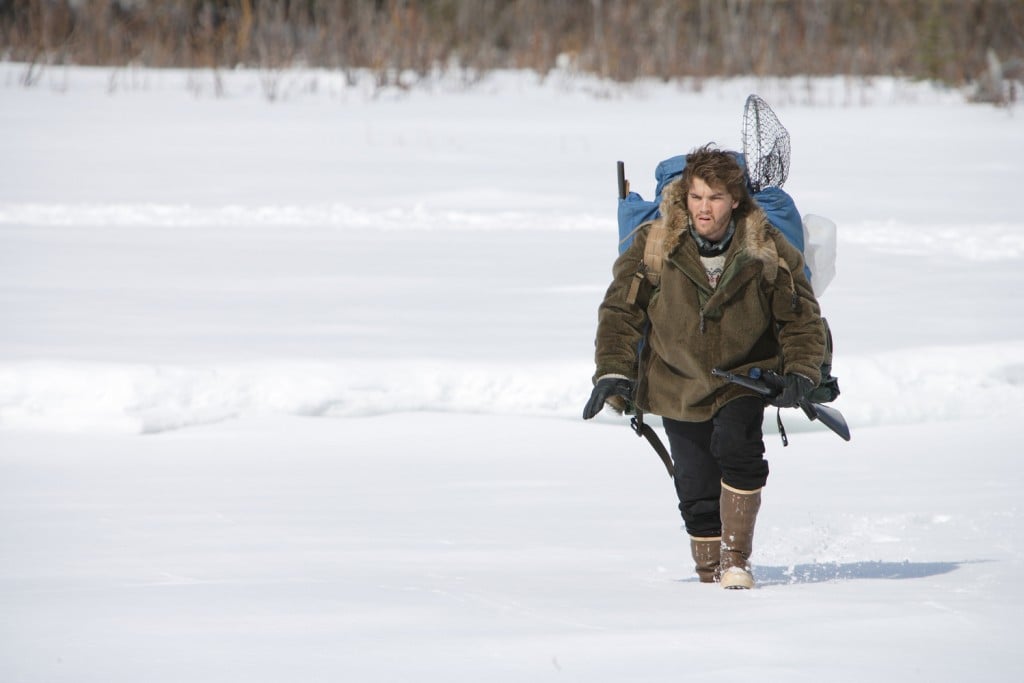 Directed and written by Sean Penn, the 2007 biographical drama tells the true story of adventure-seeking Christopher McCandless (played by Emile Hirsh), based off the 1996 non-fiction book of the same name. After graduating from Emory University as a top student and athlete, McCandless decides to abandon his possessions, give away the entirety of his savings account and makes his way to Alaska to live in the wilderness. Along the way, he crosses paths with several characters who help shape his journey and confronts the harsh facets of nature. The movie, which tackles themes of materialism and disillusionment, earned a positive critical reception and currently holds an 82% fresh rating on Rotten Tomatoes. It was also named one of the best films of the year by the National Board of Review.
4. Life of Pi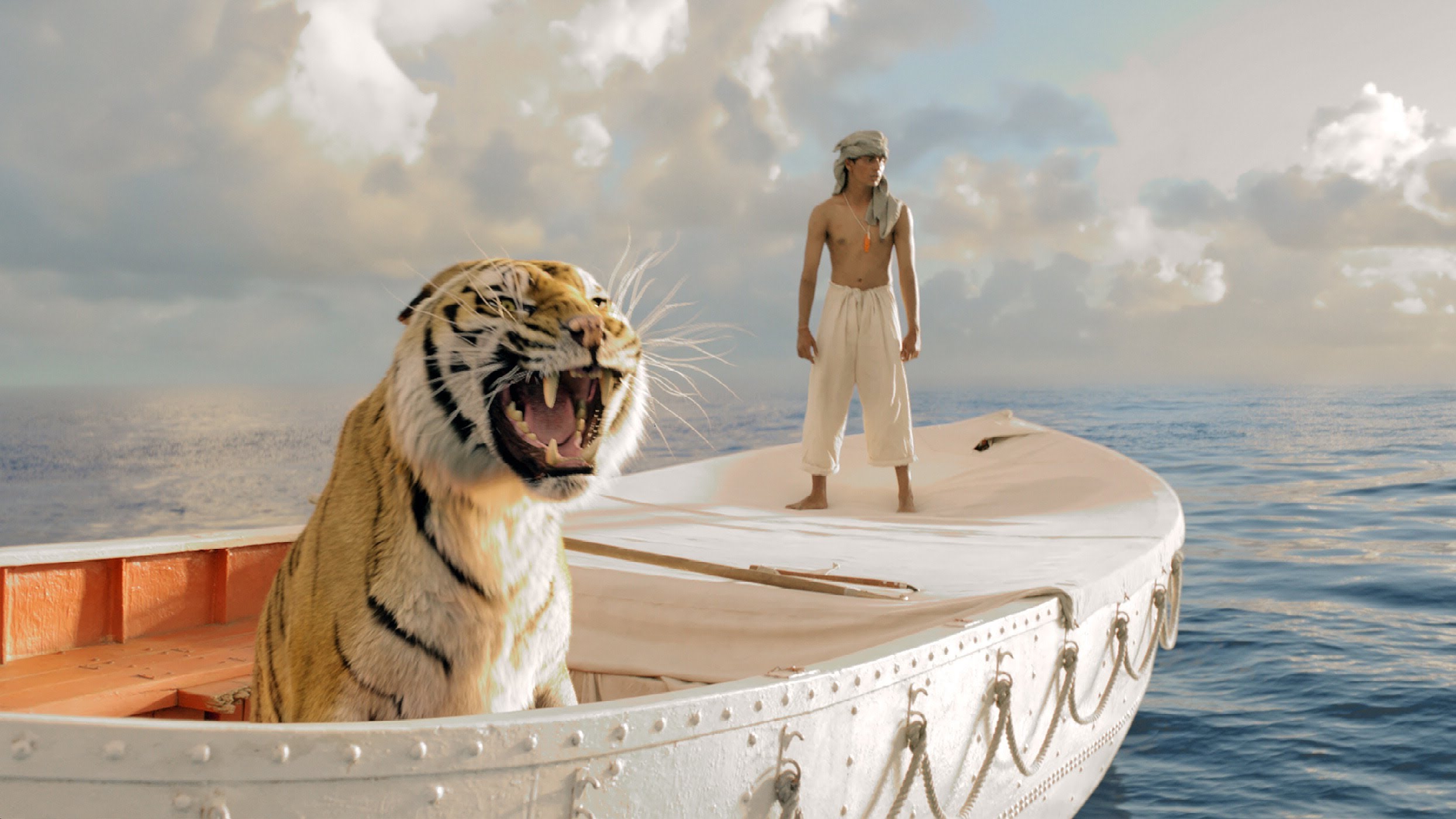 Directed by Ang Lee and based on Yann Martel's 2001 novel of the same name, the 2012 drama stars Suraj Sharma, Irrfan Khan, Rafe Spell, Gerard Depardieu, and Adil Hussain. It follows a young man (Sharma) who is the only member of his family to survive the sinking of a ship but remains lost at sea. During his epic battle against the elements, he forms an unexpected connection with another survivor of the disaster: A fearsome Bengal tiger named Richard Parker. The movie, which holds an 87% fresh rating on Rotten Tomatoes, earned over $609 million worldwide and earned a whopping 11 Oscar nominations — winning four (the most out of any movie that year), including Best Director for Lee.
3. Cast Away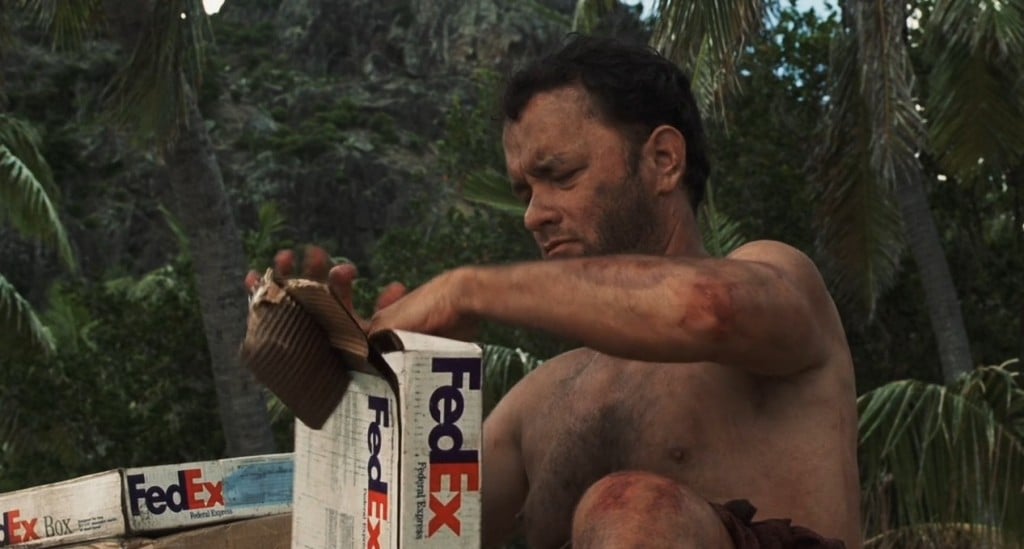 Marking one of the most memorable roles from Tom Hanks' long, impressive career, the 2000 adventure drama was a huge critical and commercial success at the time of its debut. The film stars Hanks as a FedEx employee who is forced to fight nature and attempt to survive after a plane crash leaves him stranded on an isolated, uninhabited island in the South Pacific. In addition to performing well at the box office, the movie received critical acclaim and earned Hanks an Oscar nomination for Best Actor at the 73rd Academy Awards. It holds a 90% fresh rating on Rotten Tomatoes.
2. 127 Hours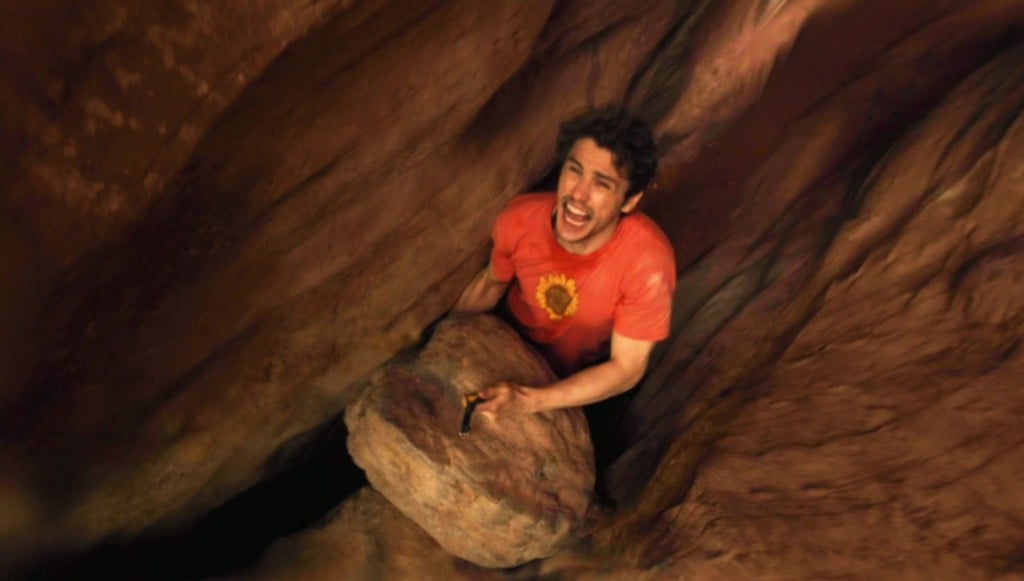 James Franco stars as real-life backpacker Aron Ralston in this 2010 biographical drama, based off the memoir Between a Rock and a Hard Place. The movie follows Ralston after a boulder in an isolated slot canyon in Blue John Canyon, Utah, traps him. As the days tick by, he relives elements of his past experiences, including his relationships with family and his ex-girlfriend. Though Franco typically has his fair share of detractors, he earned high praise for this emotionally grueling performance, which helped ground the film's more graphic sequences. The movie overall also earned universal critical acclaim and eventually earned six Oscar nominations, including nods for Best Picture and Best Actor. It currently holds a 93% rating on Rotten Tomatoes.
1. Walkabout
The 1971 film, loosely based on James Vance Marshall's novel of the same name, stars Jenny Agutter, Luc Roeg, and David Gulpilil. Directed by Nicolas Roeg, the visually stunning drama follows the story of two city children who become stranded in the Australian outback and struggle to find their way back to civilization with the help of a friendly native boy. Though the story may not sound particularly original, it sets itself apart with a shocking and harsh scene right at the beginning. But the movie's haunting visuals and the documentary-style coverage of the unforgiving Australian lands is what really elevates it well above your average survival film. Though the film didn't perform well at the box office in Australia, it earned critical acclaim in the United States, with the late famed critic Roger Ebert calling it "one of the great films." It currently holds a 93% fresh rating on Rotten Tomatoes.
More From Entertainment Cheat Sheet:
Want more great content like this? Sign up here to receive the best of Cheat Sheet delivered daily. No spam; just tailored content straight to your inbox.