'90 Day Fiancé': Angela Lays Down the 'Ground Rules' for Her Sex Life With Michael
Angela Deem and Michael Ilesanmi, now appearing on Season 7 of TLC's 90 Day Fiancé, have had a rocky road to love. Angela and Michael first met online before Angela traveled from Hazlehurst, Georgia, to her then-boyfriend's home country of Nigeria. The couple fell in love and got engaged quickly, appearing on 90 Day Fiancé: Before the 90 Days. 
Since then, though, things haven't been so simple. Angela and Michael struggled with fertility issues, cheating, and cultural differences. Most recently, Michael applied for a K-1 visa, and the couple worried about how their relationship would ultimately turn out if his application was denied.
On the Dec. 15 episode of 90 Day Fiancé, "The Truth Shall Set You Free," Angela prepared for Michael's arrival in the United States. The grandmother of six told her grandchildren to get ready for a new "man of the house" and new house rules.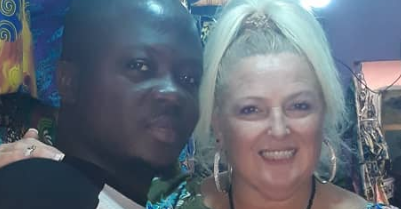 The '90 Day Fiancé' star laid down the law with her grandkids 
On "The Truth Shall Set You Free," Angela explained just how busy her life was…and exactly what Michael would soon be walking into, as long as his application went through.
"I have six grandkids, my 78-year-old mother, and myself living under one roof," explained Angela. Her adult daughter Skyla "might as well" also live with her, she said. Meanwhile, her older daughter Scottie is currently behind bars for a child molestation conviction, making her life all the more complicated and leaving her responsible for all of her grandkids at the moment. 
Angela sat down with her grandkids for a talk about her husband-to-be, explaining that she had bought a new lock for their bedroom door so they could have privacy and alone time. "We need to lay down some ground rules," she told the kids, prepping them for the big changes to come.
"Papa's getting ready to come," she told the children. The 90 Day Fiancé star explained that the kids wouldn't be allowed to come into the bedroom or bathroom even though they were used to "running freely," because a husband and wife need to spend time alone, and Michael might be getting dressed. 
"We've never had a man be in the house, right?" she said. "And you can't sleep with Meemaw no more because Papa is going to be sleeping in the bed." 
"No, Michael will sleep down here!" one granddaughter protested. But, without getting graphic, Angela insisted that a "husband and wife" need to spend time alone together and that the kids would have to respect that. 
Angela said Michael would be the 'man of the house'
Angela also warned her daughter and grandkids that Michael would be taking a position of authority in their home. "He's going to be the man of the house," the 90 Day Fiancé star said. "And when I'm gone, Michael's in charge. When he tells y'all to do something, you do it." 
She added that Skyla would have to learn to respect Michael as the head of the family. "That's gonna be her stepdad," Angela asserted. "No ma'am," Skyla sassed back. 
But the 90 Day Fiancé star would have none of it. "At the end of the day, he is gonna be the man of this house, and everybody better get used to it," Angela said. "He don't have to win nobody else over but me." 
Skyla wasn't thrilled with her future stepfather
Angela and her daughter Skyla continued to clash about Michael's hoped-for arrival. The 90 Day Fiancé star told TLC producers her daughter was "not excited at all," partly because she had asked her for a donor egg to "tote a baby" with Michael.
 "She also thinks that he don't even want a baby, he's after American citizenship," Angela explained. "He ain't got me convinced," Skyla admitted. 
But Angela's daughter changed her tune somewhat after an emotional wedding dress shopping session with her mom. 
When the 90 Day Fiancé star found her dream dress, she exclaimed, "I feel like the queen I am. I really feel like a bride…I'm truly in love with Michael. I don't have to be young to feel young." 
Despite her objections to the marriage, Skyla admitted that it was "surreal" to see her mother in a wedding dress and that she was finally getting excited for the wedding. "He's gonna think he's hot sh*t beside you," Skyla told her mom. 
And while she confessed that she still had her reservations, Skyla still gushed at the end of the episode, "Mama's gonna be a beautiful bride."