'90 Day Fiancé': Blake's Mom Calls Jasmin a 'Diva'
Blake Abelard and Jasmin Lahtinen of TLC's 90 Day Fiancé Season 7 couldn't be more different. Blake, a Los Angeles music producer, is an extroverted social butterfly, while Jasmin is a reserved model from Finland who doesn't drink and prefers quiet time alone. 
Jasmin didn't impress Blake's friends with her introverted ways and hopes of becoming a stay-at-home mom with Blake. On the Dec. 29 episode, "I Don't Have a Choice," Blake and Jasmin stayed apart due to his parents' religious beliefs. Jasmin and Blake's mom clashed about her career aspirations and the couple's future wedding.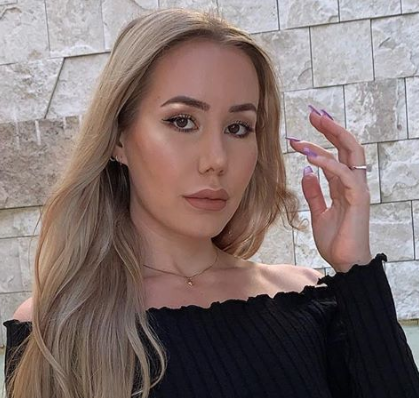 Jasmin was frustrated by Blake's absence
Jasmin and Blake planned to live together in the U.S. at his parents' house until they found their own place. But when Jasmin arrived in California, his parents said their conservative Christian beliefs didn't allow them to let an unmarried couple live together or even be alone under their roof. Blake moved in temporarily with his brother across town, while Jasmin reluctantly stayed with Blake's parents by herself.
And because Blake, an audio engineer, worked all day, Jasmin spent most of her time with Blake's mom. Although her fiance was busy looking for a place for them to live together eventually, she admitted that the situation made her uncomfortable and didn't meet her expectations for what her first 90 days in the U.S. would look like. 
"I can tell that Jasmin is a diva," Blake's mom Kerline told TLC producers as she asked Jasmin for help with dinner. Jasmin, for her part, said she didn't know how to cook, as she usually only ate "fitness food" without seasonings. "She's definitely going to have to toughen up," Kerline said of her son's bride-to-be.
Blake's mom was concerned that Jasmin might not pull her weight financially
Next, Kerline questioned her future daughter-in-law about her career. "What are your plans as far as working?" she asked. "You've got to have some kind of income coming in."
At first, Jasmin said she wasn't sure. After all, the 90 Day Fiancé star said, she had six months before she would even be allowed to work in the U.S. due to the visa process. "I have time to figure it out," she told Blake's mom. 
However, Jasmin wondered if social media promotions would be a fit for her, like partnering with brands to sell clothing on Instagram. Blake's mom was concerned that Jasmin wouldn't contribute to her household with Blake. "It does concern me that Jasmin does not know what she wants to do yet," she told TLC producers.
The two women had different ideas for the upcoming wedding
Blake and Jasmin's upcoming wedding was also a subject of discussion for Jasmin and her future mother-in-law. Kerline seemed much more gung-ho about a big traditional wedding than Jasmin, who had more of a private ceremony or small elopement in mind. "I already actually have a dress. I'm not a big wedding person," she told Kerline. 
Still, Blake's mom pressed her about the financial details of the wedding. "Traditionally, I know that the bride's family pays for the wedding, and then the groom's family pays for the rehearsal dinner," she ventured. Jasmin said that wasn't the Finnish tradition and looked uncomfortable about the potential tension to come. 
"I haven't talked to my parents about the wedding and who's gonna pay, but I don't think my parents would be okay with that," Jasmin told 90 Day Fiancé producers. It looks like Jasmin and Blake's wedding might be a source of drama for the future in-laws.