'90 Day Fiancé': How Ariela Really Feels about Returning to Ethiopia to Be with Biniyam–'My Excitement Is Slowly Dissipating'
90 Day Fiancé: The Other Way star Ariela is moving to Ethiopia to be with her boyfriend, Biniyam. She met him when she was traveling and, now, they're about to give birth to a baby they conceived during Ariela's trip.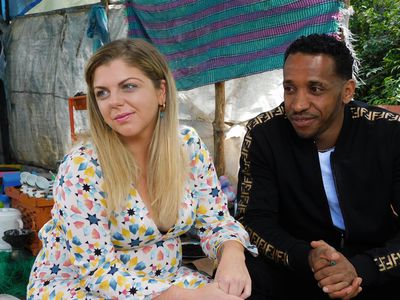 This is the second American woman Biniyam has gotten pregnant. The last relationship apparently didn't end incredibly well, as the mother took their son back to America, leaving Biniyam in Ethiopia. Biniyam hasn't seen his child face-to-face since.
Both Ariela's family and 90 Day Fiancé fans are wary of the reality star's big move but, up until this point, Ariela has felt she was making the right decision. Now the moment has come and Ariela isn't so sure.
Ariela is having 'mixed emotions' about moving to Ethiopia to be with Biniyam
In a preview of the upcoming episode, Ariela says she's no longer excited to move to Ethiopia and start her new life.
"I was excited, but after this trip my excitement is slowly dissipating," she tells the cameras as she arrives in her new home along with her mother.
RELATED: '90 Day Fiancé': Is Caesar Mack Still Sending Maria Money?
Ariela is concerned she won't have enough time to get to know Biniyam before their baby is born.
"I'm feeling a lot of mixed emotions. Biniyam and I are starting all over and I'm having the baby in less than 3 months, so there's really not a lot of time to get to know each other again. And I'm not really sure how to handle it," she said.
Biniyam is happy to have Ariela with him in Ethiopia
Biniyam, on the other hand, is happy to see Ariela in Ethiopia pregnant with their baby.
RELATED: '90 Day Fiancé': Big Ed Brown Talks About Being Hospitalized After a Girl Threw a Brick at His Head
"When I see Ari pushing her cart with her pregnant belly, I felt so happy," he says. "I'm so happy. She's here for me because she loves me."
Whether Ariela and Biniyam end up together or not, Ariela is thankful for the experience.
"I got a baby boy out of it, so, it didn't go too bad," she told Entertainment Tonight on June 16. "The other thing I'll say is, you know, in relationships, whether you end up with the person forever or not, you definitely learn something from them and you grow as a person and you learn something about yourself, so, I don't think it's a loss either way."
We'll have to keep watching to see how Ariella ends up feeling about her decision to move to Ethiopia to be with Biniyam. Will they live happily ever after? Or will history repeat itself?