'90 Day Fiance': Is Darcey Silva Filming Next Season with a New Boyfriend?
They say if at first you don't succeed, try and try again. Not sure if that age-old adage also pertains to love, but Darcey Silva is definitely trying to find out. After appearing on the first and second seasons of 90 Day Fiance: Before the 90 Days with her ex-boyfriend Jesse Meester, Silva was also featured this season, dating English man Tom Brooks.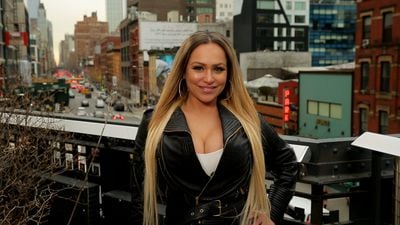 But now that things are…strained between Brooks and Silva, is Silva going to continue her tradition and appear on next season with a new man?
Darcey Silva's relationships on '90 Day Fiance'
Silva first appeared on 90 Day Fiance with Meester, a man from the Netherlands, who she met on social media. From the very beginning, the two were like oil and water and had explosive arguments. In the end, the couple couldn't work things out and Meester accused Silva of throwing a Louboutin at him.
Silva then moved on to Brooks, who she had been talking to off-and-on for four years. She went to visit him in England in the hopes that Brooks would propose to her. Unfortunately, Brooks seemed pretty resistant to moving his relationship with Silva forward in any way at all.
Once she returned to the USA, Silva found it hard to get Brooks to communicate with her.
"Maybe I'm in a different mindset," Silva said to Brooks on the 90 Day Fiance Tell-All. "I mean, if you love somebody, you'll do whatever it takes to be with that one person. I mean, I would like to have more time with you, more communication. I feel like you don't."
But Brooks insisted that he was just busy.
"I feel when I say to you, 'I'm in a business meeting, I'll call you later,' and I get 1500 text messages, that's not you respecting me," he said. "You ring me at 4 o'clock in the morning then send me 50 messages saying, 'What are you doing?' Are you that girl? You can't ring people at 5 a.m."
"There's so much going off in terms of work, I feel like I can't give you this love and time that you want."
Brooks eventually admitted that he'd like to be single and just remain friends with Silva.
"I feel like he's throwing it all away," Silva said. "I don't know why he doesn't want to make it work. It just hurts my heart. I don't know what I did for him not to love me."
Has Silva moved on to another man?
It has been speculated that Silva will also appear on the next season of 90 Day Fiance: Before the 90 Days, but this time with another new man. According to TV Season and Spoilers, a Reddit user named Meeamii said that her boyfriend spotted Silva at Westlife, a rooftop bar in Williamsburg, with a man who looked like a skinnier version of Brooks.
Silva has not confirmed that she is dating a new man or even officially announced her split from Brooks. It could be that the man that she was seen with was actually Brooks and he had just lost weight.
Either way, we will have to wait until the new season of 90 Day Fiance: Before the 90 Days to find out for sure.